Facebook (FB) page Blessed Be Philippines uploaded June 16 an infographic asking the public's opinion on an alleged plan to make former presidents Corazon "Cory" Aquino and son Benigno "PNoy" Aquino III saints. This is a hoax.
The claim that there is such a plan is false. It also misrepresents information based on comments made 10 years ago by a Roman Catholic priest who said he would like Cory Aquino to be named a saint. Aquino III, meanwhile, is very much alive.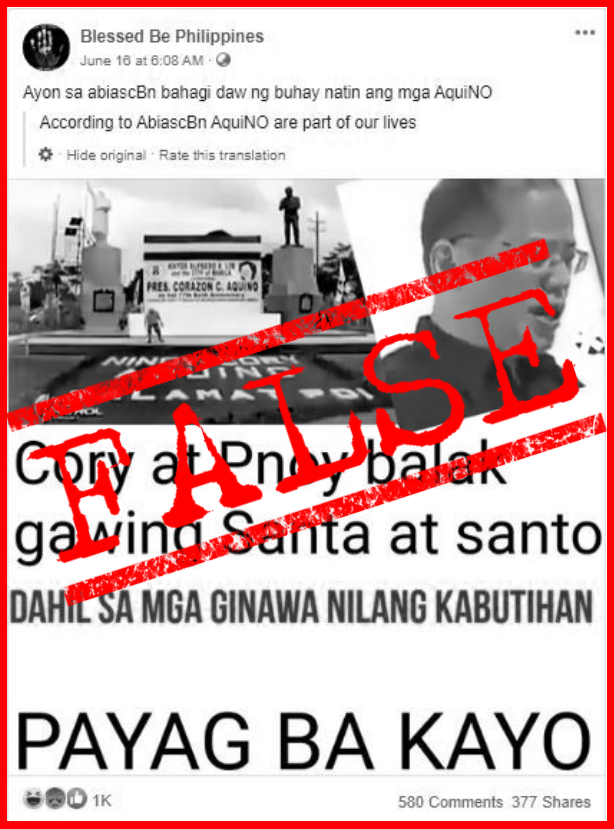 An ABS-CBN video report aired on Jan 24, 2010 over TV Patrol World quoted Aquino's spiritual adviser, Rev. Fr. Catalino Arevalo, as saying he wanted to push for the former president's beatification, the first step in the process towards sainthood. He made the remarks during the mass he celebrated on the eve of the departed leader's 77th birthday.
Talks about Cory's "sainthood" began in 2009 right after her death on Aug. 1 that year but they remained just statements and there was never a move to formalize any process years later. The process does not start until at least five years after death. In 2016, a false story announcing Cory's beatification made the rounds on social media. This was debunked by website Memebuster.
The misleading FB post showed two images taken from the ABS-CBN report; a park in the city of Manila where Cory's monument was to be erected on Jan. 25, 2010 and her son, then Sen. Aquino, speaking. A text was added to the infographic which read "Cory at PNoy balak gawing Santa at santo dahil sa mga ginawa nilang kabutihan. Payag ba kayo (Cory and PNoy will become saints because of their good deeds. Do you agree with this).
The false post has been shared to at least 11 other Facebook groups and could have reached more than half a million netizens. Blessed Be Philippines was created on Nov. 23, 2016.
(Editor's Note: VERA Files has partnered with Facebook to fight the spread of disinformation. Find out more about this partnership and our methodology.)