A video viewed over 253,000 times on Facebook carries a misleading claim that the United States (U.S.) and Australia have dispatched warships to help the Philippines drive away Chinese ships moored in a disputed area in the South China Sea.
FB page US News TIME and the YouTube channel US NEWS TIME uploaded the erroneous clip on April 4 with the headline: "China panic US and Australia Deploy Hundred Warship to Help Philippine Expel 220 China ship (sic)."
In the video, a computer-generated voice read as its script most of an April 2 Yahoo! News Australia report, which cited the escalating tensions in the contested sea, but made no mention of the U.S. and Australia sending warships.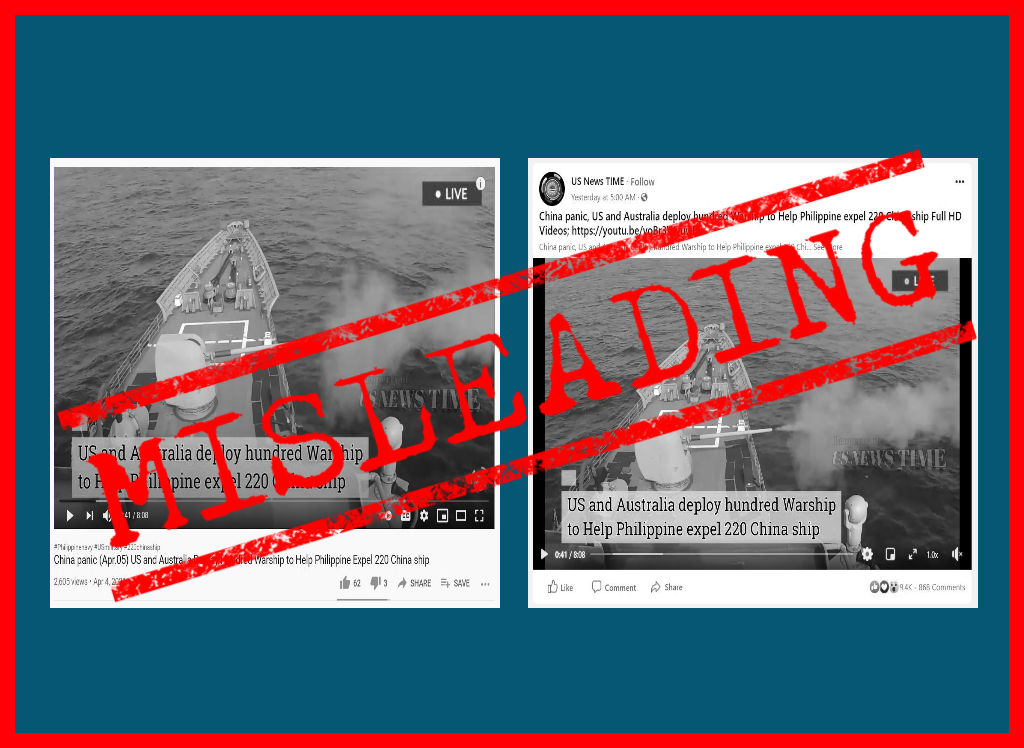 There has been no statement from Washington or the Australian government about deploying warships into the disputed waters but the commander of the Theodore Roosevelt Carrier Strike Group said they are now in the South China Sea for routine operations.
The United States keeps an eye on China's military buildup in the South China Sea. It sends ships and holds military exercises in the area to signal support for its allies and assert freedom of navigation in the strategic waterway.
U.S. state officials have expressed support for the Philippines and called on China to "stop using maritime militia to intimidate and provoke." Meanwhile, Australian Ambassador to the Philippines Steven J. Robinson expressed concern about "destabilising actions that could provoke escalation."
The expressions of support came after the Philippines' National Task Force for the West Philippine Sea (NTF-WPS) on March 20 reported the presence of around 220 Chinese fishing vessels — believed to be manned by Chinese militia — at Julian Felipe (Whitsun) Reef, 175 nautical miles west of Batarza town in Palawan. They were sighted in the area last March 7.
The reef is considered part of a 200-nautical-mile exclusive economic zone of the Philippines.
US News TIME used in its misleading video several clips of naval battles and exercises which include the following:
US News TIME's inaccurate post has gotten over 12,000 reactions, 1,000 comments, and 3,300 shares. Its top three traffic generators were FB groups Boycott Chinese Products, AFP MODERNIZATION LATEST UPDATES (KABAYAN TV), and 120th Infantry "Precise" Regiment, 113IUR, 3rd Special Troops Division. The version uploaded on Youtube channel US NEWS TIME has garnered 3,400 views.
It emerged a day after China claimed the Whitsun Reef is part of its territory in the South China Sea, and after Defense Secretary Delfin Lorenzana reiterated the Philippines' demand for the remaining 44 Chinese ships to get out of the area.
FB page US News TIME was created last March 18, 2021; YouTube channel US NEWS TIME in November 2019.
(Editor's Note: VERA Files has partnered with Facebook to fight the spread of disinformation. Find out more about this partnership and our methodology.)