A satirical Facebook (FB) post is misleading netizens into believing that Kingdom of Jesus Christ (KJC) founder Pastor Apollo Quiboloy wants doctor Chao Tiao Yumol to be canonized or declared a saint.
Yumol fatally shot three persons, including former Lamitan, Basilan mayor Rose Furigay, during a graduation ceremony at the Ateneo de Manila University in Quezon City on July 24. 
The post's caption read: "Sa isang homilya sa SMNI channel, sinabi [ni Quiboloy] na isang hero si Yumol at purong kabanalan ang ginawa nito. Nararapat na din daw na madagdagan ang mga santo sa Kingdom of Jesus Christ Church pangtapat sa Simbahang Katolika." 
(In his homily aired on the SMNI channel, Quiboloy said Yumol was a hero and that what he did was pure holiness. It was supposedly the right time to add saints to the Kingdom of Jesus Christ to match the Catholic Church.) 
An accompanying graphic quoted Quiboloy saying that Yumol's actions were "Holy, heroic and just." But placed in the upper portion was a washed-out, gray-colored text that read "SATIRE | NOT CHRUE (TRUE)." A member of the FB group House of Representa-thieves: Butasang Pambulsa (created on Jan. 27, 2021) uploaded the satirical post on July 30.
VERA Files Fact Check has debunked other satirical and fake posts from the same FB group, which other netizens have mistaken as truth.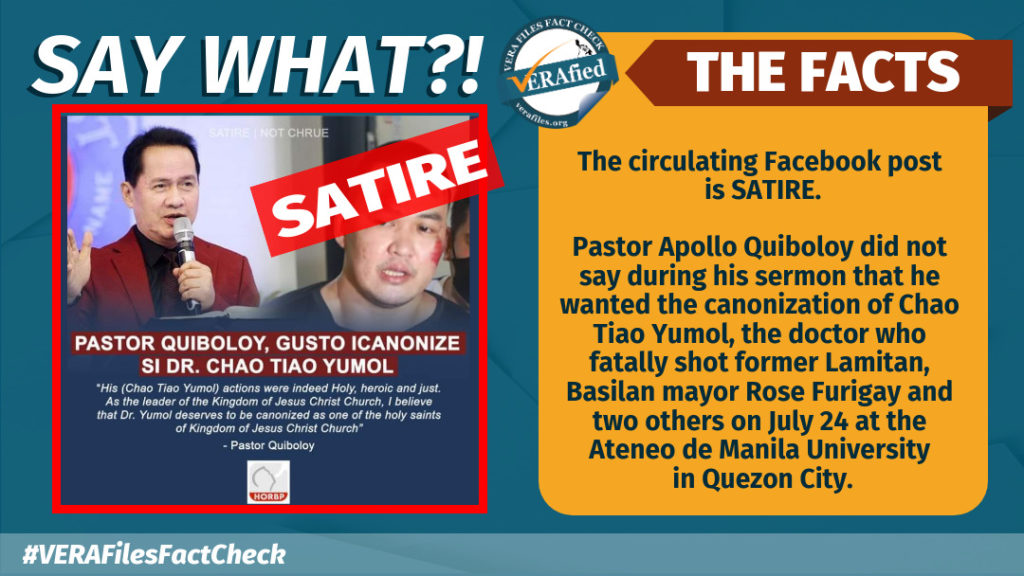 In the bottom half of the satirical graphic was a logo imitating that of Sonshine Media Network International (SMNI), the KJC's broadcasting arm. The edited logo featured the initials of the House of Representa-thieves FB group. 
Quiboloy never said anything about Yumol on his official FB page or during his July 24 homily, where he focused on criticizing corruption and bad governance, praising the administration of former president Rodrigo Duterte, and calling communists rebels the scourge of society. 
Quiboloy has also not asked for donations from his church's followers to create a statue in honor of Yumol, contrary to the claim of the FB post.
Four FB netizens and the FB page Tambay for Leni Robredo (created on Dec. 26, 2020)  reuploaded the graphic without highlighting that it is satirical. These posts collectively garnered more than 700 reactions, 335 comments, and 141 shares. 
The satirical post appeared a day after Quiboloy's homily and Yumol's arrest on July 24.
Have you seen any dubious claims, photos, memes, or online posts that you want us to verify? Fill out this reader request form or send it to 'VERA, the truth bot' on Viber.
(Editor's Note: VERA Files has partnered with Facebook to fight the spread of disinformation. Find out more about this partnership and our methodology.)