A Facebook (FB) video falsely stated that there is evidence to call the Aquino family "magnanakaw" (thieves) while there is none for the Marcoses.
Not true. The so-called evidence against the Aquinos was a fake Bangko Sentral ng Pilipinas document used as basis for the plunder and graft charges against ex-president Benigno "Noynoy" Aquino III five years ago. As for the Marcoses, several legal cases conclude that the family of former dictator Ferdinand Marcos Sr. is guilty of stealing the country's wealth.
The one-minute FB reel clip, posted July 24 by a netizen, carried an in-video text that read:  "KANINO BA TALAGA DAPAT IDUGTONG ANG SALITANG "MAGNANAKAW?" … AQUINO/DILAWAN WITH EVIDENCE | MARCOS WITHOUT EVIDENCE…"
(To whom should we attach the word "thief?"… Aquino/Yellows with evidence | Marcos without evidence.)

VERA Files previously fact-checked these claims and found them to be false.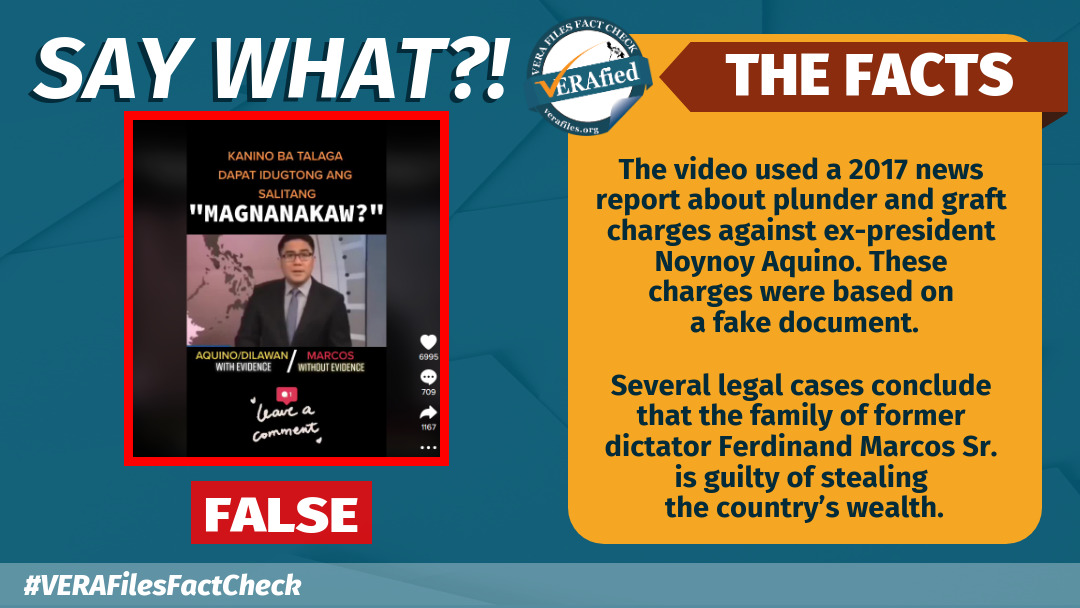 To support its claim, the erroneous video used a Jan. 6, 2017 report from People's Television Network (PTV) about graft and plunder charges filed against Aquino and six of his allies involving an illegal shipment to Thailand of 3,500 metric tons of gold from the Bangko Sentral ng Pilipinas (BSP).
These charges were based on a fake BSP document which contained several factual inaccuracies that were exposed by the media.
Contrary to the video's claim that there is no basis for the Marcos theft, the following are the court cases against the Marcos family—which ruled the country for more than 20 years: 
The Marcos family is guilty of hiding ill-gotten wealth in Swiss banks,

as stated by Supreme Court in 2003

; 

Former first lady Imelda Marcos is guilty of seven criminal charges related to stolen money diverted to Switzerland,

as ruled by the Ombudsman in 2018

; and 

The seizure of Mrs. Marcos' Malacanang jewelry collection, as

affirmed by the Supreme Court in 2017

. 
The erroneous FB reel got a total of over 2,270 interactions. Its original version, posted on TikTok on July 17, got over 76,800 interactions. 
Both videos appeared around the time the official trailer for the movie Maid in Malacañang was released. The movie is a depiction of the last 72 hours of the Marcos family before being ousted out of the country in 1986, and portrayed former president Cory Aquino as an antagonist.
Have you seen any dubious claims, photos, memes, or online posts that you want us to verify? Fill out this reader request form.
(Editor's Note: VERA Files has partnered with Facebook to fight the spread of disinformation. Find out more about this partnership and our methodology.)