A Facebook (FB) page is erroneously claiming that Justice Secretary Jesus Crispin "Boying" Remulla has ordered the imprisonment of Negros Oriental Rep. Arnolfo Teves Jr. over the murder of his province's governor, Roel Degamo.
On March 11, the FB page published a video bearing the false headline: "Kakapasok Lang! Iyak Si Cong Teves! Boying Remulla Pinakulong Na Si Arnie Teves Ng Negros! Pbbm Ayos (Just in! Congressman Teves cries! Boying Remulla imprisoned Arnie Teves of Negros)!"
The video's thumbnail showed a photo of Teves edited to make it look like he was behind bars, with text that states the mastermind behind Degamo's death has been identified.
Remulla has not issued an order to arrest Teves. However, the Justice secretary said they are investigating all who may have to do with the assassination.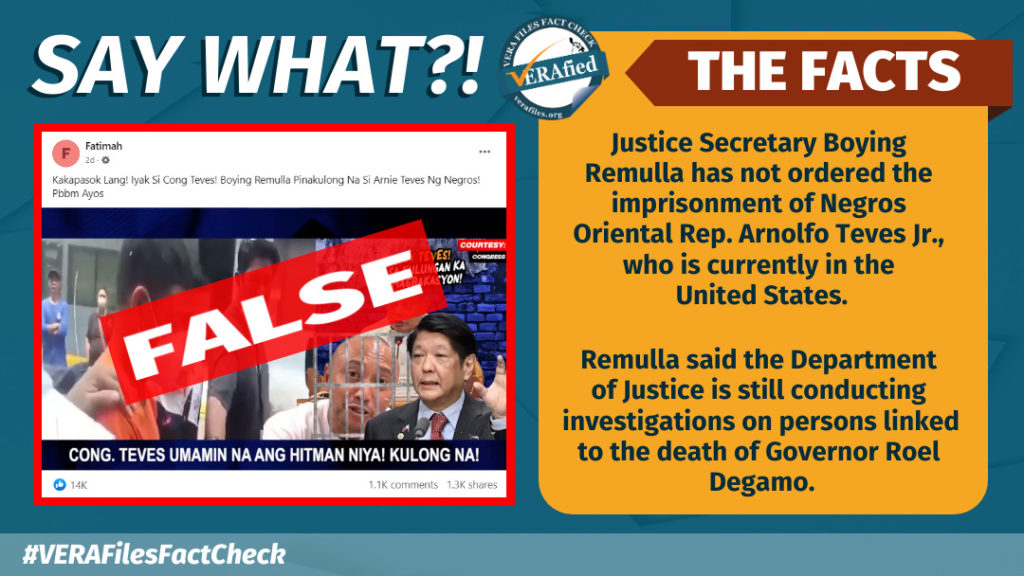 The video showed no evidence to back up its headline's claim. It only showed two videos published by Sonshine Media Network International (SMNI) News on March 7 and March 9 featuring the following:
An interview with a lawyer who represents complainants that filed murder charges against Teves over killings in Negros Oriental that occurred in 2019; and
An ambush interview with one of the four suspects behind Degamo's assassination who named Teves as mastermind.
Teves, who is currently in the United States allegedly for health treatment, has denied involvement in the crime. Authorities have urged him to return to the country to face the allegations against him.
The video with the false headline emerged a week after Degamo was shot dead in his home in Negros Oriental. In a March 13 press briefing, Interior Secretary Benjur Abalos said a total of 17 cases have been filed against the suspects behind the governor's death.
FB page Fatimah (created on March 19, 2022) published the video, garnering over 14,000 reactions, 1,100 comments, 1,200 shares and 593,000 views.
Have you seen any dubious claims, photos, memes, or online posts that you want us to verify? Fill out this reader request form or send it to 'VERA, the truth bot' on Viber.
(Editor's Note: VERA Files has partnered with Facebook to fight the spread of disinformation. Find out more about this partnership and our methodology.)