Two websites published on March 17 and 18 a story claiming that Japan has produced a cure for coronavirus disease (COVID-19). The story, translated into Filipino from an article in a Japanese journal, needs context.
Netizenexpress.online published its misleading report with the title, "Finally! Japan Nakagawa ng Mabisang Gamot Laban sa Coronavirus (Japan produces effective medicine to fight coronavirus)!" A day later, maniladailynewsweb.com published the same article with an identical headline except for the word "Finally" which was translated into Filipino — "Sa wakas!"
The story, based on an article in the Nikkei Asian Review, says the Japanese-made drug called Avigan or Favipiravir works against COVID-19, quoting Zhang Xinmin, director of the China National Center for Biotechnology Development, who described the drug as "safe and effective".
This drug, developed in 2014, is being recommended by the Chinese health official after clinical tests showed that over 90 per cent of patients who were given the drug recovered.
Apart from the Japanese journal, Reuters and The Guardian have also quoted Zhang Xinmin as declaring the Avigan drug "effective, with no obvious side-effects" in helping coronavirus patients recover.
The translated story, however, excludes details in the original article that provide perspective. The Review reports that there is some reservation in Japan in using the drug as it may cause fetal deaths or deformities. It also says that South Korea has decided to not import the drug because "there was not enough clinical data to prove the drug's efficacy."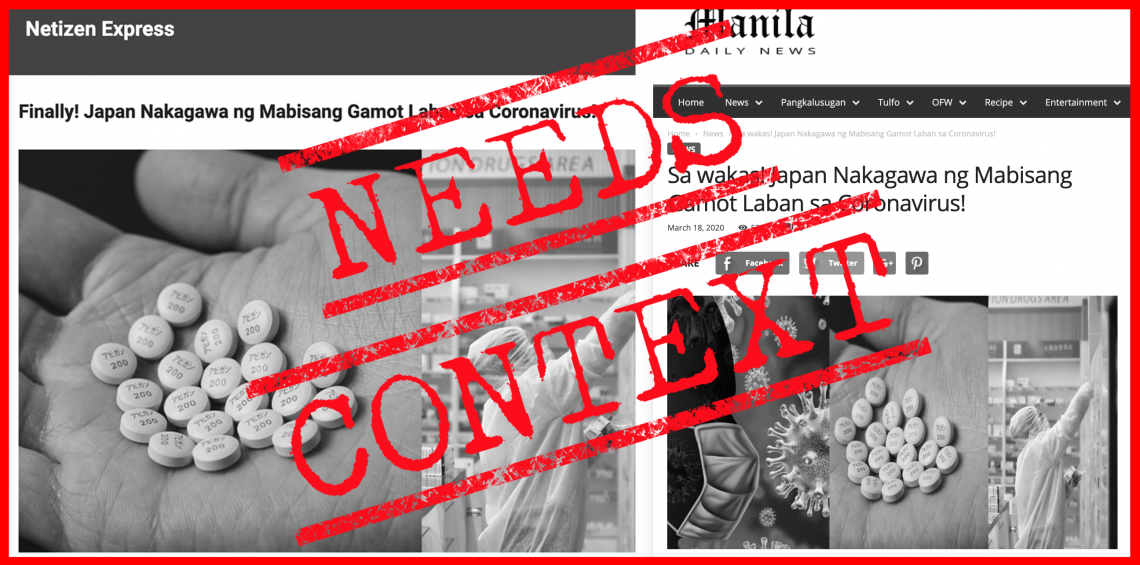 The drug was developed in 2014 by the health arm of Fujifilm Holdings Group and was used in clinical trials involving Ebola patients. It was recently used in a trial involving at least 200 COVID-19 patients in the Chinese cities of Wuhan and Shenzhen and they were reported to have tested negative for the disease in a comparatively short time after taking the drug and had reduced pneumonia symptoms.
Netizenexpress.online and maniladailynewsweb.com's stories surfaced around the time legitimate media organizations reported the rise of Fujifilm shares after Zhang made his statement about Avigan.
Traffic to netizenexpress.online's story, which could have reached over 20.5 million people, came from the Facebook (FB) pages Raffy 360 and Pinays in Japan, and FB group God is Loved God is Good All the Time.
Manildailynewsweb.com's version could have reached over 1.6 million people. Its top traffic generators are FB pages Tatay Digong, Duterte Newsfeed and Manila Daily News.
Both sites have a history of publishing misleading stories. Netizenexpress.online has been publishing reports since November 2018, while maniladailynewsweb.com was created in June 2018.
(Editor's Note: VERA Files has partnered with Facebook to fight the spread of disinformation. Find out more about this partnership and our methodology.)