In a press release published on his Facebook page, House Speaker Martin Romualdez claimed that the "huge reduction of the prices of rice in the global market" has been partly due to the implementation of a local price ceiling.
This is misleading.
STATEMENT
In a Sept. 7 Facebook post, Romualdez shared a photo of a graph supposedly showing a decrease in the global price of rice and a headline that reads:
"Price of rice in [the] world market plummets by 21 percent following [the] price ceiling"
 The photo included an excerpt from an official press release quoting Romualdez as saying:
"This remarkable development marks a significant shift in our agricultural landscape and offers hope for our local consumers […]

It is proven that the [Executive Order] 39 of President (Ferdinand) Bongbong R. Marcos Jr. set commendable results not only in our country, (but in the world as well). We are hoping na magtuloy-tuloy na ang pagbaba ng presyo ng bigas."
The press release cited data from "U.S.-based Market Insider" saying that the price of rice in the world market decreased from $384 per metric ton last July to $332.4 in September.
FACT
According to the Food and Agricultural Organization (FAO) of the United Nations, the All Rice Price Index increased in August 2023 to reach 142.4 points. This is 9.8% higher than the previous month and 31.2% more than the previous year.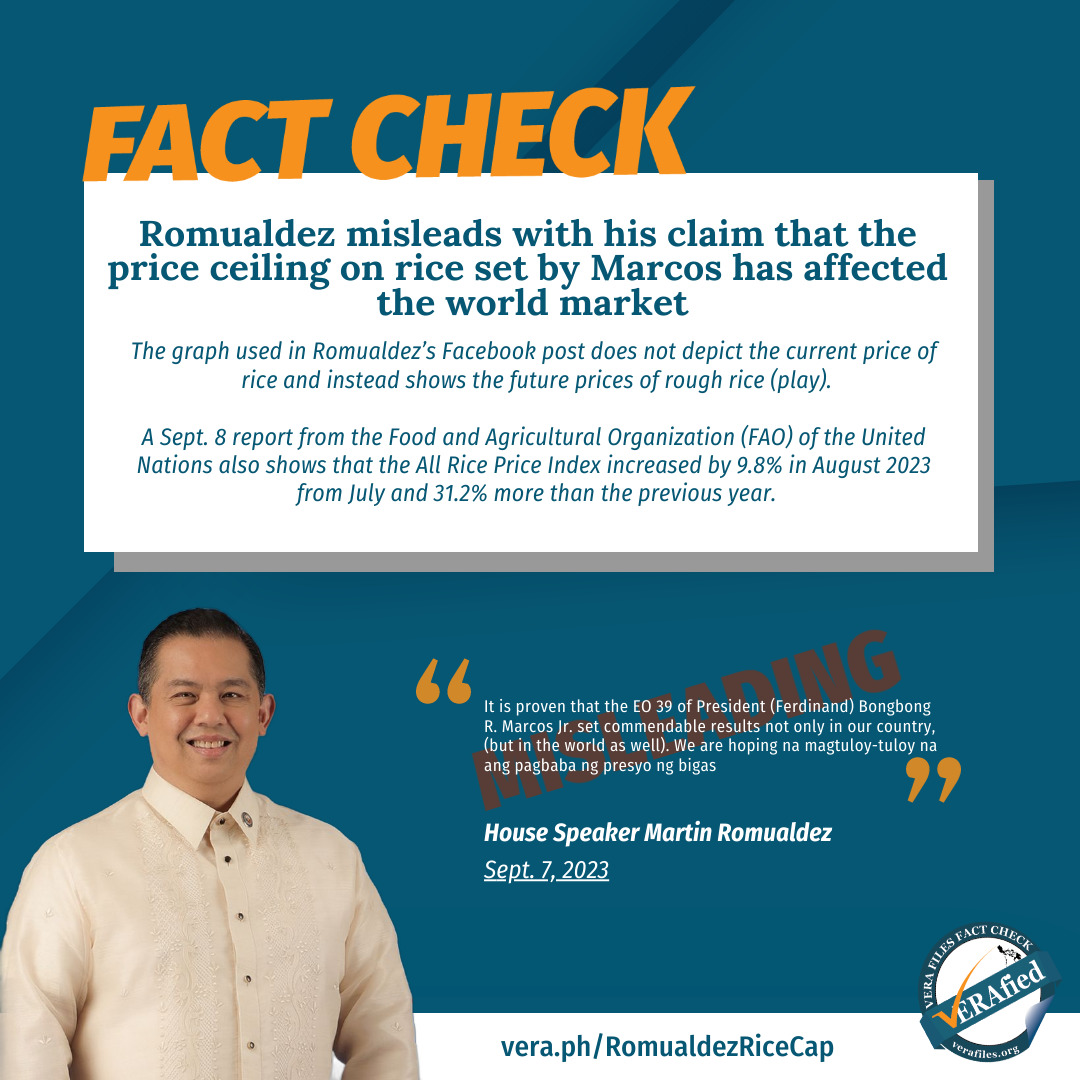 This latest price index report was released on Sept. 8, a day after Romualdez shared the press release. FAO is yet to publish a comprehensive report on the All Rice Price Index for September.
In a blog post, economist and former Economic Planning secretary Solita "Winnie" Monsod said: "There is no such thing as 'the price of rice in the world market'… There are only the overall price indices, and the export prices of major exporting countries."
The FAO Rice Price update provides "monthly rice export prices from major origins" and the All Rice Price Index report shows the weighted trade shares of four rice varieties: Indica, Aromatics, Japonica and Glutinous.
According to another economist and professor JC Punongbayan, the graph used in Romualdez's Facebook post does not depict the current rice prices but the future prices of rough rice (palay).
Monsod explained that rough rice futures refer to the "tradable, standardized contracts to receive or deliver a specified quantity of rough rice on a future date, at a pre-agreed price." These are traded in the Chicago Board of Trade under the Chicago Mercantile Exchange group.
BACKSTORY
On Aug. 31, Executive Secretary Lucas Bersamin signed EO No. 39 which imposes a price ceiling of P41 per kilogram of regular-milled and P45/kg for well-milled rice to counter the "alarming increase" in retail prices of the food staple.
(Read VERA FILES FACT CHECK: Marcos' claim on surge in rice prices contradicts EO) 
The price cap took effect nationwide on Sept. 5 despite drawing flak from some lawmakers, economists and farmers' groups.
On Sept. 11, Finance Secretary Benjamin Diokno admitted that the economic team was not consulted on the implementation of a price cap on rice. Regardless, he threw his support behind the president's decision.
In an interview on Sept. 13, then-Finance undersecretary Cielo Magno said the government-imposed price ceiling would likely lead to a shortage and a black market for rice. Magno said she was asked to resign purportedly over a social media post questioning Marcos' rice price caps.
On Sept. 19, Marcos defended the decision, explaining that countries such as China, Singapore, Thailand and Indonesia were racing to increase their supply of rice before the dry spell, thereby triggering price increases.
"Kaya't sabay-sabay silang bumibili, sumasabay din ang pag-akyat ng bigas. Kaya't kailangan natin lagyan nga ng price cap," he explained.
(All of them are buying at the same time, and the price of rice is increasing simultaneously. That's why there's a need to put a price cap.)
Have you seen any dubious claims, photos, memes, or online posts that you want us to verify? Fill out this reader request form.
Sources 
Food and Agriculture Organization of the United Nations, FAO Rice Price Update, Sept. 8, 2023
As I See It, Price of Rice in the World Market? No Such Thing, Sept. 11-17, 2023
JC Punongbayan X(Twitter) page, First, the graph shows rice *futures* prices, Sept. 7, 2023
Senators reaction to the mandate rice cap
Economic team not consulted about the price cap
Department of Finance, Diokno: Econ team backs rice price cap as crucial stop-gap solution to provide immediate relief; proposes additional measures, Sept. 11, 2023
GMA Integrated News, Former DOF Usec Cielo Magno sa kanyang resignation | The Mangahas Interviews, Sept. 13, 2023
Radio Television Malacañang – RTVM, Distribution of BOC Confiscated Smuggled Rice NFA Warehouse, Brgy. San Roque, Zamboanga City September 19, 2023, Sept. 19, 2023
(Guided by the code of principles of the International Fact-Checking Network at Poynter, VERA Files tracks the false claims, flip-flops, misleading statements of public officials and figures, and debunks them with factual evidence. Find out more about this initiative and our methodology.)