Claiming it was yet another ruse of critics against the government, Palace Spokesperson Harry Roque contradicted Interior and Local Government Secretary Eduardo Año when he said there will be no "house-to-house" operations to look for individuals infected with the coronavirus disease 2019 (COVID-19).
STATEMENT
In an ANC interview, Roque, also the spokesperson of the Inter-Agency Task Force for the Management of Emerging Infectious Diseases (IATF-EID), said:
"We don't have a provision for house-to-house. Only the political critics of the government, again, weaponizing this very important task of tracing."

Source: ABS-CBN News Channel official Twitter account, "Coronavirus patients — mild and asymptomatic — have to be reported first before they are visited in their houses…," July 15, 2020, watch from 1:53 to 2:23
When told that it was Año who mentioned the house-to-house operations, Roque said:
"They (authorities) will not go to (sic) house-to-house. They (individuals positive for COVID-19) will have to be reported. They will have to be reported by the persons themselves, their family[,] or the barangay."

Source: watch from 2:23 to 2:42
FACT
Contrary to the spokesman's statement, it was Año himself, not "critics" of the administration, who said government authorities will go "house-to-house" to check compliance with home quarantine regulations.
During a July 14 press conference in Taguig City also attended by Roque, Año said:
"[A]ng gagawin natin, sa tulong po ng ating LGUs (local government units) at Philippine National Police ay iba-bahay-bahay po natin talaga 'yan at dadalhin natin ang mga positive [individuals] sa ating COVID-19 isolation facilities.
(What we will do is — with the help of the LGUs and Philippine National Police — we will really go house-to-house to bring those who test positive for the disease to our (government) COVID-19 isolation facilities)."

Source: Taguig City official Facebook page, WATCH:Press Conference on Taguig LGU COVID-19 Response with the IATF at the BGC Drive-Thru Testing Area, July 14, 2020, watch from 47:00 to 47:35
Año, vice chair of the IATF-EID, also urged the public to report to authorities positive cases within their neighborhoods, or persons they know to be infected with COVID-19 to avoid further spread of the virus.
Under the government's "Oplan Kalinga" program, COVID-19 patients with mild symptoms and those who are asymptomatic and are "unable to observe the home quarantine protocols set by the government will be transferred to isolation facilities."
There are three COVID-19 isolation facilities in Metro Manila managed by the national government (also known as We Heal As One Centers) that are ready to receive patients: the Ninoy Aquino Stadium in Rizal Memorial Complex in Manila City, the Philippine International Convention Center Forum Halls, and World Trade Center both in Pasay City.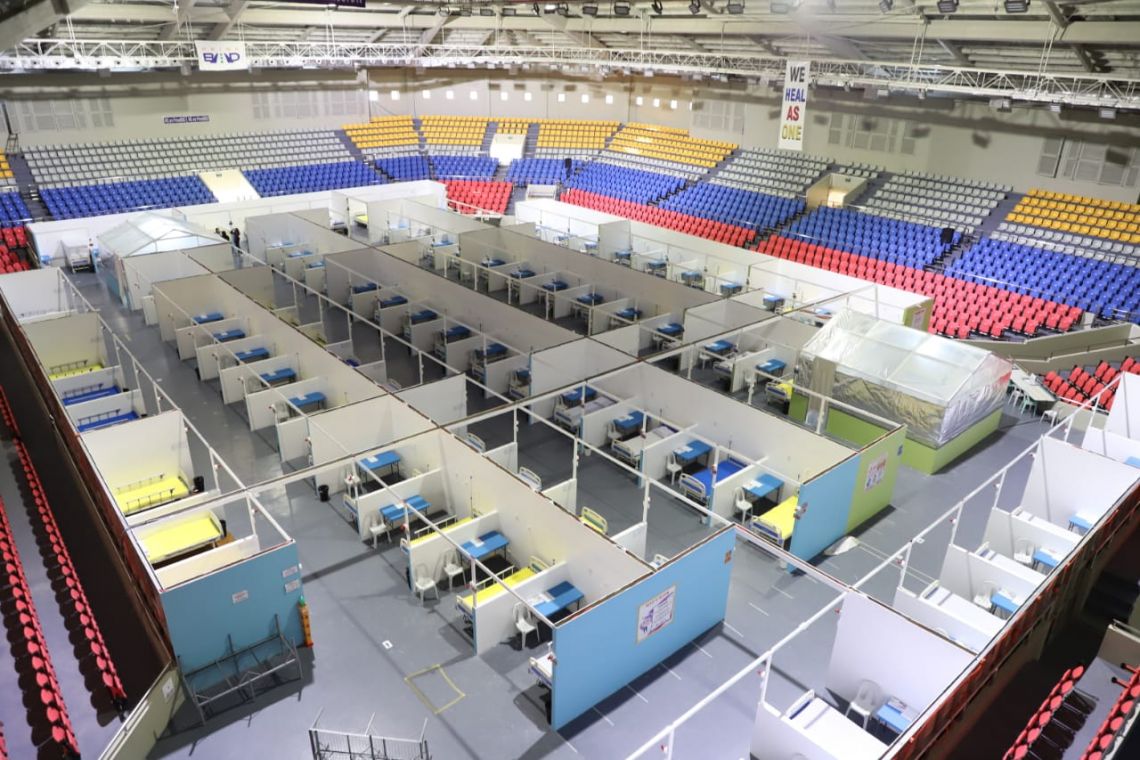 The Ninoy Aquino Stadium in Rizal Memorial Park converted as a We Heal As One Center. The 112-bed stadium will "accept Covid-positive patients with mild symptoms and those who are asymptomatic." Photo from the Philippine News Agency

During his July 14 virtual presser in Malacañang, Roque said only a COVID-19 patient who meets the following criteria may be allowed to undertake home quarantine:
has a designated room and bathroom in the house to be used solely by the infected individual; and,
is not living with persons vulnerable to the disease, such as the elderly, those with comorbidities (other health conditions), or pregnant.
Those who do not meet these protocols may contact their LGUs and "have themselves picked up and brought to a quarantine facility."
Roque, in the ANC interview, said the government "prefer[s]" that such individuals "voluntarily surrender and confine themselves in (government) isolation centers" and assured that they will be provided free lodging with air conditioning, three meals a day, free Wi-Fi, and a "graduation ceremony to boot" after the 14-day quarantine period.
Año's "house-to-house" statement sparked concern among human rights and lawyers' groups, as well as members of the political opposition.
The Commission on Human Rights, for its part, released a statement on July 15, saying that the planned "house-to-house" searches are:
"…susceptible to overreach in terms of guaranteeing the right to privacy and right of individuals to be secure in their abode."
It also noted the constitutional right of Filipinos to be "secure in their houses, papers, and effects is inviolable and makes illegal the forcible entry, search, arrest, and seizure of individuals inside the safety of their homes without a determined probable cause."
The interior and local government secretary later clarified that the "house-to-house" search and transfer operations will be led by local officials and health personnel, and that police officers will only provide assistance.
Sources
ABS-CBN News Channel official Twitter account, "Coronavirus patients — mild and asymptomatic — have to be reported first before they are visited in their houses…," July 15, 2020
Taguig City official Facebook page, WATCH:Press Conference on Taguig LGU COVID-19 Response with the IATF at the BGC Drive-Thru Testing Area, July 14, 2020
Philippine Information Agency, Govt's 'Oplan Kalinga' to provide isolation facilities for COVID patients who are unable to do home quarantine, July 14, 2020
Philippine Information Agency, We Heal As One Centers in NCR ready to accept COVID-19 patients, July 15, 2020
Covid19.gov.ph, We Heal As One Center – Ninoy Aquino Stadium sends home its first COVID-19 survivor, April 21, 2020
Presidential Communications Operations Office, Press Briefing of Presidential Spokesperson Harry Roque, July 14, 2020, watch from 10:22 to 11:10
Presidential Communications Operations Office, Gov't intensifies isolation strategy with Oplan Kalinga; COVID-19 testing reaches 1M, July 14, 2020
Karapatan.org, Karapatan: Tokhang-style house-to-house searches to spread pandemic, rights violations in communities, July 15, 2020
National Union of People's Lawyers, NUPL: PNP's house-to-house is not the "kalinga" that the people need in this pandemic, July 14, 2020
Senate of the Philippines, STATEMENT OF SENATOR RISA HONTIVEROS ON PLANNED HOUSE TO HOUSE VISIT OF SECURITY FORCES IN SEARCH OF COVID-19 PATIENTS, July 15, 2020
ABS-CBN News, 'No warrant, no entry': Drilon hits house-to-house searches for COVID-19 cases, July 15, 2020
Inquirer.net, Drilon slams house-to-house search for COVID-19 patients, July 15, 2020
Manila Bulletin, Drilon on house-to-house search: No warrant, no entry, July 15, 2020
Commission on Human Rights, "Statement of the CHR on the recent COVID-19 measures that impact the right to privacy & constitutional right to be secure in…," July 15, 2020
Official Gazette, 1987 Constitution
Año clarification
GMA News Online, Health officials, not cops, will lead house-to-house search for COVID-19 cases —Año, July 15, 2020
SunStar Philippines, Health workers to lead search for virus-positive persons, July 15, 2020
Philippine News Agency, LGUs, health workers lead isolation strategy vs. coronavirus, July 15, 2020
(Guided by the code of principles of the International Fact-Checking Network at Poynter, VERA Files tracks the false claims, flip-flops, misleading statements of public officials and figures, and debunks them with factual evidence. Find out more about this initiative and our methodology.)