(Updated) When asked to clarify some discrepancies in the numbers on the coronavirus disease 2019 (COVID-19) cases, Presidential Spokesperson Harry Roque insisted on inaccurate data he earlier presented to the media and erroneously said those were for member-states of the Western Pacific region of the World Health Organization (WHO).
STATEMENT
During his June 29 press briefing, Roque reacted to news reports citing data from the WHO that show the Philippines has the "fastest" rising COVID-19 cases in the organization's Western Pacific region. He said:
"Now, ang sabi ng WHO tayo daw (sic) ang pinakamabilis na tumaas na kaso sa buong Western Pacific Region. Totoo ba ho ito? We beg to disagree. Siyempre po kung titingnan natin iyong pagtaas ng kaso, dapat iyan in relation to your population. Bakit tayo ikukumpara sa Singapore eh ang Singapore limang milyon lang po iyan? Isang siyudad lang po iyan, hindi pa siyudad ng Quezon City o Manila."

(Now, WHO said that we have the fastest rising cases [of COVID-19] in the entire Western Pacific Region. Is this true? We beg to disagree. If we'd look at the rise [in the number of] cases, it must be in relation to your population. Why are we being compared to Singapore when it only has 5 million people? It [Singapore's population] isn't even [equal to the size of] Quezon City or Manila.)
He further said:
"Pero kung idi-divide ninyo iyong kaso sa per million population, ito po ang lalabas — ang pinakamataas sa Western Pacific: India – 549,197; followed by Pakistan – 202,955; Bangladesh – 137,787; Indonesia – 54,010; Singapore – 43,459; tapos po ang Pilipinas at 35,455. So, kung idi-divide ninyo po ang kaso per million population…malinaw po, hindi po magsisinungaling ang datos. Hindi po tayo ang pinakamabilis na dumami ng kaso sa Western Pacific Region. Hahayaan na po namin ang datos sumagot doon sa report ng WHO."

(But if you're going to divide the cases per million population, this is what we'll get — the highest in Western Pacific: India – 549,197; followed by Pakistan – 202,955; Bangladesh – 137,787; Indonesia – 54,010; Singapore – 43,459; then the Philippines with 35,455. So, if you divide cases per million population…it is clear — data won't lie. We don't have the fastest rising cases in the Western Pacific Region. We'll just let these data respond to the WHO report.)

Source: Presidential Communications Operations Office, Press Briefing of Presidential Spokesperson Harry Roque, June 29, 2020, watch from 7:39 to 9:24
When GMA 7 reporter Joseph Morong noted that the wrong countries were cited, Roque insisted that India, Pakistan, and Bangladesh "are classified as Western Pacific countries" in the data of WHO. Other countries he presented as part of the Western Pacific region are Singapore, Indonesia, Philippines, Vietnam, Malaysia, Thailand, and South Korea.
FACT
Roque's claims are wrong on two counts:
First, the COVID-19 data Roque presented were not calculated based on cases per million population of the countries cited, but on their total number of confirmed cases as reflected in the June 28 and 29 daily situation reports of the WHO and in several news reports.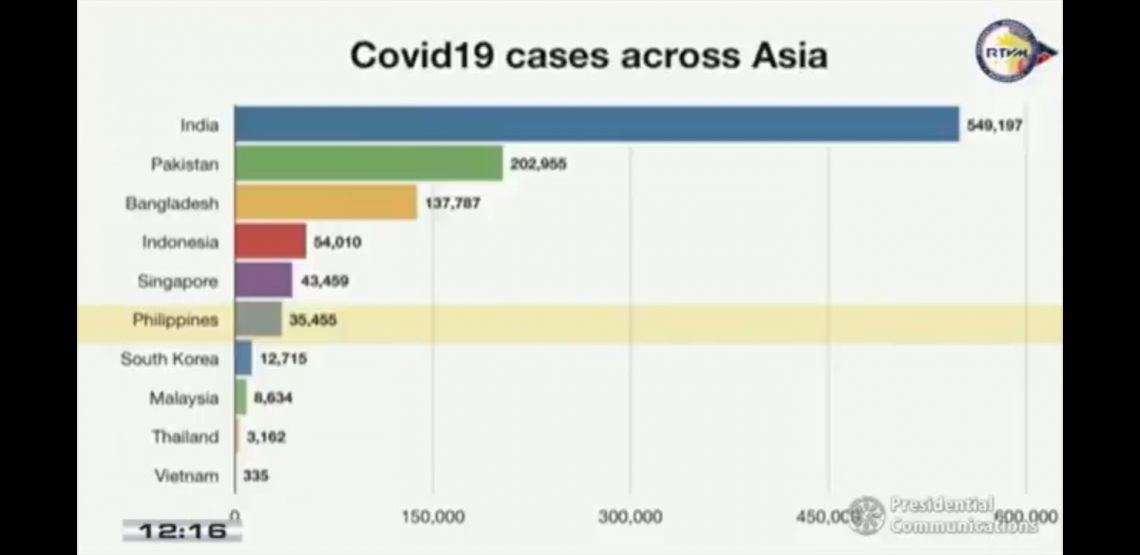 Screenshot of the COVID-19 data presented by Roque during his June 29 press briefing
Data from the June 28 WHO report show the total cases of Pakistan (202,955), South Korea (12,715), Thailand (3,162), and Vietnam (335), while cases for Bangladesh (137,787), Malaysia (8,634), Singapore (43,459), and Philippines (35,455) are shown in the June 29 tally. Several news reports on June 29 stated that India had 549,197 people infected with the virus.
On July 6, the Philippines overtook Singapore to have the second highest number of infections among countries in the WHO Western Pacific region with 46,333 total cases, based on the Department of Health report. Mainland China, ground zero of the COVID-19 outbreak, remains the most infected state in the region with over 85,000 cases as of July 5, according to WHO.
Second, only five out of 10 countries that Roque presented are from WHO's Western Pacific region, which has its regional office in the Philippines, managing its 37 member countries and areas. This region includes countries and territories from Central Asia down to the Pacific, such as Mongolia, South Korea (Republic of Korea), Philippines, and New Zealand.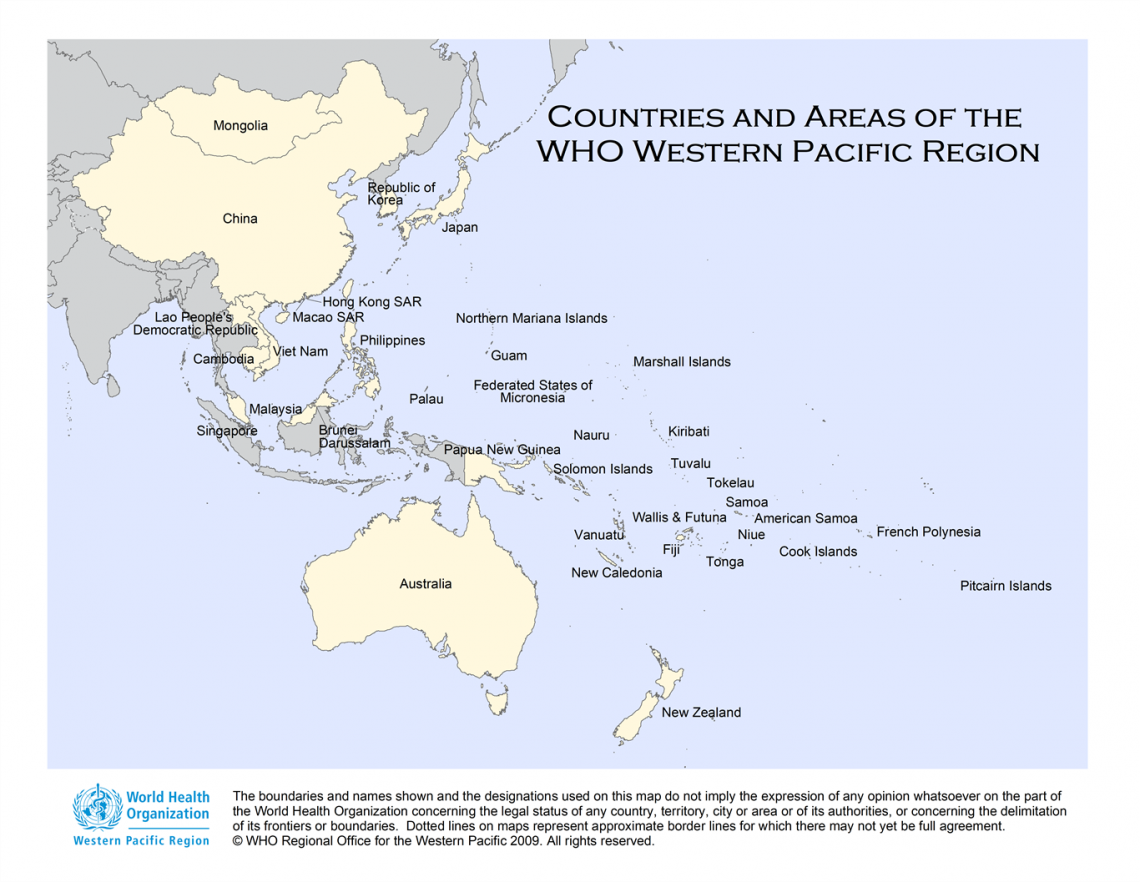 Map of the WHO Western Pacific region. Source: World Health Organization Western Pacific, Where we work, Accessed July 1, 2020
India, Bangladesh, Indonesia, and Thailand are part of the WHO South-East Asia region, while Pakistan is classified under the Eastern Mediterrenean region.
According to the WHO, its 194 member-states from all over the world are divided into six regional groupings: Eastern Mediterrenean, Europe, South-East Asia, the Americas, Africa, and Western Pacific. These regional groups have their own regional offices being managed by the concerned regional committee that makes or supervises health policies or activities, among others, in its region, the WHO constitution said.
"These regions are organizational groupings and, while they are based on geographical terms, are not synonymous with geographical areas. Note that the WHO regions are not the same as those of the United Nations," WHO said.
No assessment report from WHO
WHO Representative to the Philippines Rabindra Abeyasinghe denied on June 30 that the agency assessed countries in the Western Pacific region and found the Philippines leading the spike in coronavirus cases. Abeyasinghe said:
"The World Health Organization does not compare countries or make such assessments. All that assessment was done by (a) journalist attached to the Inquirer in the Philippines using the data that we have in our dashboard like many other dashboards that are globally available."

Source: Presidential Communications Operations Office, Public Briefing #LagingHandaPH Episode #90 People's Television Network, Inc. (PTV), Quezon City June 30, 2020, June 30, 2020, watch from from 12:12 to 12:36
Abeyasinghe was referring to an Inquirer.net article published on June 28 entitled "WHO: PH has fastest rise in virus cases in Western Pacific." The article cited only data from the WHO indicating the country is leading the tally since June 16, but not an assessment report coming from WHO.
During his June 30 press briefing, Roque thanked Abeyasinghe for the clarification, saying, "Kung hindi mo binawi iyan, lalabanan kita (If you didn't retract, I'll fight you)."
Editor's note: This article was updated to reflect the total number of confirmed COVID-19 cases in Malaysia (8,634) based on the World Health Organization's June 29 daily situation report.
Sources
RTVMalacanang, Press Briefing of Presidential Spokesperson Harry Roque, Jr. 6/29/2020, June 29, 2020
World Health Organization, WHO Eastern Mediterenean region, Accessed July 1, 2020
World Health Organization, WHO South-East Asia region, Accessed July 1, 2020
World Health Organization, WHO Western Pacific region, Accessed July 1, 2020
World Health Organization, COVID-19 Situation in WHO – Western Pacific Region
World Health Organization, Countries, Accessed July 4, 2020
World Health Organization, Regional offices, Accessed July 4, 2020
Inquirer.net, WHO: PH has fastest rise in virus cases in Western Pacific, June 28, 2020
World Health Organization, WHO Constitution, Accessed June 30, 2020
World Health Organization, Working with the regions, Accessed July 1, 2020
World Health Organization, Coronavirus disease (COVID-19) Situation Report No. 160, June 28, 2020
World Health Organization, Coronavirus disease (COVID-19) Situation Report No. 161, June 29, 2020
COVID-19 cases in India
PTC News, Global coronavirus death toll crosses 500,000-mark, June 29, 2020
G News Network, Global coronavirus cases cross 10-million mark, kill over half a million, June 29, 2020
Express, India on the brink as New Delhi hospitals struggle to cope with surge in cases, June 29, 2020
Rappler, Laging Handa public briefing on coronavirus in the Philippines | Tuesday, June 30, June 30, 2020,
RTVMalacanang, Press Briefing by Presidential Spokesperson Harry Roque, Jr. 6/30/2020, June 30, 2020
World Health Organization, China: WHO Coronavirus Disease (COVID-19) Dashboard | WHO Coronavirus Disease, Accessed July 6, 2020
John Hopkins University Medicine Coronavirus Resource Center, COVID-19 Map – Johns Hopkins Coronavirus Resource Center, Accessed July 6, 2020
Department of Health, LOOK: DOH COVID-19 CASE BULLETIN #114, July 6, 2020
Presidential Communications Operations Office, Public Briefing #LagingHandaPH Episode #90 People's Television Network, Inc. (PTV), Quezon City June 30, 2020, June 30, 2020
(Guided by the code of principles of the International Fact-Checking Network at Poynter, VERA Files tracks the false claims, flip-flops, misleading statements of public officials and figures, and debunks them with factual evidence. Find out more about this initiative and our methodology.)