A Facebook user asked VERA Files Fact Check to look into Palace Spokesperson Harry Roque's claim that President Rodrigo Duterte's survey ratings dipped the least vis-à-vis his predecessors.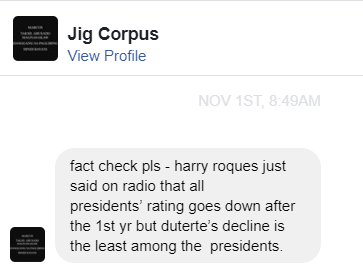 We checked. The claim is inaccurate.
STATEMENT
In a radio interview Oct. 31, Roque said:
"Sa lahat naman talaga bumababa ang acceptability level, e halos hindi bumaba etong si Presidente, no. Bagamat mayroong salungat na findings ang SWS at saka ang Pulse Asia, kung titingnan mong mabuti iyung mga pigura e ikukumpara mo sa lahat ng presidente mula kay Presidente Cory Aquino, siya pa rin ang pinakamaliit ang baba (Acceptability levels drop, but Duterte's did not decrease that much. SWS and Pulse Asia findings differ, but if you look at the figures closely and compare ratings among presidents all the way back to President Cory Aquino, Duterte's dipped the least)."

Source: DZMM Teleradyo: Duterte's marching orders for Roque: 'Do not lie,' Oct. 31, 2017, watch from 9:07 to 9:26
FACT
Available data from the Social Weather Stations (SWS) and Pulse Asia, the two research organizations mentioned by Roque, do not support his claim.
Other presidents fared better than Duterte when their respective first survey ratings are compared to their scores a year after, or the closest available time.
SWS has been releasing quarterly net satisfaction ratings, an estimate of how happy or not people are with the president, since the Corazon Aquino administration. It also releases net trust ratings of public officials, albeit not regularly.
Former presidents Fidel Ramos and Benigno "Noynoy" Aquino III saw the least dip in their SWS net satisfaction ratings, losing 4 percentage points around their first year in office.
In contrast, Duterte's net satisfaction rating dropped 16 points in the period covering his first year, which is still bigger than Gloria Macapagal Arroyo's 8-point drop in the same comparable period.
Corazon Aquino saw a 17-point drop in her net satisfaction rating in a span of 17 months, while Joseph Estrada lost 32 points in 13 months.
Meanwhile, Pulse Asia began releasing since the Estrada presidency trust ratings, which are measured in degrees, and performance ratings, which measure the public's approval of government officials.
Estrada was the only president to see his trust rating increase, by 1 point, early in his presidency.
Duterte lost 11 points in his trust rating in 14 months, while Aquino lost six and Arroyo seven in 13 months.
In terms of performance ratings, Duterte lost 6 points in his first year; Aquino seven in 13 months; Arroyo six in 13 months; and Estrada 21 in 14 months.
Sources:
Social Weather Stations, Third Quarter 2017 Social Weather Survey: Pres. Duterte's Net Satisfaction Rating falls to "Good" +48, Oct. 8, 2017
Pulse Asia, Comparative Performance and Trust Ratings of Presidents (May 1999 to September 2017)
Interview with Pulse Asia research director Ana Tabunda
2017-11-10 09:44:07 UTC
(Guided by the code of principles of the International Fact-Checking Network at Poynter, VERA Files tracks the false claims, flip-flops, misleading statements of public officials and figures, and debunks them with factual evidence. Find out more about this initiative.)