A video of a South African frigate escorted by a helicopter is being passed off as a gift from Russia that has "arrived in Mindanao." This is false. Russia has not sent any vessel to the  Philippines and the two have no warship supply agreement.
Posted on March 9 by a YouTube channel that has repeatedly been fact-checked by VERA Files, the one-minute and 44-second video has this headline: 
"24 ORAS EXPRESS REGALO NG RUSSIA NASA MINDANAO NA (RUSSIA'S GIFT NOW IN MINDANAO)! PILIPINAS VINES NEWS VIRAL)." 
Claiming to be "breaking news," its thumbnail featured the supposed ship with digitally added photos of Philippine and Russian flags. The text within the video further claims that Russian President Vladimir Putin gave the "brand new" warship to the Philippines "without any payment." 
What the video shows is South Africa's Valour class frigate SAS Mendi (F148) off its coast in Richards Bay, KwaZulu-Natal. This clip was sourced from YouTube channel Mazwi Simphiwe that originally uploaded the video on Feb. 26, with the caption "South African Warship leaving Richards bay harbor."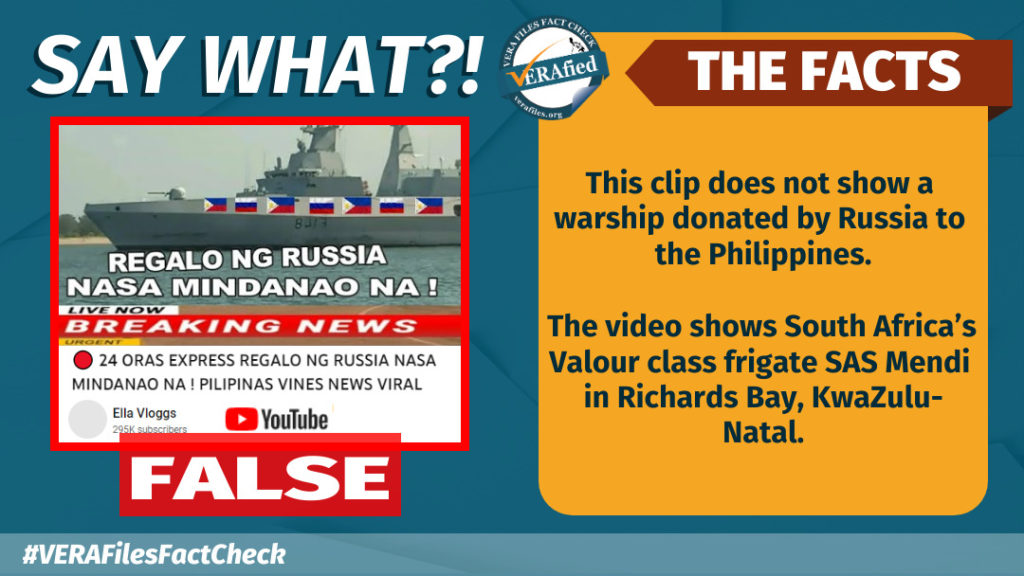 South Africa, China and Russia held their Tri-National Maritime Exercise off the coast of Richards Bay on Feb 22 to 26. 
SAS Mendi was also a part of the "vessels tours" during their Armed Forces Day celebration in the same month.
The false video came out three days after Russian news agency TASS reported that Russia aims to simplify visa procedures in six countries including the Philippines. 
On Feb. 23, the Philippines was also among the 141 countries in the United Nations that voted to demand Russia's withdrawal from Ukraine.
This false claim about Russia donating a warship is not new. VERA Files previously debunked a claim that Moscow donated attack choppers to the Philippines. (Read related story Russia did NOT donate attack chopper to PH)
This is the fifth time that VERA Files Fact Check debunked a video by the YouTube channel Ella Vloggs' (created on Feb. 15, 2019). (Read Video does NOT show U.S. troops in Pag-asa Island)
The video has 75,865 views as of writing and netizens also reposted the link on Facebook.
Have you seen any dubious claims, photos, memes, or online posts that you want us to verify? Fill out this reader request form or send it to 'VERA, the truth bot' on Viber.
(Editor's Note: VERA Files has partnered with Facebook to fight the spread of disinformation. Find out more about this partnership and our methodology.)