Website Filipiknow Times misleadingly revived a three-year-old speech of President Rodrigo Duterte where, it falsely claimed, he cursed at Sen. Francis "Kiko" Pangilinan and "the yellow trash," ostensibly referring to the political opposition.
Circulating on Facebook (FB) since March 2, the false report bore the headline, "MINURA NI PANGULONG DUTERTE SI KIKO PANGILINAN AT BASURANG DILAWAN. PANOORIN (President Duterte cursed at Kiko Pangilinan and yellow garbage. Watch)." Yellow is a colloquial term used to describe a member or supporter of the Liberal Party.
The site carried as its content an 11-minute-long clip, which stitches together several short clips from the same event, showing Duterte speaking about minors caught violating the law. He singled out the opposition senator in the speech, holding him "responsible" for children becoming repeat offenders due to the Juvenile Justice Law that he authored, under which minors below 15 years old are exempt from criminal liability. It was uploaded Feb. 26 by a channel pretending to be the official YouTube account of the Philippine government, and bore a headline similar to that of Filipiknow Times.
The story is false.
The video is an edited clip from an hour-and-20-minute-long September 2017 speech of Duterte during the 56th anniversary of the Philippine Constitution Association, uploaded on YouTube by presidential broadcasting channel Radio Television Malacanang.
Nowhere in the video did Duterte swear at Pangilinan, nor at any other opposition lawmaker.
At the receiving end of Duterte's reprimand were corrupt policemen and generals, drug peddlers, and a former mayor in an Iloilo city suspected of protecting drug syndicates.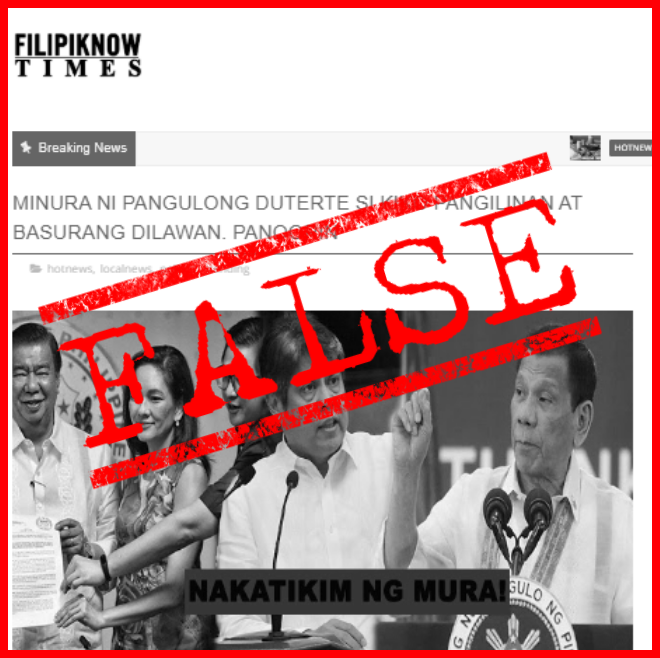 Additionally, Filipiknow Times featured a misleading thumbnail that wrongly insinuates Duterte cursed at several opposition senators. It splices together three photos: a cropped May 2017 photo of senators Franklin Drilon and Risa Hontiveros and former senators Paolo Benigno "Bam" Aquino and Antonio Trillanes IV grabbed from the Senate website, a 2018 photo of Pangilinan sourced from his webpage, and a photo of Duterte published by the Presidential Communications and Operations Office, taken on Jan. 17.
Overlaid on the spliced images was the text, "Nakatikim ng mura (Had a taste of swearing)!"
The untrue report was published two days after Pangilinan made the headlines following his daughter Frankie's open letter posted on Twitter on Feb. 28 where she said he "represents hope to all Filipinos."
Additionally, the clip uploaded on the fake Philippine government YouTube channel appears to be a cropped version of another video — a Feb. 29 upload by Youtube channel by Duterte Archives. The channel made the same false claim as Filipiknow Times.
Filipiknow Times' fallacious article has reached over 454,000 followers in FB, garnering almost a thousand interactions and has been reposted 21 times. Top traffic generators to the story are FB pages President Politics Philippines, Online Tokhang and Duterteism.
FilipinoKnow Times was created on Oct. 3, 2018.
(Editor's Note: VERA Files has partnered with Facebook to fight the spread of disinformation. Find out more about this partnership and our methodology.)