From being American-owned, Pres. Rodrigo Duterte now falsely accuses social news network Rappler, of being run by the country's biggest media conglomerate, ABS-CBN, Corp.
STATEMENT
In an Aug. 11 speech during an open house at the Southern Philippines Medical Center Children's Cancer Institute in Davao City, Duterte said:
"You know, the Constitution says that the media must be owned 100% Filipino. ABS-CBN owns Rappler. Rappler is owned by the Americans. If you have an investment in a company which is Filipino but which forbids ownership even in minuscule amounts that is a violation of the Constitution."

Source: Speech of Pres. Rodrigo Duterte at the Southern Philippines Medical Center (SPMC) Children's Cancer Institute (CCI) Thanksgiving and Open House, Davao City, Aug. 11, 2017, watch from 15:57 to 16:16
FACT
All three of Duterte's claims are wrong.
First, Rappler, Inc. is not owned by ABS-CBN.
Based on its 2016 General Information Sheet (GIS) filed at the Securities and Exchange Commission (SEC), its parent corporation Rappler Holdings Corp. owns 98.84 percent of Rappler, Inc.
The other stockholders are: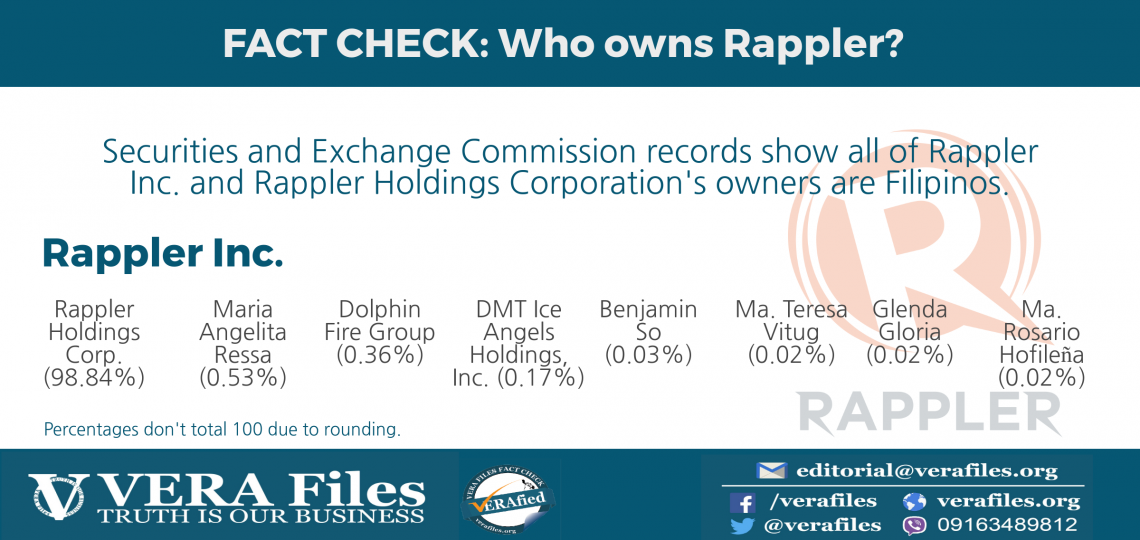 Second, though Rappler's Articles of Incorporation are not available at the SEC website, all of its owners are Filipinos, based on its 2016 corporate filings.
Its officers are the same as Rappler Holdings': entrepreneur Manuel Ayala as chairman, Rappler's Chief Executive Officer Ressa as president, James Bitanga as treasurer and Jose Maria Hofilena as secretary.
Rappler.com's managing editor Glenda Gloria, Nico Nolledo, Dan Albert de Padua, Felicia Atienza also sit in the board.
Zooming in to stockholders of Rappler Holdings, they are: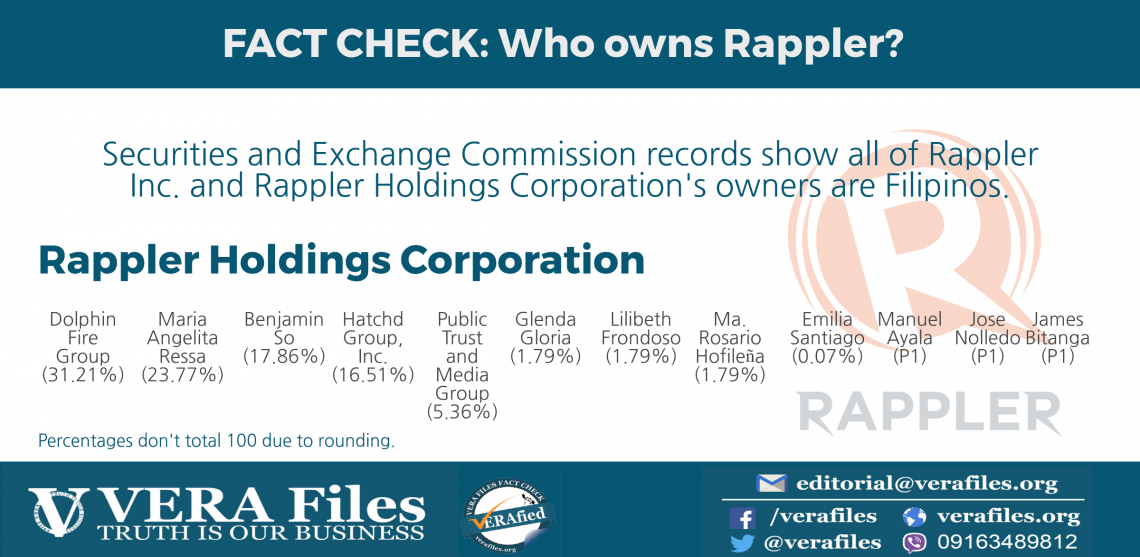 Philippine-based holding company Dolphin Fire Group is 99.94 percent owned by investment house Menlo Capital Corp., whose shareholders include businessman Lucio Tan Jr., Bernard Rabanzo and Melanie Villanueva and Spanish Javier Carlos Montes, based on its 2015 SEC records as reported in a study by Reporters Without Borders and VERA Files.
Shareholders of Hatchd Group include Ayala and Nolledo, according to the study.
Third and last, Rappler's investors are not the same as its owners.
In 2015, philanthropic investment firm Omidyar Network, which was founded by American entrepreneur Pierre Omidyar, and international investment firm North Base Media poured in money for the company.
For this, Rappler Holdings issues Philippine Deposit Receipts (PDRs) as a reporting requirement of the SEC.
PDRs are "investment tools" devised by businesses and lawyers to be able to factor in foreign investors without violating the constitution, lawyer Romel Bagares told VERA Files.
However, they are not evidences or statements nor certificates of ownership of a corporation, according to the Philippine Stock Exchange.
PDR holders are not entitled to the bundle of rights owners have, Bagares said.
"In other words, walang control, walang say 'yong owners ng PDRs sa (PDR owners have no control in the) day-to-day operations. They don't have representation in the board, they don't vote, they cannot decide on policy," he added.
Bagares added that by investing, PDR holders only get a share in the profits. "If there's dividend, they don't get additional shares, they only get a cash equivalent of the shares," he said.
Under Article XVI, Section 11 of the 1987 Constitution, the ownership and management of mass media is restricted to Filipino citizens and Filipino-owned corporations.
Besides Rappler, other media companies that use PDRs include GMA Network, Inc. through GMA Holdings, Inc., and ABS-CBN through Lopez Holdings, Corp.
BACKSTORY
Before Rappler was founded in 2010, Ressa used to be senior vice president of ABS-CBN News and Current Affairs for six years.
Rappler's managing editor, Gloria, served as the chief operating officer of the ABS-CBN News Channel from 2008 to January 2011. She was the co-founder of Newsbreak, which published stories on ABS-CBN before it was subsumed under Rappler.
Sources:
1987 Constitution of the Republic of the Philippines
Media Ownership Monitor Philippines: Rappler Holdings Corporation
Philippine Stock Exchange Glossary
Rappler Author Profile: Maria Ressa
Rappler Author Profile: Glenda Gloria
(Guided by the
code of principles of the International Fact-Checking Network at Poynter, VERA
Files tracks the false claims, flip-flops, misleading statements of public
officials and figures, and debunks them with factual evidence.
Find out more about this initiative.)