A satirical post about a Chinese vaccine's efficacy attributed to Senate President Vicente "Tito" Sotto III is being consumed by netizens as real information.
In a Jan. 13 tweet, @DuterteWatchdog quoted Sotto as saying that getting two jabs of Sinovac, which has a 50% efficacy rate, "would make 100%." The senator supposedly said the Chinese vaccine was better than a competing vaccine with an efficacy rate of 96%. "I had this idea in the shower," it quoted the senator as saying.
Singer-songwriter Jim Paredes was among those who commented. He said: "Serious? This has to be a joke!!" @DuterteWatchdog responded to the queries and wrote that its post is "a joke" and a "satire."
A satire, as defined by FB in its ratings guide for fact checkers, is content "that uses irony, exaggeration, or absurdity for criticism or awareness," but which "a reasonable user would not immediately understand to be satirical," especially if the post or its publisher was not clearly labeled as satire.
@DuterteWatchdog does not explicitly identify itself as a satire account, but indicates in its profile description that it "(pours) ridicule in large amounts."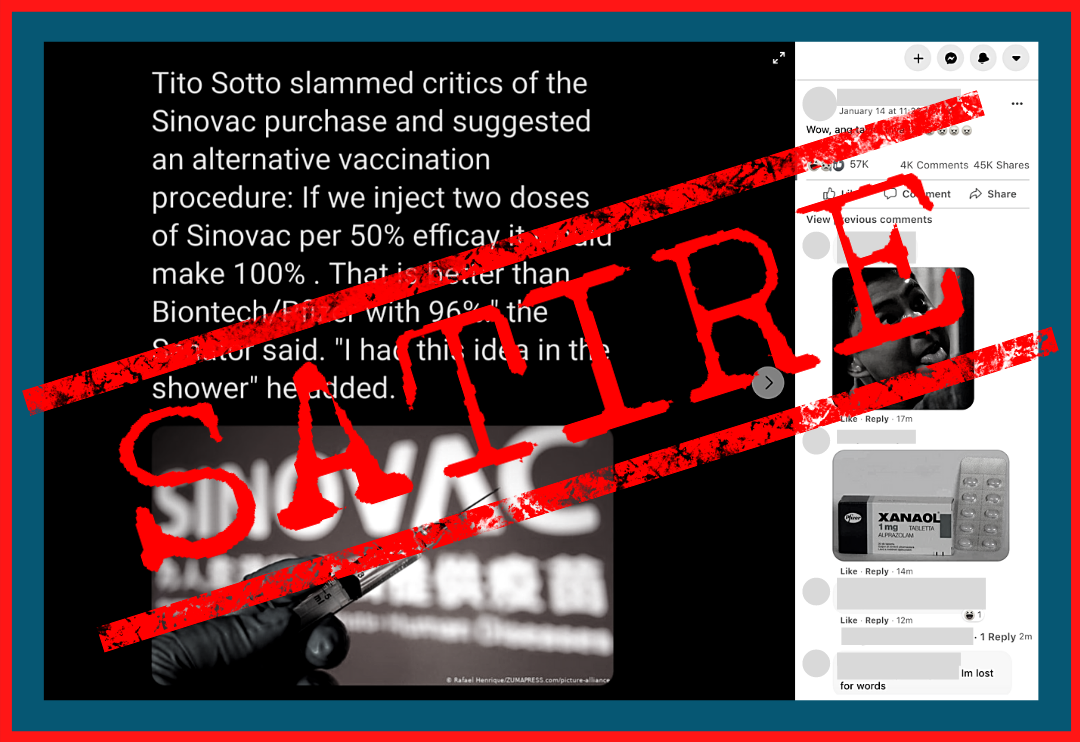 At least seven Facebook (FB) users and the pages Bantay Nakaw Coalition and Kaya Di Umuunlad Pilipinas took a screen grab of the tweet and uploaded it from Jan. 14 to 16 without explicitly labeling it as satire, leading other netizens to believe that the pronouncement was true.
One person wrote: "Take a medical course first, senator, so that you can think clearly about what you're saying." An FB user who published a screengrab of the tweet captioned it: "LOOK HOW SMART YOUR SENATE PRESIDENT, Tito Sotto!"
@DuterteWatchdog's tweet and the nine FB posts carrying a screenshot of it made the rounds two days after the Senate began hearings on the country's COVID-19 vaccination program on Jan. 11.
During the probe, Sotto and Sen. Panfilo Lacson questioned the government's procurement of 25 million doses of the vaccine developed by Beijing-based pharmaceutical company Sinovac, despite the absence of an emergency use authorization (EUA) from the Food and Drug Administration (FDA).
Pfizer, Inc. and BioNTech SE's vaccine is so far the only COVID-19 vaccine granted an EUA by the Philippine FDA.
The nine FB posts bearing @DuterteWatchdog's tweet collectively accumulated around 62,600 reactions — 4,800 comments, and 48,100 shares from FB users.
FB pages Kaya Di Umuunlad Pilipinas and Bantay Nakaw Coalition were created in March 2015 and March 2017, respectively.
(Editor's Note: VERA Files has partnered with Facebook to fight the spread of disinformation. Find out more about this partnership and our methodology.)