COVID-19 testing and vaccination do not "biologically change" people until they are "no longer human," say experts, contrary to the claim of a three-month old conspiracy theory video that continues to circulate on Facebook (FB) this month.
The claim that these medical procedures are part of a grand lifeform-tagging initiative called the "Bar Code for Life" is unfounded.
The false post, which a reader requested VERA Files Fact Check to verify, was published on March 14 by the FB page The Keepers of Chaim. A copy of the same video was debunked by Rappler that month.
The three and a half minute-long clip is titled "The Bar Code For Life," and features the voice and photo of Celeste Solum, an alleged former officer of the Federal Emergency Management Agency (FEMA) of the United States. In a June 2020 Reuters article, FEMA denied having any record of her as its employee.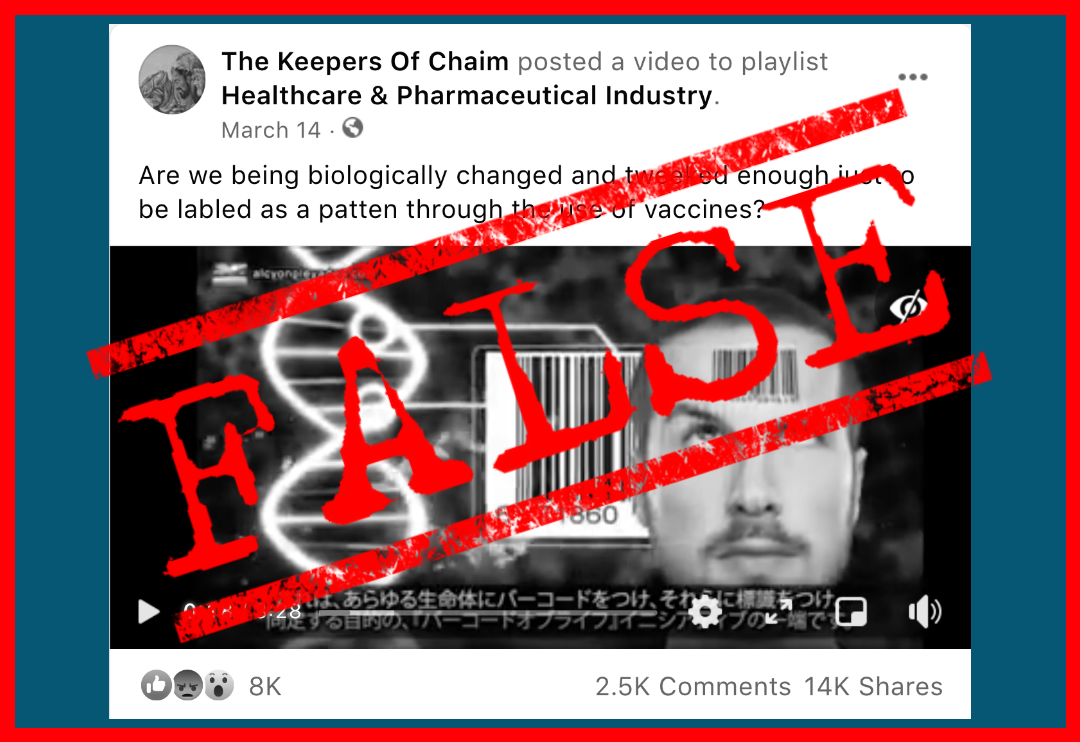 Health experts say it is not possible for COVID-19 vaccines to alter a person's biological makeup.
Mark Lynas, a fellow at Cornell University's Alliance for Science group, called the claim a "myth" in a May 2020 Reuters article. He said foreign DNA would have to be inserted into the nucleus of a human cell for genetic modification to happen. "Vaccines simply don't do that," he added.
The nucleus is the part of the cell that houses DNA and controls the cell's activities like growth and reproduction.
Most vaccines against the coronavirus disease 2019 (COVID-19) use an "inactivated" or killed version of SARS-CoV-2, the virus behind the disease, or a weakened version of it. When injected, the vaccine trains the body to recognize and fight the foreign agent and make antibodies.
Health experts and researchers from the technology nonprofit Meedan share the same view.
They explained that in the case of mRNA vaccines, which carry genetic information instead of a virus or other virus parts, the mRNA also does not reach the nucleus. It only remains in a partly fluid substance inside a cell, outside of its nucleus, called the cytoplasm, where it gives instructions to create a protein similar to that found on SARS-CoV-2. This triggers an immune response and likewise teaches the body to make antibodies to fight the virus in case of an infection. This mRNA breaks down inside the cell within 72 hours.
No evidence that 'barcode for life' is related to COVID-19
In the FB video, Solum said testing for the coronavirus disease 2019 (COVID-19) pandemic puts chips in people's brains as part of a "barcode for life initiative" by "Rockefeller."
A cursory search revealed a page on the Rockefeller University's website about a consortium of several projects and organizations engaged in the study of "identifying species" through barcoding.
The page was created after a symposium in September 2003, which is more than 16 years before COVID-19 was first reported.
Solum provided no support for her claim that the initiative tags people through COVID-19 testing and vaccination. Nowhere in the initiative's "ten reasons for barcoding life" does it say it aims to alter the genes of living things.
'Hydrogel' theory debunked
Solum also claimed that hydrogels, substances that can hold liquid but do not dissolve in water, are being used in COVID-19 vaccination. A hydrogel supposedly "self-assembles" inside the body, crosses the blood-brain barrier, and takes over the brain.
A similar claim was fact-checked in September 2020 by Science Feedback, which verifies influential claims and media coverage purported to be scientific. That hydrogels are part of the ingredients in COVID-19 vaccines "is unsupported by any evidence," it wrote.
Solum's false "Bar Code for Life" video also carried several other claims that were similar to conspiracy theories already debunked by VERA Files Fact Check.
The Keepers Of Chaim's spurious video has already been viewed more than 254,000 times by social media users and has received over 8,000 reactions, 2,500 comments, and 14,000 shares. Social media monitoring tool CrowdTangle shows the post could have reached around 1.5 million netizens.
The Keepers Of Chaim was created on July 14, 2013.
(Editor's Note: VERA Files has partnered with Facebook to fight the spread of disinformation. Find out more about this partnership and our methodology.)