A video on Facebook (FB) is claiming to show footage supposedly taken during the recent catastrophic floods in Libya. The short clip was given false context.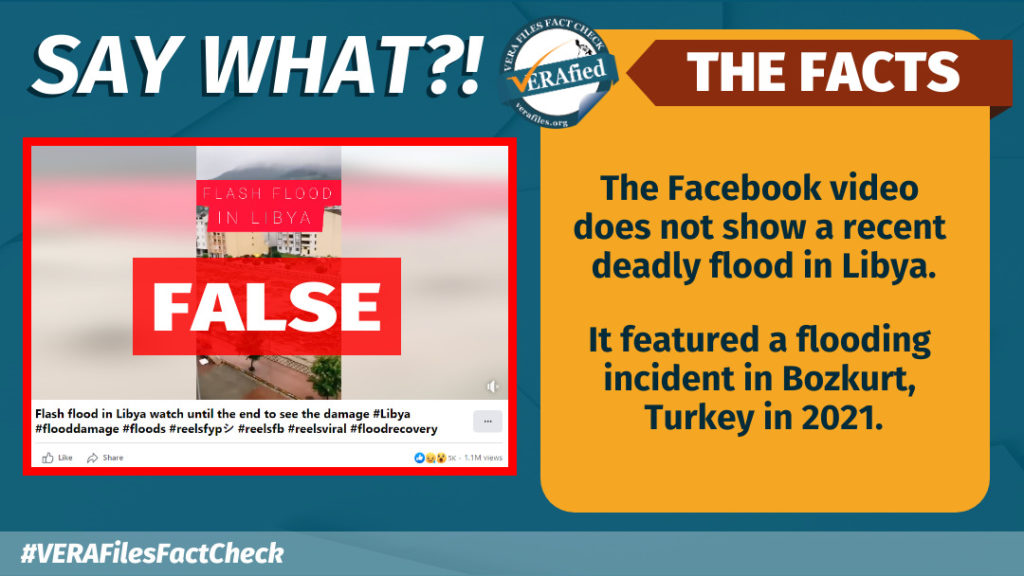 On Sept. 15, a Filipino Facebook user published the three-minute video with the untrue caption:
"Flash flood in Libya watch until the end to see the damage".
It showed debris carried by severe flood waters rushing down a river. Ninety seconds into the video, flood rose and spilled onto streets.
This clip does not show an incident in Libya. The original video was published by YouTube channel Coğrafya Dünyası in August 2021 during a severe flooding incident in Bozkurt, Turkey which claimed over 60 lives.
The circulating clip is a sped up version of the original.
Note: Click on the photo to view its original source.
VERA Files Fact Check flagged a similar video with false context that also used this Turkey clip in an attempt to show the disaster brought by heavy flood in South Korea back in July.
(Read Clips of different flood events NOT in South Korea)
The false FB post came out days after a deadly flood caused by a local storm devastated Libya, with a death toll reaching thousands. Foreign Affairs Undersecretary Eduardo De Vega said there are no confirmed Filipino casualties in the destructive Libya flood as of Sept. 15.
An FB user published the video, garnering over 5,000 reactions, 1,500 shares and 1.1 million views.
Have you seen any dubious claims, photos, memes, or online posts that you want us to verify? Fill out this reader request form or send it to VERA, the truth bot on Viber.

(Editor's Note: VERA Files has partnered with Facebook to fight the spread of disinformation. Find out more about this partnership and our methodology.)