The manual recount of contested votes for vice-president in the 2016 election has been completed but results have not been released, yet a netizen posted an infographic claiming that former senator Ferdinand "Bongbong" Marcos Jr. had defeated Vice President Leni Robredo. The post is false.
The infographic, uploaded Sept. 19 on Facebook, featured an image of Robredo with a photo of a funeral wreath and the words "IBARRA ANG DIWA NI RIZAL (Ibarra, Rizal's spirit)."
The supposed in memoriam also contained figures indicating she was defeated by Marcos in the "National Board of Canvassers final and official" election results. He captioned his post with:
"#Iyak na,may nanalo na.
#Ang tunay nating VICE PRESIDENT BBM."

(#Start Crying, someone already won. #Our real VICE PRESIDENT BBM.)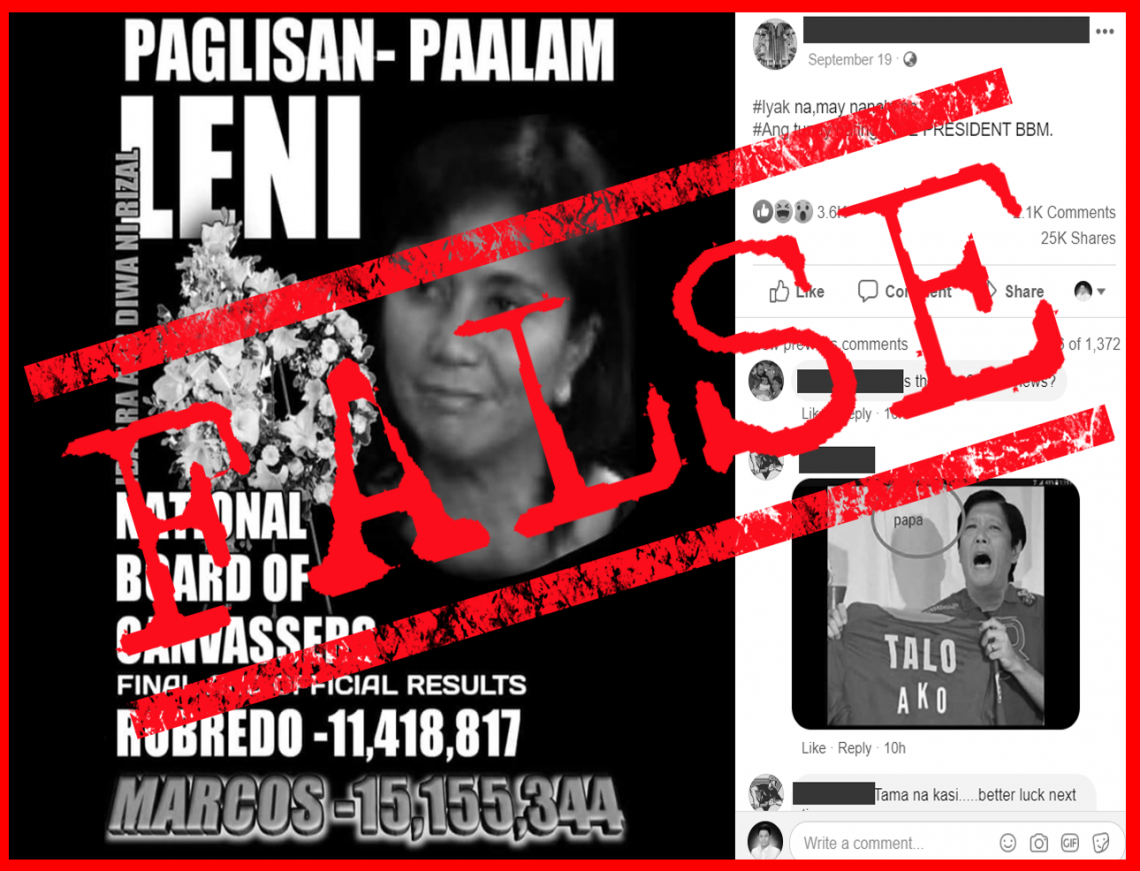 The final vote count for Robredo in the infographic was correct, but Marcos' was doctored to make it appear he got more votes in 2016.
The National Board of Canvassers (NBOC) in 2016 tallied 14.418 million votes for Robredo and 14.155 million votes for Marcos. The difference of only over 200,000 votes prompted Marcos to question Robredo's victory by filing a protest before the Supreme Court (SC), acting as the Presidential Electoral Tribunal (PET) on June 29, 2016. (See VERA FILES FACT CHECK: Pro-Marcos YouTube channel mixes fact with false claims on VP vote recount)
In April 2018, the vote recount began in the provinces of Iloilo, Negros Occidental, and Camarines Sur. Justice Benjamin Caguioa, Supreme Court member in charge of the Marcos-Robredo poll case, submitted on Sept. 9 the report on the vote recount. The high court's decision is expected to be out any time soon.
More, the image of Robredo used in the false infographic is from a 2013 Rappler article about her win as Camarines Sur 3rd District Representative despite alleged vote buying in their district.
The netizen's post has already reached more than 3,600 likes and reactions, and garnered over 2,000 comments. It has also been shared over 25,000.
(Editor's Note: VERA Files has partnered with Facebook to fight the spread of disinformation. Find out more about this partnership and our methodology.)