Every year, the "average" Filipino uses 591 pieces of sachets, 174 shopping bags, and 163 plastic labo bags every year, making single-use disposable plastics "the greatest obstacle to sound waste and resource management," according to a 2019 report by environmental organization Global Alliance for Incinerator Alternatives (GAIA).
The GAIA report, entitled "Plastic Exposed: How Waste Assessments and Brand Audits are Helping Philippine Cities Fight Plastic Pollution," reveals that the sheer volume of residual waste (waste materials that are non-compostable and non-recyclable) generated daily is beyond the capacity of barangays, cities, and municipalities to manage.
It said waste management is not really the problem but the "huge amount of single-use plastics being produced."
On Dec. 1, Quezon City announced the ban of single-use plastics starting 2020 in a joint press conference with environmental organization Ecological Solid Waste Coalition (EcoWaste Coalition).
Mayor Ma. Josefina "Joy" Belmonte signed two city ordinances, one on Oct. 9 and another on Oct. 15, to enforce the ban. Ordinance No. SP-2868 bans distribution of plastic bags in all shopping malls, supermarkets, grocery stores, and drug stores, among others, where collection of Green Fund will no longer be applicable. Ordinance No. SP-2876, on the other hand, prohibits the distribution of single-use plastics and disposable materials to customers for dine-in purposes in all restaurants and hotels.
The House Ways and Means committee approved on Dec. 11 a measure imposing a 20-peso tax per kilo on single-use plastics starting January 2020. Seven counterpart bills in the Senate are still pending in the committee level.
There are already 14 LGUs in the country, including Quezon City, that have an existing ordinance on the regulation and ban of plastics, according to EcoWaste Coalition.
Here are three facts you need to know about single-use plastics and QC's recent ban.
What is single-use plastic?

Single-use plastics, or disposable plastics, are used only once before they are thrown away or recycled, according to the latest report of the United Nations Environment Programme (UNEP) on single-use plastics. It is commonly used for plastic packaging, including grocery bags, food packaging, bottles, straws, containers, cups, and cutlery.
A 2017 study reveals that 90.5 percent of plastics are not recycled: 12 percent of plastic waste have been incinerated and 79 percent accumulated in either landfill or natural environment.
Annual reports of Ocean Conservancy, an environmental advocacy group, for coastal cleanup all over the world show that single-use plastics took most spots in their Top 10 lists of items collected by the shore.
There are up to five trillion single-use plastic bags used annually around the world, accounting for half of all plastics in the face of the earth, UNEP said. "With this rate, the oceans could contain more plastic than fish by 2050."
What kinds of single-use plastic items do QC ordinances ban?

Starting January next year, Ordinance 2868 states that business establishments are no longer allowed to distribute plastic bags for purchase in the following establishments in Phase 1:
shopping malls;
supermarkets;
department stores;
grocery stores;
fast food chains;
food stalls;
restaurants;
drug stores;
pharmacies;
wet and dry markets; and all other retailers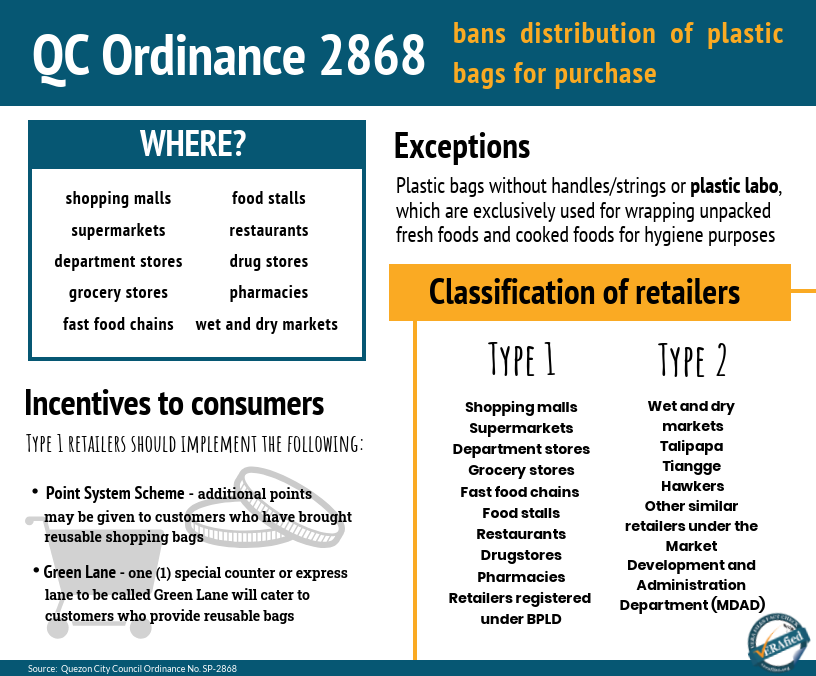 Although Plastic Recovery Fee or Green Fund will no longer be available, establishments under Type 1 are still required to submit an annual report to the Environment and Waste Management Department to "determine trend in the purchase of reusable bags and information necessary on the effectiveness of the ordinance."
Type 1 retailers are also mandated to implement incentive schemes to consumers:
Point System Scheme – additional points may be given to customers who have brought reusable shopping bags with them;
Green Lane – one (1) special counter or express lane to be called Green Lane will cater to customers who provide reusable bags.
Phase 2 of this ordinance, which will be effective in February 2021, will also ban the distribution of brown bags and single-use paper carry-out bags (regardless of color) in all retailers in the city.
Meanwhile, Ordinance 2876, which will start in February, will prohibit restaurants and hotels from providing single-use plastics to customers who are dining in: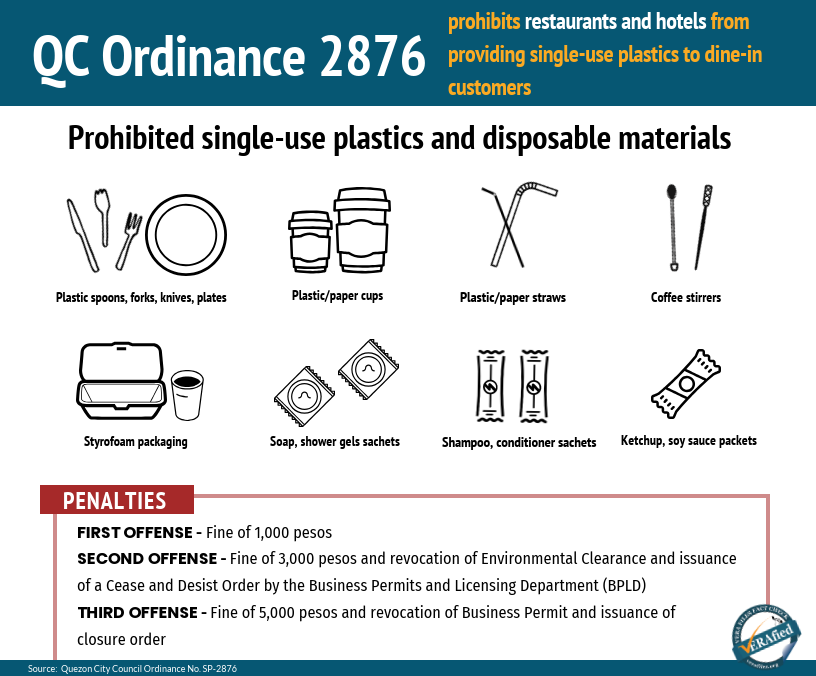 What are the alternatives for single-use plastics?
The World Wide Fund for Nature and National Geographic have listed eco-friendly alternatives for single-use plastics: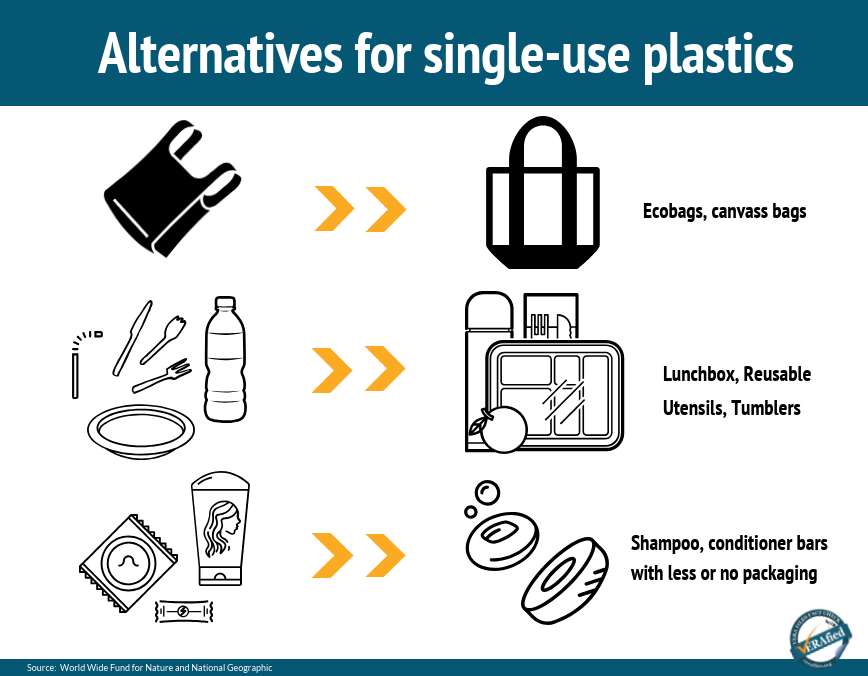 There are also plastics that may be recycled depending on its type. The Society of the Plastics Industry (SPI) classifies plastics, to wit: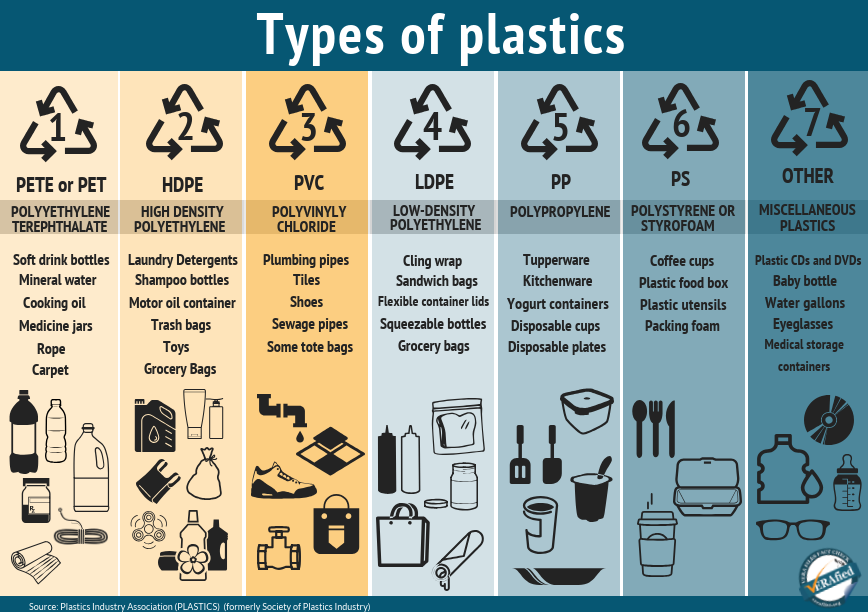 Sources
Global Alliance for Incinerator Alternatives, Plastics Exposed: How Waste Assessments and Brand Audits are Helping Philippine Cities Fight Plastic Pollution, Retrieved on Dec. 1, 2019
National Solid Waste Management Commission, Ecological Solid Waste Management, Retrieved on Dec. 1, 2019
EcoWaste Coalition Facebook, Quezon City lead the announcement of ban in distribution of single-use plastic, Dec. 1, 2019
Quezon City Government Facebook, QC bans single-use plastics and disposable materials in hotels, restos, Dec. 2, 2019
Quezon City Public Library, Research Section: Ordinance No. SP-2868, S-2019-Utilization of the Green Fund and Imposing Total Ban on Plastic Bag distribution, Nov. 24, 2019
Quezon City Public Library, Research Section: Ordinance No. SP-2876, S-2019- Prohibiting the distribution and/or use of single-use plastics/disposable materials including cutlery for dine-in purposes in all hotels and restaurants , Nov. 24, 2019
GMA News Online, House panel OKs bill imposing P20 excise tax on single-use plastics, Dec. 10, 2019
Philstar.com, Single-use plastic papatawan ng buwis, Dec. 11, 2019
Manila Bulletin, House OKs P20/kilo excise tax on plastic, Dec. 10, 2019
United Nations Environment Programme, Single Use Plastics: A Roadmap for sustainability, p. 2, Retrieved on Dec. 10, 2019
Geyer, Roland & Jambeck, Jenna & Law, Kara. (2017). Production, use, and fate of all plastics ever made. Science Advances. Retrieved on Dec. 10, 2019
Merriam Webster, Incinerated
Ocean Conservancy, Cleanup Reports
United Nations Environment Programme, This World Environment Day, it's time for a change
Quezon City Local Government Website, Environmental Protection and Waste Management Department, Retrieved on Dec. 13, 2019
Department of Environment and Natural Resources, Environmental Compliance Assistance Center, Retrieve on Dec. 13, 2019
Quezon City Local Government Website, Business Permits and Licensing Department, Retrieved on Dec. 13, 2019
World Wide Fund for Nature, 10 worst single-use plastics and eco-friendly alternatives, July 1, 2019
National Geographic, 4 Reasons to Ditch your Shampoo Bottle for a bar, Aug. 15, 2018
Personal communication with EcoWaste Coalition, Dec. 10, 2019
Quality logo products, What are the Different Types of Plastic, June 14, 2019
(Guided by the code of principles of
the International Fact-Checking Network at Poynter, VERA Files tracks
the false claims, flip-flops, misleading statements of public officials
and figures, and debunks them with factual evidence.
Find out more about this initiative and our methodology.)