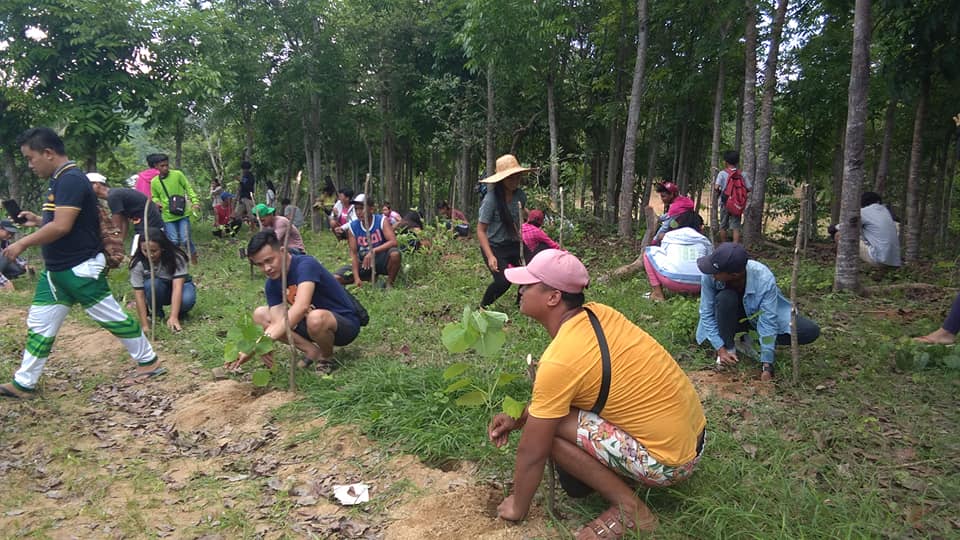 Volunteers
plant trees in Dalit, Pilar, Abra for Sigaw ng Kabataan Coalition's
Reforestation in Progress. Photo by Darren Cariño.
A youth organization had an ambitious
plan: to plant 50,000 trees across the country in one day to mark
Philippine Environment Month. That did not materialize but the group
is now committed to continue what it started and make it sustainable.
"Tree-planting
is one of the simplest contributions an individual can offer to
address various environmental issues," said Ellirie Nicolas Aviles,
founder and national president of Sigaw ng Kabataan Coalition (SKC).
Last June 22, the coalition mobilised
its members for an activity called 'Reforestation in Progress'
with the goal of planting 50,000 trees nationwide.
Up to 7,000 volunteers were able to
plant around 25,000 trees or half the target, Aviles said, adding
that the activity would continue beyond June, declared in 1998 as
Philippine Environment Month.
"Honestly, the 50,000 trees in a day
really is an ambitious goal for a youth-led activity. That's just a
challenge for our members to push our limits, thinking that maybe, if
we could plant 50,000 trees this year, we can do more in the
following years," said the Coalition leader.
The SKC is a national, non-partisan
non-government organization that aims to amplify young people's
voices in addressing developmental priorities such as climate and
environmental action, health and social welfare, poverty reduction,
among others.
The reforestation activity on June 22
took place in 16 locations nationwide, including one in Metro Manila.
"We chose a single location in Metro
Manila as recommended by the DENR (Department of Environment and
Natural Resources) as a trial effort," said Aviles.
"We will look at how residents of the
Metro will respond to this call and slowly expand this effort since
there needs to be ownership and participation of the communities to
be able to make these efforts sustainable and effective," he added.
In Metro Manila, 80 volunteers were
able to plant 100 seedlings overall.
The other locations were Pilar, Abra; Tarlac Agricultural University;
Victoria, Tarlac; Villasis and San Nicolas in Pangasinan; Panglao,
Bohol; Las Navas, Northern Samar; Aklan; Iloilo; Sagay City and Don
Salvador Benedicto in Negros Occidental; Surigao City; Ipil,
Zamboanga Sibugay; Pasonanca, Zamboanga City; Bongao, and Tawi-tawi.
The types of trees and seedlings
planted depended on the locations, as recommended by City Environment
and Natural Resources Offices (CENRO) and Provincial Environment and
Natural Resources Offices (PENRO).
"In some areas, we planted mangroves.
There are coastal areas, so we planted beach-type trees. We also
planted fruit-bearing trees, and mahogany trees in mahogany
plantations," said Aviles adding he would encourage planting
fruit-bearing trees, which are both a source of food and livelihood
for the community.
More important, trees reduce carbon
dioxide in the atmosphere and help curb climate change.
Climate Change Commission Secretary
Emmanuel de Guzman said,"Planting trees and rehabilitating degraded
forests are critical to meeting the Paris Agreement's goal of
limiting global temperature increase to 1.5°C above pre-industrial
levels, the global warming limit needed for humanity to survive and
thrive, and to building the adaptive capacity of our communities to
climate change."
To maintain the warming at 1.5°C,
global carbon dioxide emissions need to be reduced by 45 percent by
2030 and reach net zero by mid-century, according to a2018 report by
the Intergovernmental Panel on Climate Change.
"To this end, the Climate Change
Commission commends Sigaw ng Kabataan Coalition and its partner
organizations for cultivating the spirit of youth volunteerism for
climate action and environmental protection," said De Guzman.
The SKC will continue its tree-planting
program next year.
"Even if this tree-planting blitz is
done, we have schedules of tree-planting in different parts of the
country until we complete 50,000 (trees) or even more," said
Aviles.
"In the face of climate change and
environmental degradation, the youth by now should realize that the
future lies in their hands. It is high time for us to step up, take
on active leadership roles, and start a genuine and grand movement
towards saving the environment which in turn signifies saving the
future generations," he added.
This project is produced by VERA Files with the support of the
Internews' Earth Journalism Network, which aims to empower journalists
from developing countries to cover the environment more effectively.