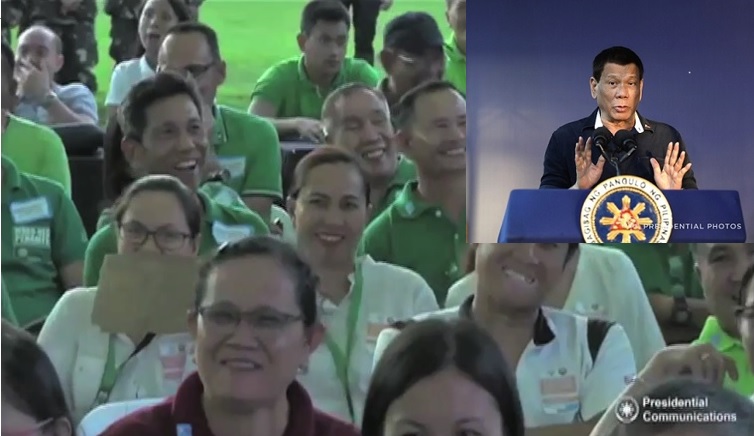 The President in Dingle, Iloilo.The audience laughed at Pres. Duterte's boast of having two families. Photo by Malacañang.
March 8 is International Women's Day to highlight the achievement of women in all fields – social, economic, cultural and political.
In the Philippines, where women have long proven their worth, they are still subjected to a lot of disrespect. And this is from no less than the President himself.
Last Feb. 22,in his speechat the 6th Regional Community Defense Group Ground, Camp General Adriano Hernandez, Dingle, Iloilo last Feb. 22, Duterte talked about the difficulty of maintaining two families with the salary he is getting as President.
He understated his salary by P98, 000 (/articles/vera-files-fact-check-duterte-understates-his-salary-again). But that is not the offensive part of the speech.
It was the reaction of the audience: They laughed when Duterte talked about having two families. Even the women found it funny.
Disgusting.
Here's what Duterte said:
"If I overstay in the office even one day, you oust me and you kill me.
"Wala akong ambisyon. Gusto ko ngang umalis na. Alam mo kung bakit? Alam mo ba kung magkano ang sweldo ng Presidente? Sa pagod kong ito?…
"Sa pagod ko tapos alam mo ang sweldo ko? 200. Dalawa ang asawa ko."
Watch the video and you can see the audience laughing.
This is not the first time Duterte regaled the audience about his having two families. Last year during the inauguration of New Hope Village, a Typhoon Haiyan rehabilitation housing in Sta. Elena, Tacloban City Jan. 25 he said the same thing and the audience also had the same reaction. They found it funny and they laughed.
Remember his repulsive joke about regretting that "Mayor" was the first to rape the Australian missionary? If you look at the video, everybody laughed.
It says a lot about how warped our values have become for us not to be disgusted with an official boasting about his immorality and disrespect of women.
***
Duterte loves that narrative of being an underpaid government official struggling to maintain two families.
In his Feb. 22 speech, Duterte said : "Totoo. Nagrereklamo ako sa kanila. 200? Wala akong meal allowance, wala akong representation."
Duterte got his numbers wrong. He is receiving P298, 083.00 a month based on Executive Order 201 modifying the salary schedule for civilian government personnel and authorizing the grant of additional benefits for both civilian and military and uniformed personnel.
In his January 25 speech last year, he used a lower figure: P130, 000 monthly.
VERA Files Fact Check (/articles/vera-files-fact-check-how-much-does-president-duterte-earn-m) showed that "When he assumed the presidency in July last year, Duterte's basic monthly salary was P165,752 until December 2016. The president understated his salary by P35,752.
"Starting Jan. 1, 2017, Duterte's basic monthly salary rose to P222,278. This is 70 percent more than what the president said he was getting.
"Of the 33 pay levels in government, the highest salary grade is assigned exclusively to the president under Republic Act No. 6758 or the Compensation and Position Classification Act of 1989.
"Like other civil servants, the president began receiving a year-end bonus on top of the midyear bonus starting 2016.
"Duterte is reaping the benefits of Aquino's Executive Order No. 201, which sought to increase salaries of government officials annually in four tranches. The order signed in February 2016 was retroactive to January 2016.
"Aquino, however, did not benefit from the adjustment since the 1987 Constitution exempts the incumbent president, vice president and members of Congress from salary increases until after their terms have expired. At the time he bowed out of office, Aquino was receiving a P120,000 monthly salary.
"Duterte's salary in 2018 will be P298,083.
"In 2019, Duterte is expected to receive P399,739 under the modified salary schedule. By then the president will be receiving three times the amount he claimed to be getting in his speech."