Rodrigo Duterte, presidential candidate of the PDP-Laban and Leni Robredo, vice-presidential candidate of the Liberal Party will be proclaimed Monday (May30) as the winners for the top two positions in the May 9, 2016 elections in a joint session of Congress.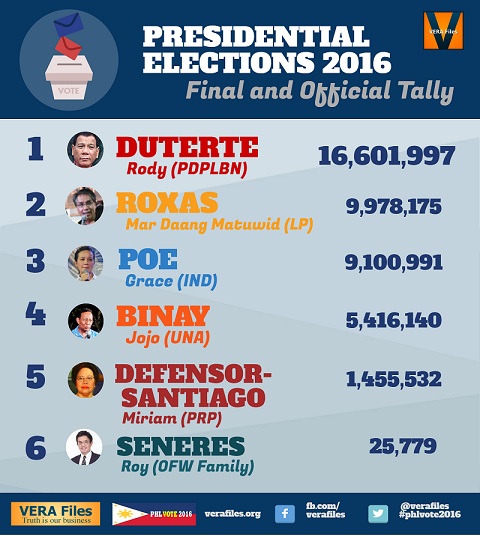 Duterte emerged as winner of the presidential race with  16,601,997 votes, more than six million more than his closest rival, Mar Roxas of LP who obtained 9,978,175 votes in the canvassing of votes conducted by Congress convened as National Board of Canvassers (NBOC).
Independent candidate Grace Poe  was third with 9,100,991; Jejomar Binay of the United Nationalist Alliance with  5,416,140; and Miriam Defensor-Santiago of the People's reform Party with  1,455,532.
Roy Señeres of OFW Family party list, who died after withdrawing his candidacy first week of February still got 25,779 votes.
It was a close fight between Robredo and Independent candidate Ferdinand Marcos, Jr.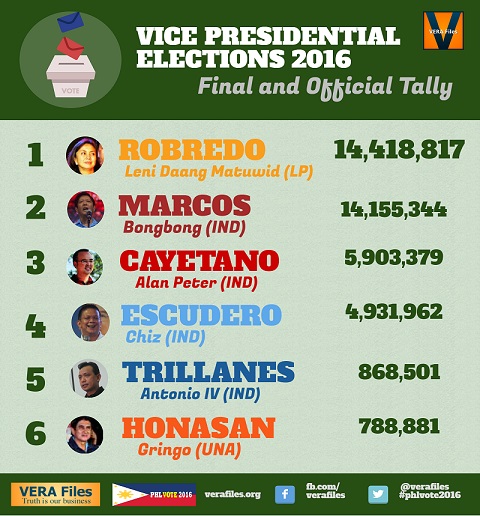 Robredo garnered 14,418,817 votes, only a little over 250,000 votes over Marcos who got 14,155,344.
Other vice-presidential contenders were far behind. Alan Peter Cayetano, with 5,903,379 votes; Chiz Escudero, with  4,931,962; Antonio Trillanes IV with  868,501; and Gregorio Honasan with  788,881.
Cayetano, Escudero and Trillanes are all independent candidates while Honasan belongs to UNA.
The three-day canvassing, which started  May 25 and was completed May 27 was the quickest in post-1986 election history.
Duterte said he will not attend  the proclamation ceremony.