As Baguio City prepares to resume limited business activity with the easing of restrictions, traffic enforcers urge motorists to take precautions and drive defensively.
This follows reports that while the country's summer capital was under Enhanced Community Quarantine (ECQ), there were still a number of road crashes during the period. And as hospital workers were attending to COVID-19 patients, emergency responders were also managing road crash victims.
Under ECQ, only a few vehicles are allowed on the roads at certain times, but Baguio traffic enforcers still had their hands full issuing tickets to erring motorists, while rescue teams responded to road crash incidents in the city and surrounding areas.
President Rodrigo Duterte placed Luzon under ECQ on March 16 to contain the spread of COVID-19, and mass transportation and most businesses were not allowed to operate. Cities and municipalities within the National Capital Region, and Laguna province will remain under modified ECQ till May 31.
Starting May 16, however, Baguio City and dozens of other cities and provinces across the country will transition to a more relaxed general community quarantine, where a few businesses and limited public and private transport are allowed under strict health protocols.
"A reduction in the number of vehicles plying the streets will also reduce the possibility of road crashes but still it's not 100 percent that no vehicular traffic incident will occur," said Baguio City Police Office (BCPO) Traffic Management Unit chief Major Oliver Panabang.
Errant motorists during ECQ
Data support his conclusion as BCPO records reveal that road crashes occurred even with fewer vehicles plying the streets during the period under ECQ.
From mid-March to May 8 this year, there were 115 road crash incidents, compared to 513 cases in the same period in 2019.
The crashes resulted in one casualty and 10 cases of reckless imprudence resulting in physical injuries, police said, adding that the lone fatality involved a motorcyclist traversing Marcos Highway.
Police also said that from March 16 to May 13, there were 927 traffic violations committed in the city, mostly obstruction and illegal parking.
A few jeepneys and cabs were allowed on certain days and time during the ECQ, but the errant motorists were mostly private car drivers, Panabang said.
Amid the health crisis, rescue teams continued to respond to road crashes, according to Rafael Valencia, president of 911 on Call Incorporated, a volunteer paramedic group based in Baguio City, but which also provides emergency assistance to provinces in the Cordillera region and nearby La Union and Pangasinan.
911 On Call Incorporated is a Pre-Hospital Rescue-Medical Unit of first responders to tragedies and emergencies in the city. It works with various government agencies such as the Fire Department, Philippine National Red Cross, City Disaster Coordinating Council, Office of the Civil Defense, Baguio General Hospital and the Department of Social Welfare and Development.
Amid the ECQ, the team responded to several road crash incidents involving an armored van, an oil tanker, a frozen chicken delivery truck, private vehicles and motorcycles, Valencia said.
Crashes on highways and city roads
The incidents occurred along national roads such as Marcos Highway and Naguilian Road, Kennon Road and other areas in the city such as Bakakeng road, Abanao Extension, Brent road and UP drive.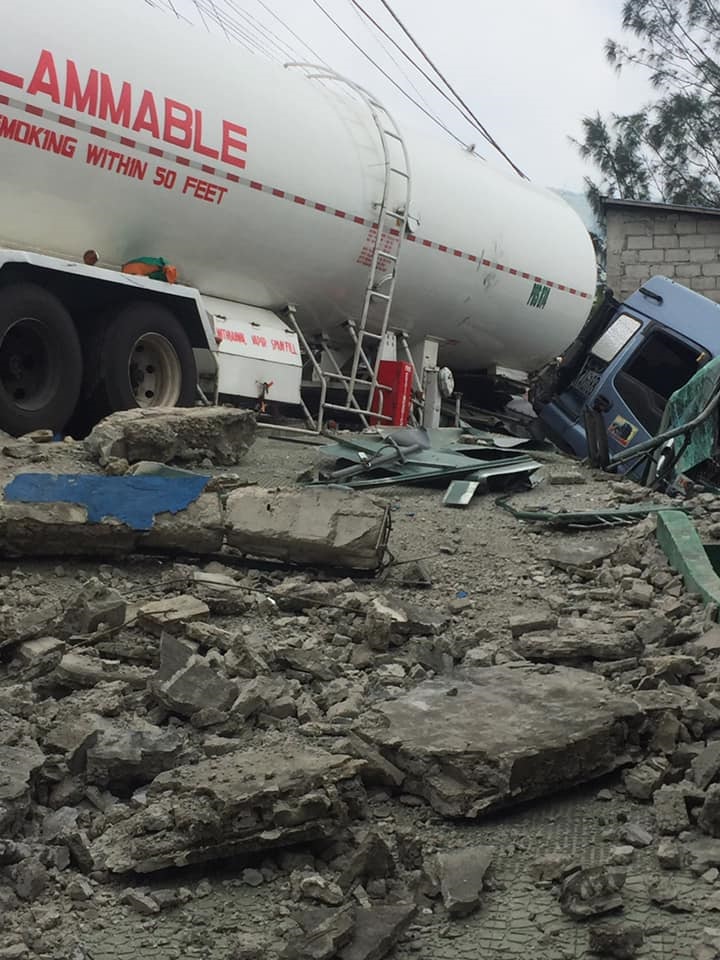 Driver and passenger of this fuel tanker suffered injuries. Photo courtesy of 911 On Call.
On April 17, a month after the ECQ was imposed, a highly flammable LPG tank truck crashed against a concrete fence of a house on Naguilian Road, injuring the driver and one passenger, police records showed.
The truck had come from Bataan province and just delivered fuel to one of the gas stations in the city when the incident happened. The truck lost its brakes after descending the steep road, the driver told the police.
Ten days before, a truck delivering frozen chicken also crashed into a concrete wall along Camp 7 within the city.
Emergency rescuers say that in some instances, a crash is caused by the driver's unfamiliarity with the terrain of the road or it could be driving under the influence of alcohol. If not mechanical defect, which is often blamed, it could be the driver's behavior that causes a crash, said Valencia.
A delivery truck crashes against a concrete wall, scattering plastic containers and chicken pieces on the ground. Photo courtesy of 911 On Call Inc.
According to the World Health Organization (WHO), approximately 1.35 million people die each year as a result of road traffic crashes.
"Between 20 and 50 million more people suffer non-fatal injuries, with many incurring a disability as a result of their injury," the WHO stated in a February 2020 brief on its website.
The organization also identified the risk factors that need to be addressed to prevent road crashes. These are driving under the influence of alcohol and other psychoactive substances, speeding, non-use of motorcycle helmets, seat-belts, and child restraints, distracted driving, unsafe road infrastructure and unsafe vehicles.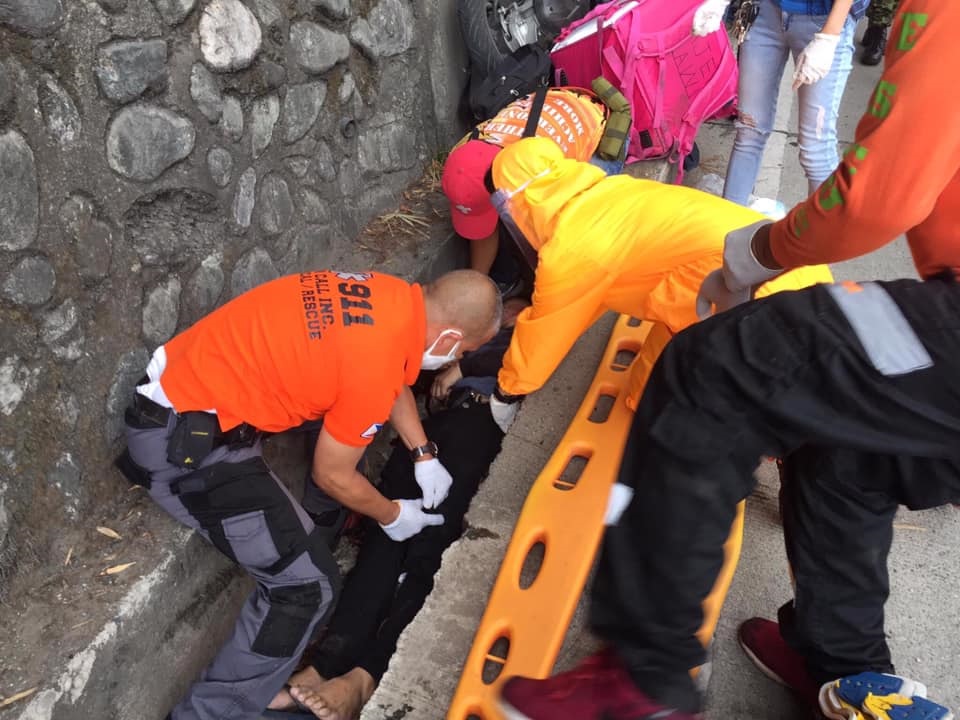 Rescue workers try to lift a motorcycle rider from a ditch along Marcos Highway.
Photos courtesy of 911 On Call.
With life slowly returning to a semblance of normalcy, Valencia and Panabang advised motorists to observe speed limits even with fewer vehicles on the road.
Both acknowledge that a driver's alertness and observance of safety precautions are important in addressing the oft-repeated reason for a crash – human error.
Panabang said motorists are generally aware of road safety, but many are still not taking the necessary precautions. "Discipline is the key," he added.
"To our motorists: drive defensively, take precautionary measures. It is up to us to discipline ourselves," Valencia said.
This story was first published in SunStar Baguio. The author, Lauren Alimondo, is a 2019 WHO-VERA Files Road Safety Fellow.