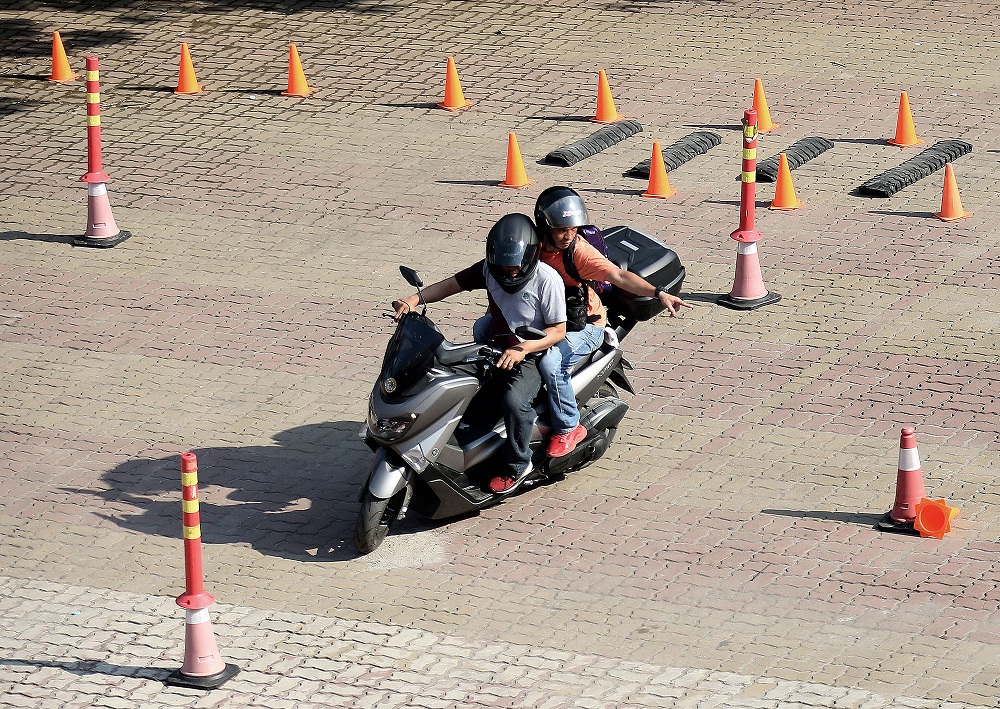 (Second of three parts)
The streets of Manila—chilly and bare at 9 p.m. on a Sunday —gave the men sufficient cover for their clandestine rendezvous. Dozens of motorcycles were lined neatly along Carlos Palanca Street, the owners listening to the instructions of their leader, "Kyrie."
The men were part of the Angkas Riders and Passengers Group (ARPG), a virtual community on Facebook where commuters can hire motorcycle taxis. Though registered with the Securities and Exchange Commission as a private organization, the group does not qualify as a legitimate transport network company (TNC) like Grab or Angkas.
This means ARPG operates habal-habal, or taxis without franchises, which are illegal under Republic Act No. 4136.
But it was also why they met that night, said ARPG vice president "Kath." They were recruiting drivers for a new bike-hailing app called i-Sabay, which would compete with Angkas should Congress amend the law.
The free app is now downloadable on Google Playstore, with more than 1,000 activated drivers accepting bookings from customers.
The problem is that the Land Transportation Franchising and Regulatory Board (LTFRB) is not accepting applications for new TNCs, at least until Angkas finishes its government-mandated, six-month pilot test to prove that motorcycles are safe for public transport.
"Angkas is currently oversaturated, which is why people are turning to these other options," said Toix Cerna, spokesperson for Komyut. "Competition is great, but how do we extend the same safety protocols for these groups?"
A memorandum obtained by the Inquirer showed that as early as September, the Department of Transportation (DOTr) was aware of bike-hailing companies "posing as part of the pilot implementation."
In the memo, Undersecretary for Roads Mark de Leon ordered DOTr enforcers to crack down on habal-habal, since "the accountability of these companies, in case incidents occur, will be difficult to monitor."
Growing
But free apps like i-Sabay continue to grow in number. If they are left unchecked, transport regulators worry, incidents that may arise from their operations could taint the integrity of the pilot test established precisely to ensure road safety.
As of this writing, the Inquirer knows of two active bike-hailing apps: i-Sabay and Sampa. Two others—Habal Inc. and Joyride—are believed to be still building a pool of drivers.
ARPG's extensive network of bikers formed i-Sabay's initial pool of 2,000 riders, Kath said. To get on the platform, motorcycle owners are required to submit: National Bureau of Investigation and police/barangay clearances, driver's license (professional or nonprofessional), and the official receipt and certificate of registration for their bikes.
Sampa, launched by Juniven Taganas, Taguig City traffic management team head, has the same requirements.
But Taganas, a former volunteer for the traffic superbody i-Act, said his bikers were strictly required to get professional licenses. It's a requirement under the DOTr guidelines intended for Angkas' six-month test. Most of his bikers come from the cities of Makati and Taguig, whose central business districts are populated by habal-habal.
Both i-Sabay and Sampa claim to also follow, albeit less religiously, the pilot test guidelines laid down by the DOTr's technical working group to ensure passenger safety.
But i-Sabay does not require its drivers to undergo an obstacle course with backriders. Meanwhile, Sampa has partnered with the Land Transportation Office to provide free seminars on basic safety every Saturday, Taganas said.
Both apps are in various stages of operability: i-Sabay is now fully active; Sampa is still on its dry run stage while its developers try to work out the bugs in the application.
Solely authorized
But commuters can now book rides through both, although the fares vary: i-Sabay charges P50 for the first two kilometers and P10 for each succeeding km, plus an additional P10 that goes to its administration. Sampa also uses the same scheme but its fares depend on the travel time.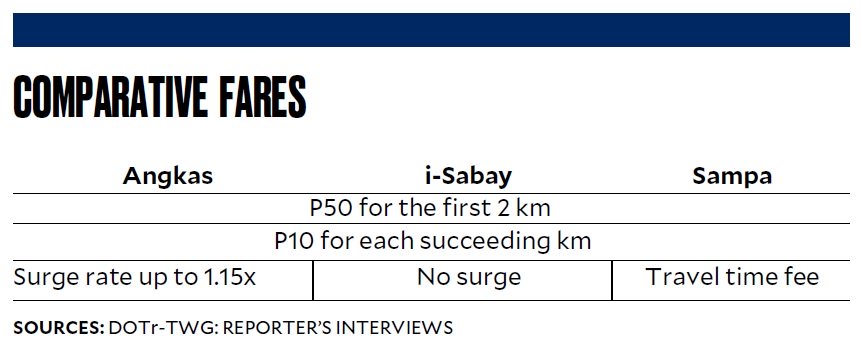 According to De Leon's Sept. 2 memorandum, only Angkas is authorized to participate in the pilot test so passenger safety can be closely monitored and safeguarded.
De Leon wrote: "In this regard, [I] direct [traffic enforcers] to stringently enforce against the operations of habal-habal and other ride-hailing companies exploiting the pilot implementation as an excuse to operate."
In a separate statement to the Inquirer, he said: "We don't want to have [cases of road crashes] involving motorcycle taxis and we can't attribute them to anyone. We want accountability and strict monitoring, especially during this trial period."
Angkas regulatory and public affairs head George Royeca recognized that the rise of such apps "is a testament to the demand for these types of services."
But, "I think any type of accident [related to] motorcycles has some sort of effect on Angkas. As pioneers, as the most visible entity in reference to motorcycle taxis, we really take the brunt of a lot of the issues," he said.
"Our focus is safety. We are under the microscope. [What we're doing under the pilot test] is effectively proposing standards [for bikes for hire] so we really have to be careful," he added.
Both i-Sabay and Sampa promise to shoulder expenses if their drivers are caught on the road. Taganas has promised that, "if there are orders to apprehend even my own [drivers], then I would not hesitate—no exemptions."
But Taguig's top traffic head said he himself had yet to receive such orders. Kyrie was even more blunt: "They can do that, but they would have to prove first that who they are arresting are habal-habal"—a reference to the near impossibility of telling whether a pair riding tandem constitutes a taxi service.
Even De Leon admitted that apprehension is difficult because of lack of manpower. But when Angkas was starting out in 2016, the LTFRB made several publicized stings against its drivers, cracking down on the app until the group sought an injunction from a Mandaluyong City court.
Confident
When Angkas was finally approved for the pilot test, it had been running for two years, said David Medrana, Angkas operations head. It had more or less been implementing the same policies being used now in the pilot test, some of which
LTFRB Chair Martin Delgra said had been the benchmark for the DOTr as well.
For example, Angkas has strict rules on the kind of bikes it accepts on the platform. The oldest bike should be from 2012, 100-200cc, and only from specific brands (Honda, Suzuki, Yamaha, Sym Europe, to name a few).
"Before we were approved for the pilot program, we were running for two years. So we were confident with what we could provide," Medrana said. "[But] the problem in taking in more players is that it might endanger the pilot program. It might be that their processes are substandard. And it might ruin, instead of help, uplift the image of a motorcycle taxi [as a possible mode of public transport]."
"Because of the inherent safety issues in two-wheeled vehicles, the bar of safety must be really, really high," Royeca added. "So we cannot be lax whether in the pilot test or once we're legalized."
Angkas will be open to competition "once there is a law," Medrana said. "But what would legalizing motorcycle taxis look like in a country that has long been allowing habal-habal, anyway?"
(To be concluded)
This story, which first appeared on the Inquirer, was produced under the Road Safety Journalism Fellowship carried out by Vera Files and the World Health Organization under the Bloomberg Initiative for Global Road Safety.