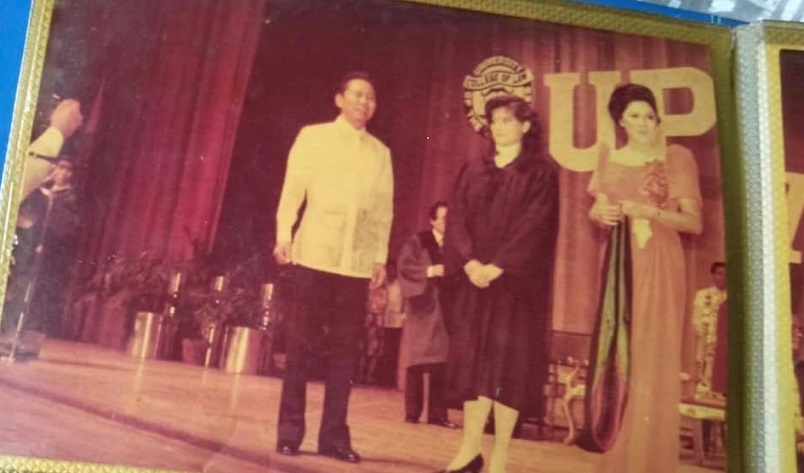 It keeps resurrecting – that phony graduation of Imee Marcos from the University of the Philippines.
Maybe because of its unbelievable storyline that only a tyrant in power could blatantly decree that many have not forgotten it. It is currently making the rounds of social media again and attracting shocked commentators. But that should really be the way to memorialize the Marcos corruption if, by way of it, the mantra of Never Again can be resuscitated without let-up so that it may always govern our collective consciousness.
It is a necessary pushback we must do under the newly-restored Marcos in Malacanang.
The year was 1983. The UP College of Law held a "special academic convocation" at the Meralco Theater. I use that term instead of "graduation" because there are claims  that there were two graduations that year: the real one where Imee was not on the roster and the televised fake one.
The guest of honor was Chief Justice Enrique M. Fernando. The dean was Froilan Bacungan. The university president was Edgardo Angara.  Faculty members included  Jose F. Espinosa, Ed Labitag, Carmelo Sison, Myrna Feliciano, Haydee Yorac, and Irene Cortes but it is unclear if they were present at the Meralco Theater. Bacungan, however, has admited he was there.
Some of the students were Raul Pangalangan (retired International Criminal Court judge), Danny Concepcion (UP president), Sigfrid Fortun, JV Bautista, and William Chua. And then there was Imee Marcos in academic gown.
Ferdinand and Imelda Marcos attended as parents of student Imee. To everyone's surprise, Imee was called on stage and with her parents assisting, was awarded the academic hood of the Bachelor of Law degree. Imee later claimed that she was also pinned the cum laude medal.
The next day, national dailies published the "graduation" photo of the first couple's eldest daughter.
Under a state of tyranny when freedom of speech in a country is curtailed, word of mouth flies fast. That was especially true among Diliman's dormitories where some of Imee's classmates were staying.  They passed around not chismis but first-person eyewitness accounts. Ricardo Manapat, in his book "Some Are Smarter Than Others" (1991), wrote that there were demands from UP students for Angara to publicly release Imee's academic records.
It was also widely known among the students that the faculty — and here is where Haydee Yorac is constantly cited as having been a force to contend with — put their collective foot down and insisted that Imee lacked 35 units to qualify for graduation.
When Imee ran for the senate in 2019 and posted photos of her Meralco "graduation," fact-checkers received an official statement from Teodoro Herbosa, UP's Executive Vice President at that time, which was echoed by some publications.
"There is no record of her graduation from UP (Diliman) nor any honors or academic distinctions received with the University Registrar's office," the statement read.
Neither was there any graduation photo of her  in the 1983 Philippinensian, the official yearbook of the University.
What could have moved the Marcoses to stage such a grand fantasy in full public view and in the presence of university officials?
It was to Marcos's self-esteem that he would have wanted his daughter to be a lawyer following his own career path. A fantasy staged before the public could have been enough even if there was no diploma. The family was accustomed to fantasies, after all. But this was a fantasy of great feat given that UP had and continues to have rigorous academic standards. How that passed the country's top state university continues to be a mystery today.
Did Imee lie to her parents that she had graduated? After all, neither one probably had time to see her grades. But that scenario is hard to stand as a possibility: how could they have attended a fake graduation without hearing any word of opposition from the UP faculty? It would imply that Imee was in cahoots with the UP Law dean and faculty. Froilan Bacungan was silent about any pressure coming from Marcos.
Did the pressure come from Edgardo Angara?
When the issue was resurrected in the 2019 senatorial elections where Imee was a candidate, her office posted photos of her "graduation." See the link (Facebook account Senator Imee R. Marcos). Candidate Imee herself revived the controversy by allowing the photos to be captioned: "The ceremonies were held at Meralco Theater where her parents—former President Ferdinand E. Marcos and former First Lady Imelda Romualdez Marcos—pinned her cum laude medal."
A netizen whose sibling was a bona fide graduate had in fact defended Imee. But who can blame her for not knowing? The rites appeared to be an authentic graduation ritual complete with imposition of academic hoods. It was quickly debunked, however, by one Angelo Bernardo Jr. who posted a photo of the real cum laude graduate by the name of  Daniel M. Malabonga.
The last word came only in 1986 after the Marcoses had been ousted. Writing in Marilies von Brevern's "The Turning Point: Twenty-Six Accounts of February Events in the Philippines," was Bacungan's account on pages 88-90:
There was this problem with Imee, the president's eldest daughter.
I allowed her to enter the College of Law, in spite of the fact that she couldn't present a certificate proving that she had a bachelor's degree which was the basic requirement.
 "I don't have it now," she explained. "Our classes here start in June and American universities end in June."
Imee had sounded very confident that she would submit that certificate. Maybe she was not telling the truth – how can I know?
Four years afterwards, when she could be considered for graduation, we discovered that she never submitted her diploma. She was not given a Bachelor of Law degree and that meant she couldn't take the bar examination.
There was indeed some kind of a ceremony held which looked as if she had graduated. I was there. It was a little bit PR that, strictly speaking, we should not have participated in.
It borders in fact on a little bit of misrepresentation. No less than the Chief Justice of the Supreme Court graced the occasion.
From Bacungan's account, we can see how Imee was consciously lying through her teeth to the UP Law dean.  He also implies that there was complicity on his part.
Imee's "graduation" was a mock graduation. Her parents were complicit. It was abuse of power both on their part and of UP officials, who committed a travesty of academic integrity for allowing the Marcoses to hold hostage the rules of the esteemed national university.
It was unprecedented graft by all of them and a grand garapalan fake instigated by the Marcos couple.
Will a Marcos lie again? They will continue to lie until we private citizens fully realize what it means to hold our public officials accountable. We must not tire from pressing on that, no matter the threats that may come our way. That is the price of democratic citizenship that must shun slavery to tyranny.
The red-tagger Senator Bato dela Rosa said in 2019 that UP was lax on students being recruited by the New People's Army.  But in truth, government chicanery and abuse of power through tyranny, injustice and corruption are the best recruiters of students to Leftist ideology.
The views in this column are those of the author and do not necessarily reflect the views of VERA Files.