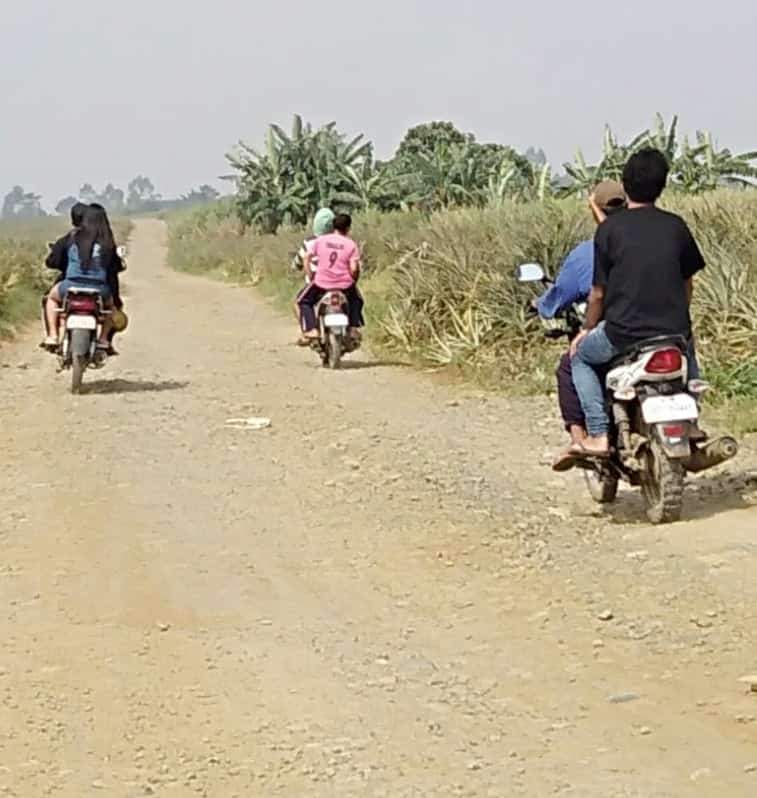 The motorcycle taxi, known here as the habal-habal, is changing the landscape in rural communities, where transportation is scarce. It is now a regular feature in the countryside, carrying people and goods from remote areas to towns and centers of commerce.
A utility vehicle, it is affordable and accessible to low-income residents in villages where mobility has been limited because of the absence of regular public transport. In these areas, the motorized two-wheeler has found its place.
"Before the habal-habal, people just walked. There was no transport," said a retired female teacher in Malaybalay, who is now a regular user of the motorcycle-for-hire.
A few years ago, she said, there were a few multi-cabs making occasional trips to the barrios, but the practice was for them to be filled before they can leave the terminal. This system did not prosper because the passengers did not want to wait for a long time, she added.
The habal-habal filled that void.
Common sight on rugged roads
Chona Binaliw is one of those who welcome the advent of the motorcycle taxi in the community.
"Maayo man ang habal-habal kay molakaw diretso bisan usa raang pasahero.Kung multi cab, dugay mapuno busa dugay makalarga. Busa mas dali ang pag-abot sa lugar imong adtoan. (Habal-habal is a better transport because it ferries even only one passenger without having them wait for more passengers. So it shortens the travel time)," she said in Bisaya, the lingua franca in many provinces in the Visayas and Mindanao, including Bukidnon.
'Habal' in Bisaya means to "breed" or the mating of animals and the term now describes the position of the riders on a two-wheeler.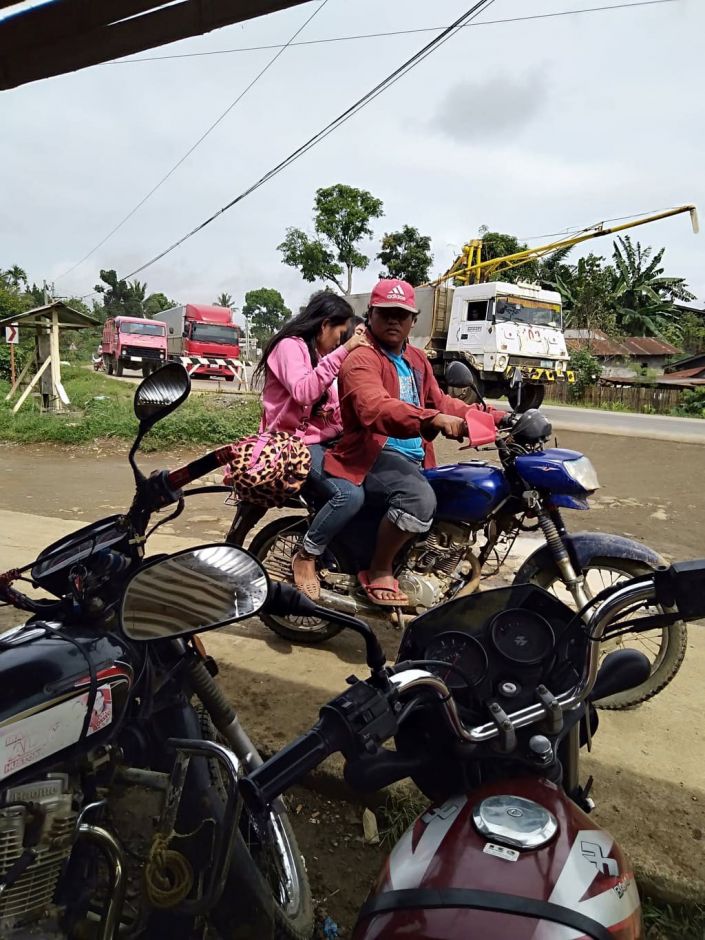 Once deserted, long stretches of rough roads are now dotted with habal-habal carrying a single passenger, sometimes two, or sacks of vegetables or other cargo.
Many residents consider the habal-habal the most practical means of transport in the barrio. They can easily go to town anytime riding the two-wheeler. They can load it with agricultural products from the farms and take them straight to the markets.
These motorbikes can also be used as a rescue vehicle during emergencies
The popularity of the habal-habal is growing and there seems to be no turning back.
Riders organize themselves
In a barangay in Malaybalay, the capital of Bukidnon province, motorcycle riders have organized themselves and are gearing up for what's ahead given growing demand for their use.
Tutor Sampit, the president of the newly-organized Dalwangan Habal-habal Drivers Association, described the operation of the habal-habal as an important source of income for their families. This is the reason they formed the association, he said.
They have adopted rules, he explained, to protect the riding public so that their habal-habal service remains viable. First, the riders are required to have their motorcycles registered with the Land Transportation Office (LTO), the agency tasked to register all motor vehicles and issue licenses to drivers.
The member-riders are asked to wear a uniform so that passengers can identify them through their clothes and they have to observe proper personal hygiene, Sampit said.
Also, they are required to pay monthly dues of P100 so that they can have a space in the terminal, a make-shift shelter for the motorcycle taxis where they wait for passengers who are served on a first-come, first-served basis.
The association makes sure it provides all its members equal opportunity to earn. It has also set a standard fare for passengers.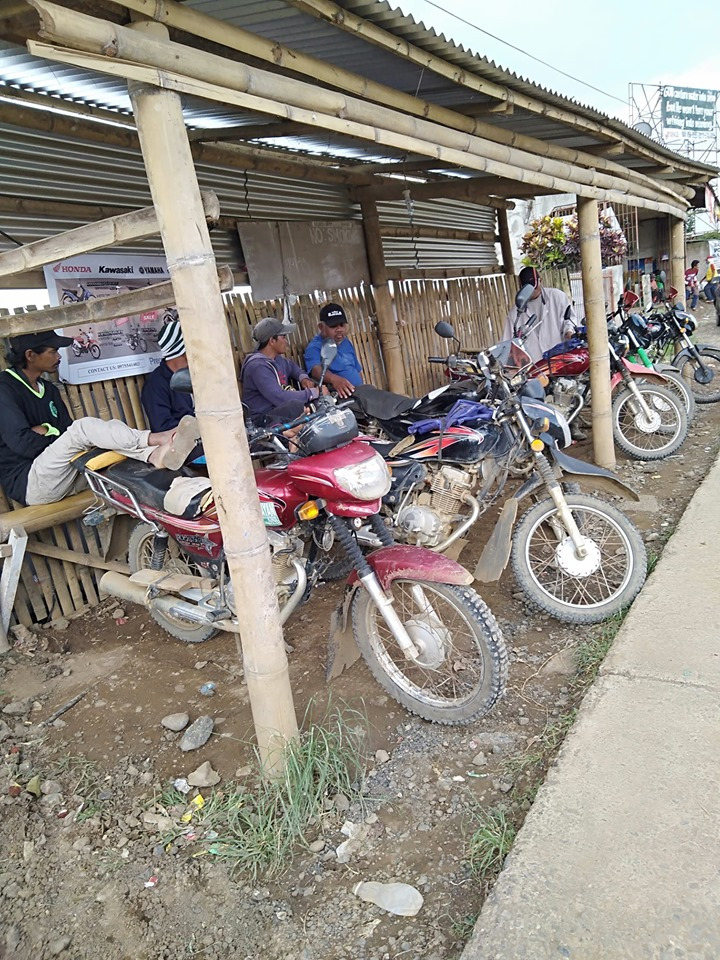 From the Dalwangan terminal, which is about 10 kms from the city proper, or a 20-minute ride on a habal-habal, a passenger pays 25 pesos one way. The motorbike will take two passengers at a time. If there is only one passenger, he or she will have to pay 50 pesos.
Dalwangan is one of the progressive barangays of Malaybalay City and is known to house several poultry farms due to its favorable climate condition and location. It is also known to produce several high-value crops.
Dalwangan's Sitio Damitan, located at the foot of Mt. Kitanglad, is the most common destination of the habal-habal that ferry passengers to and from their farm areas. It is about four kilometers from the habal-habal terminal in the barangay proper.
They sometimes pass rugged and slippery terrain where pineapple plantations can be found.
Alternative livelihood
Besides improving mobility, this transport phenomenon is becoming an alternative source of livelihood for families living in agricultural communities.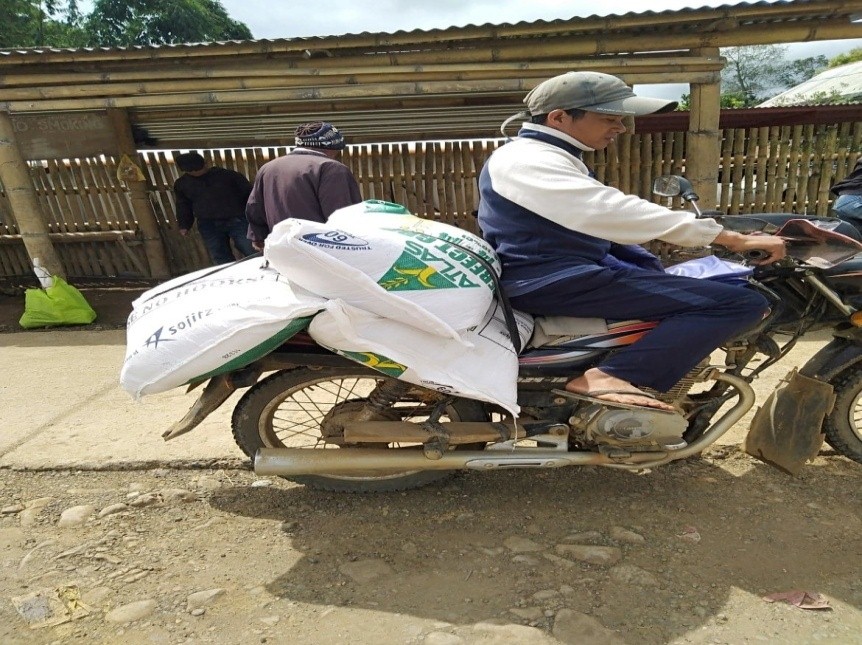 Previously a farm hand, David Salcedo now rides a motorcycle and ferries villagers from their homes to school or work. This earns him enough to feed his family, something that was not guaranteed when he was doing farm work.
"Dali ug sayon ra ang income namo sa pagpamasahero pinaagi sa habal-habal kaysa magtrabaho sa uma (It is easy and convenient to earn income from carrying passengers on the habal-habal unlike working on the farm)," Salcedo said. He now earns daily cash income that can meet his family's subsistence, he added.
Another former farm worker in Dalwangan who has switched to driving passengers on his two-wheeler echoes the same sentiment. "I experienced some improvement in my family's economic condition because I have a regular income. My family can now buy some food items that we could hardly buy when I was working in the farm," Ruben Tagupa said in an interview.
Habal-habal drivers earn an average of P300 a day from traversing unpaved dirt roads carrying people and goods.
Safety measures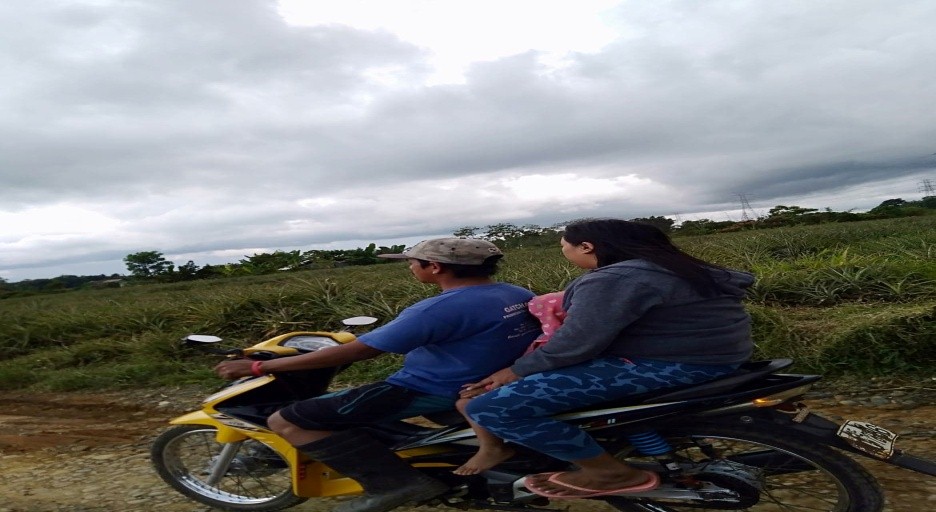 In other provinces, a habal-habal carries up to six people, with passengers sitting on wooden planks that are placed horizontal to the back seat of the motorcycle.
This is not the case in Malaybalay, where safety is a primary concern.
Because the roads are not gravelled and are slippery, especially during the rainy season, one cannot help but feel nervous travelling on rough roads.
One female passenger who owns a sari sari store that she needs to stock up regularly, said: "Ako lang antosan bisan kuyawan komo sakay sa motor kay wala man ko mahimo. Wala man lain atong mapili nga masakyan (I just bear it even if I am really afraid to ride on it. There is nothing I can do, I have no choice)."
To assuage fears and to ensure safety on the road, the Dalwangan riders association, which now has 36 members, has strict guidelines for their riders.
For one, they are not allowed to drive if they have consumed alcohol, Sampit, its president, said.
The riders in and around Malaybalay are aware of the dangers.
Salcedo, a member of the growing army of habal-habal riders in the province, said he takes extra care while transporting passengers.
Tagupa, his fellow rider added: "Pero isip usa ka driver sa habal-habal, aduna ako kabalaka sa posibleng mahitabo sa dalan samtang nagadala kami ug pasahero. Busa naga-ampo gayod ako nga ilikay sa disgrasya. (Being a driver of a habal-habal, I always have some fears of an untoward incident while ferrying passengers. That is why I always pray that I will be able to deliver my passengers to their destination safely)."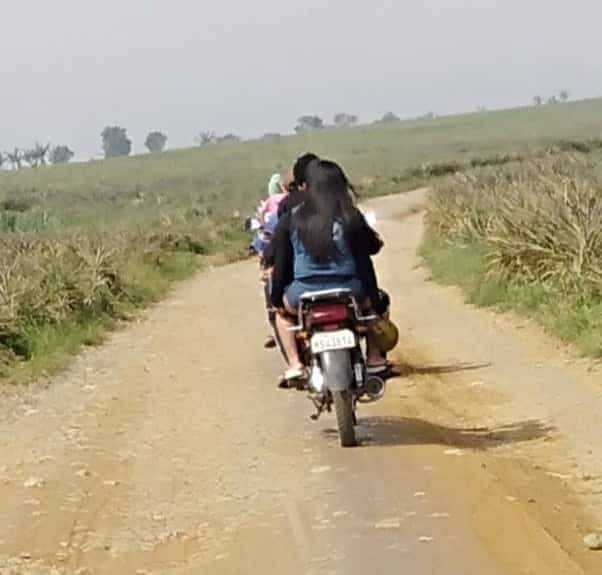 Despite concerns expressed over their safety, not one is wearing a helmet, which is the main protection against possible head and neck injuries in the event of a road crash. Apart from non-helmet use, other factors that could lead to crashes are speeding, and driving under the influence of alcohol and drugs.
Motorcycle riders are among the most vulnerable road users, along with bikers and pedestrians, according to the World Health Organization. Riders make up 34 per cent of the total number of fatalities in road crashes in the country and 37 per cent of non-fatal injuries, it said.
The Online National Electronic Injury Surveillance System (ONEISS) of the Department of Health showed a steady rise in road crash injury from motorcycles from 6,244 in 2010 to 28,694 in 2016.
While commuters, both in urban and rural areas, have turned to motorcycle taxis out of necessity, the operation of these two-wheelers is considered illegal and amending the 55-year-old Land Transportation and Traffic Code (RA 4136) is being studied by legislators and policy-makers as a way to legalize this popular mode of transport.
This story, first posted on Bukidnonnews.net, was produced under the Road Safety Journalism Fellowship carried out by VERA Files and the World Health Organization under the Bloomberg Initiative for Global Road Safety.