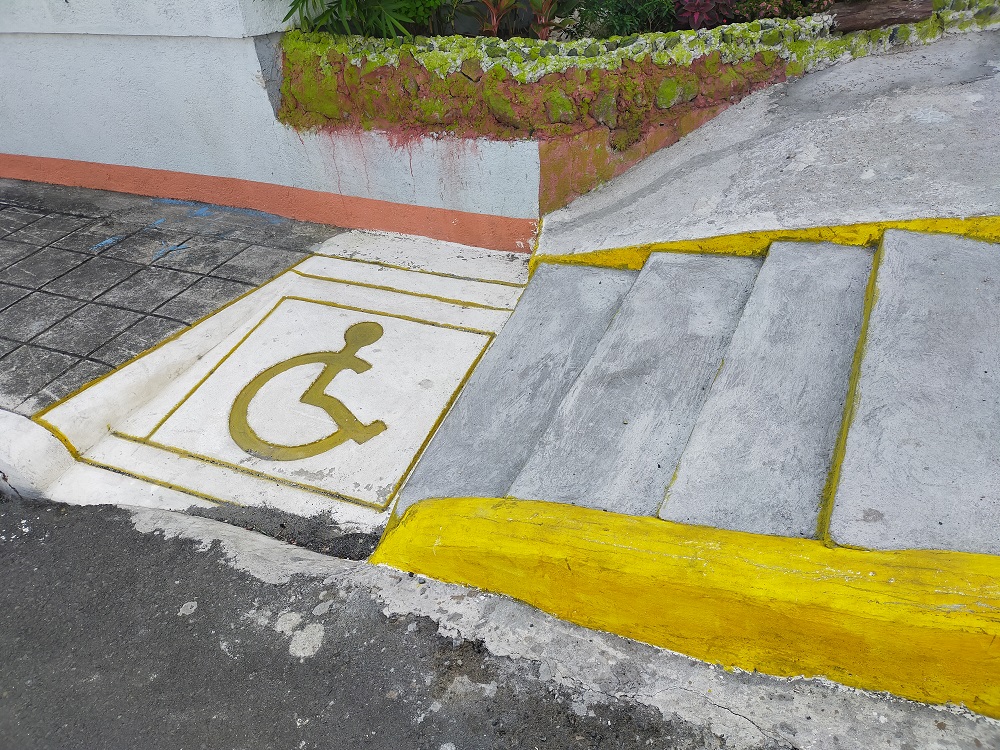 Slow-moving traffic around Muntinlupa during the rush hour is bad enough for Engelbert Fullo. But 'battling against able-bodied commuters' for a seat on the bus or jeepney is an ordeal for the 40-year-old person with disability (PWD).
Fullo shakes his head at how some fellow-commuters blatantly ignore the signage in public buses and take seats that are designated for senior citizens, pregnant women and PWDs.
"Sometimes, they are the ones who block or take seats assigned to us" said Fullo, who works as a radio operator at the Municipal Disaster Risk Reduction and Management Office in the Muntinlupa command center said.
As a mother of a child with disability, Aileen Malinao is all too aware of the difficulties of moving around the metropolis using public transport. And Fullo's gripe against those who have little consideration towards passengers with disabilities resonates with her.
When she takes her daughter Reinalyn out with her, the seven-year-old who was born with a clubfoot wants to have her own seat on the jeepney, but she will not be able to sit comfortably.
"Sometimes, I have to talk to other passengers so they will understand why they may have to adjust," said Malinao, a volunteer at the Muntinlupa PWD Federation.
Reinalyn was born with a condition where her foot points inwards, making walking extremely difficult. Her hips are dislocated and knees are unable to bend.
"Caring for someone who can't walk properly is difficult," Maliano said, adding that she has to carry her daughter when they go out. "That's why we rarely go out," she said in an interview. Her child also had to drop out of school because of her condition.
But one of her biggest worries is making her other children understand their sister's disability. "Her siblings don't understand her sometimes. They try to control her and scold her for things she can't do."
Fullo, for his part, was diagnosed with polio when he was three years old. He remembers how his legs "ache easily when walking long distances."
When he knew he was going for long walks, he had to tie his slippers to his feet. "I couldn't wear slippers because they easily slip off my feet, so I had to tie them. Others would tie their shoelaces onto their rubber shoes, but I would tie laces around my feet for my slippers," said Fullo, who learned to live with his disability and cope with the challenges of commuting which he does almost daily. He goes around without any support device.
Building PWD-friendly infrastructure
The country's roads and transport system are far from being PWD-friendly due in part to issues of accessibility, but efforts are being made to improve the situation.
Road safety advocate Errol Barba, who moves around in a wheelchair, is aware of the challenges facing PWDs like himself during their commute and is working with government to institutionalize measures to promote accessibility.
The measures also take into account the vulnerability of people around or those who assist PWDs. "If one of the people assisting you slips while carrying you, you fall. You can get injured. That's why we are giving solutions to buses to get a movable ramp. It is still in the production stage so it will take time to fully develop many of them."
Barba is part of the Metro Manila Accessibility Task Force formed by the Metro Manila Development Authority (MMDA) and the Department of Transportation (DOTr).
Their group, formed in March 2019, is responsible for assessing the quality of transport and road conditions for PWDs.
For the pilot testing, some hybrid buses already have labels designating seats for senior citizens, small children, and pregnant women. For PWDs, they will have a space to park their wheelchairs in the center.
"We designed it with the DOTr. The doors will also be bigger to accommodate wheelchair users," Barba said in an interview.
"We started our auditing in some bus stations in Cubao. There have to be toilets and ramps in buses. In the Paranaque Integrated Terminal Exchange (PITX), before we checked, there were no accessibility plans. Good thing we checked it just time while construction was still going on."
"We believe that if (roads) are accessible, they are safe not just for commuters and pedestrians, but also for cars, and establishments," he said.
Role of LGUs
"We are also targeting to conduct road safety forums with local government units (LGUs) to localize the implementation (of safety measures)," Barba said.
"We think transport should be accessible for all, but you can't achieve it immediately. Right now, the guidelines for accessibility in PUV (public utility vehicle) modernization programs aren't ready yet."
The task force is building 'special tools' for the blind, such as stop lights with sounds to signal the blind if they can cross the roads.
"Everything we do is concerned with disability," he said, adding that many among the elderly have some kind of disability, whether due to hearing or sight," said Barba.
There are 1.4 million PWDs across the country based on the 2010 Population Census of the Philippine Statistics Authority.
The accessibility projects are not limited to land transport alone.
"Ferries need to be accessible, too. We are planning to leave designated spaces for wheelchair users. There should also be safety harnesses," Barba said.
The road safety advocate said Batas Pambansa 344 or the 35-year-old Act which calls for the enhancement of mobility for PWDs serve as their guide in PWD-friendly infrastructure. But while there is an existing law, a lot more can be done to improve the set standards, he said.
"I think in all LGUs, there should be a PWD official who will monitor if the law is being enforced properly. The task force passed a MOA (Memorandum of Agreement) for its implementation. When it is signed, we think the function will be better, especially because the DILG (Department of Interior and Local Governance) will be included," he said.
Last July, a bill was filed in the House of Representative aiming to institutionalize PWD-friendly transportation programs to address the needs of PWDs as commuters.
Under the proposed House Bill No. 2224 or the 'PWD-friendly and Safe Transportation Act' authored by Congresswoman Ma. Lourdes Arroyo, all PUV operators and owners are mandated to upgrade their PUVs by providing passenger boarding ramps or lifts, spaces for wheelchairs and other safety accessories such as seatbelts, clamps, and grab bars to provide safety and comfort to PWD commuters.
The bill also requires the Department of Public Works and Highways to designate a certain portion of roadway or highway as pick-up points for PWDs.
Around the same time, Senator Leila de Lima filed Senate Bill 188, which aims to transform the National Council on Disability Affairs into a National Commission for Disability Affairs. The shift is designed to "further strengthen its role as the primary agency responsible for the implementation of policies aimed at fulfilling the rights of the PWD sector."
The Commission will also "oversee and recommend measures for the effective conduct of a comprehensive assessment program on a provincial, city and municipal level with partner agencies," according to a Senate statement.
Road safety education
Above all, Fullo, Malinao and Barba agree that teaching road safety should be a priority in homes and schools.
"You have to start them young," said Barba, who cited the Paranaque Elementary School and the nearby San Dionisio Elementary School as good examples because they teach kids about road safety.
"They teach them to have road safety commitments so they know better when they grow older."
Malinao agrees it is important to teach not only road safety to students but also about inclusivity of PWDs. "Not all roads are accessible to PWDs so people should be more considerate."
Fullo thinks while there have been moves towards greater inclusivity, more needs to be done to better aid them.
"Until In die, I am a PWD. Many PWDs already feel ashamed of their condition. They don't go out much. Even some PWDs have family members who don't support them. Being a PWD does not mean being useless. The least we can do is to help them. We should be more inclusive."