STATEMENT: During the CNN vice presidential debate on April 10, candidates were asked about their plans to ensure that the rapid economic growth of the Philippines continues.
Sen. Alan Peter Cayetano responded by bringing up the issues of criminality, illegal drugs and poverty, which he said are all worsening.
Cayetano said:
"Ang ekonomiya po ay lumalago, pero ang krimen, droga at poverty ay siya din pong lumalago din at gumagrabe (The economy is growing, yet criminality, illegal drug use and poverty are getting worse)."
Source: CNN PiliPinas Vice Presidential debate (57:12)
FACT: Cayetano did not specify any time frame in his statement, but recent official statistics prove him right on the issue of drugs; wrong on poverty; and both right and wrong on criminality, depending on the type of the crime.
On drug use, 2014 statistics by the Dangerous Drugs Board show what it calls "a large increase by 34 percent (34.48 percent)" from the previous year in the total admission cases reported by residential and out-patient facilities.
Source: Dangerous Drugs Board
On poverty, 2016 figures from the Philippine Statistics Authority estimate a lower poverty incidence, 26.3 percent, in the first semester of 2015, compared to the 27.9 percent poverty incidence during the same period in 2012.
Source: Philippine Statistics Authority
Finally, on criminality, the Philippine National Police (PNP) 2015 Annual Report shows murder, homicide and physical injury cases have decreased from January to December 2015 compared to the same period the previous year, while cases of rape have increased.
Crimes versus property — robbery, theft, "carnapping" and cattle rustling — have decreased.
Cases of homicide, damage to property physical injury through reckless imprudence have increased, as have violations of special laws, while other non-index crimes have decreased.
Source: Philippine National Police 2015 Annual Report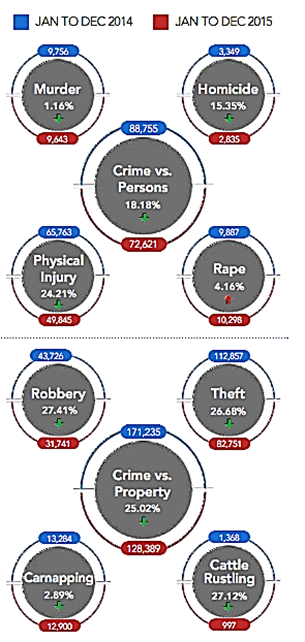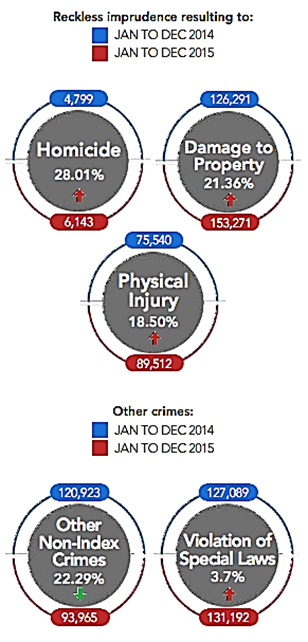 –Faith Brown and Hannah Perez
(The contributors are University of the Philippines journalism majors who are fact-checking candidates for their Journalism Ethics [J110] course taught by VERA Files trustee Yvonne T. Chua.)