May 23, 2017, Tuesday
2 p.m. The Philippine National Police (PNP) and the Armed Forces of the Philippines (AFP), in a joint operation, try to serve a warrant of arrest on Isnilon Hapilon, most wanted leader of the Abu Sayyaf Group.
Defense Secretary Delfin Lorenzana tells a press conference later that authorities traced the whereabouts of Hapilon to Barangay Basak Malutlut in Marawi City. Government forces moved in and were met with gunfire, which forced them to retaliate.
Lorenzana says other terrorist groups from the Islamic State (IS) and the Maute group began to occupy several establishments around the city during this time – the Amai Pakpak Medical Center, Marawi City jail and a part of the Mindanao State University compound.
However, in another press briefing, AFP chief Col. Edgard Arevalo says the opposite:
"The reported 'eyewitness account' is untrue that Amai Pakpak Hospital has been occupied and the people there were held hostage…the Marawi City Hall was not occupied as was earlier reported merely quoting 'sources.'"
6:38 p.m. AFP Spokesperson Brig. Gen. Restituto Padilla issues a statement, clarifying that the AFP and PNP initiated the operations in Marawi City. He implores the public not to believe "propaganda from other groups."
8:36 p.m. In another statement, the AFP says sporadic fighting was still ongoing in Marawi City, and the military were "acting on reports that armed men occupied the hospital and some other buildings." The AFP urges residents to keep calm, stay in their homes or evacuate to safer areas.
Evening Lorenzana says the Maute group set on fire St. Mary's Church, Marawi City Jail, Ninoy Aquino College Foundation and Dansalan College.
He adds that Maute fighters still occupied Quezon street, the main road of Marawi City, as well as two bridges leading to the city. Lorenzana notes that one police and two soldiers were killed and 12 government forces were wounded.
There was blackout in the entire city and Maute snipers were hiding.
Lorenzana confirms no civilians were roaming the streets at this time, and several houses were also burned.
10 p.m. President Rodrigo Duterte declares martial law over the entire island of Mindanao, citing rebellion as the reason. (See: VERA Files Fact Sheet: Explaining martial law)
In a press conference shortly after, Lorenzana says the president placed the entire Mindanao under martial rule because of problems in Zamboanga, Sulu, Tawi-Tawi as well as in the Bangsamoro Islamic Freedom Fighters' area in Central Mindanao. He adds the issues of extortion with the New People's Army.
"Sabi nga ni Presidente (the president said), he has been telling these people that if I declare martial law, tatapusin ko lahat ng problema so kaya nga buong Mindanao na (I will finish all problems so it should be the entire Mindanao)."
11:14 p.m. Arevalo faces the media and announces the situation in Marawi had stabilized and "security forces are in full control of the situation." He adds that the armed men were not ISIS but members of a local terrorist group.
He further explains that the periodic firefights heard in the city "were harassment actions by terrorist sympathizers that were conducted as diversionary tactics to divide the attention of the reinforcing AFP personnel."
11:36 p.m. Presidential Spokesperson Ernesto Abella, Defense Secretary Lorenzana and Foreign Affairs Secretary Allan Peter Cayetano hold a press briefing in Moscow, Russia, announcing the president's declaration of martial law.
Follow-up operations were still ongoing. Lorenzana refuses to divulge other details that he says might compromise operational security. He says additional forces were under way.
He implores the public to refrain from posting on social media "information that would tend to exacerbate the situation." Especially, he says, "photos and videos on the movements of our troops and on terrorist propaganda circulating through social media."
May 24, 2013, Wednesday
6:34 a.m. Communications Assistant Secretary Mocha Uson posts a video of President Rodrigo Duterte on her Facebook page, where he expounds on his declaration of Martial law.
7:33 a.m. The Supreme Court issues an advisory, "directing all courts in Mindanao to remain open and all judges remain in station as far as their local circumstances will allow."

4:55 p.m. President Duterte arrives in Manila from Moscow. In a press conference, the president suspends the privilege of the writ of habeas corpus in Mindanao.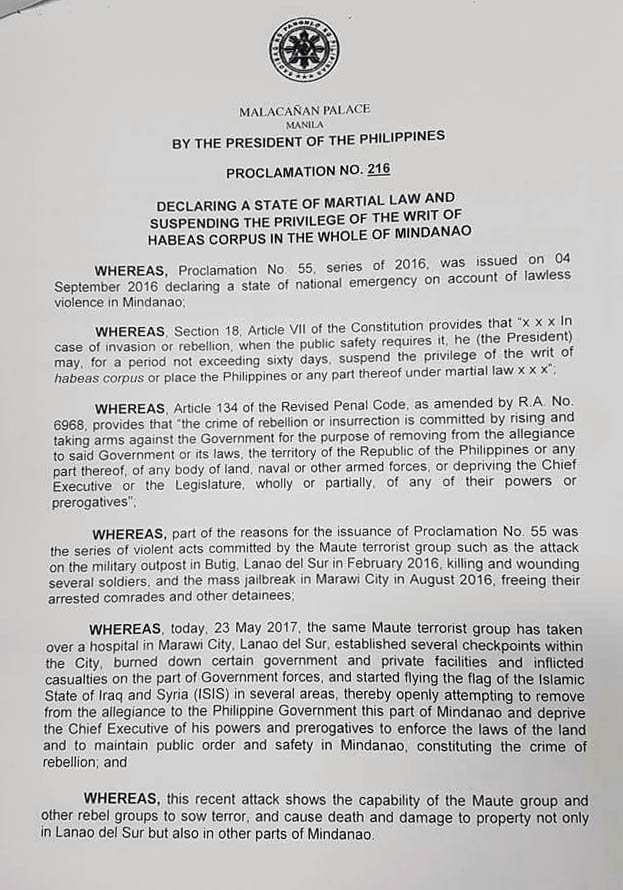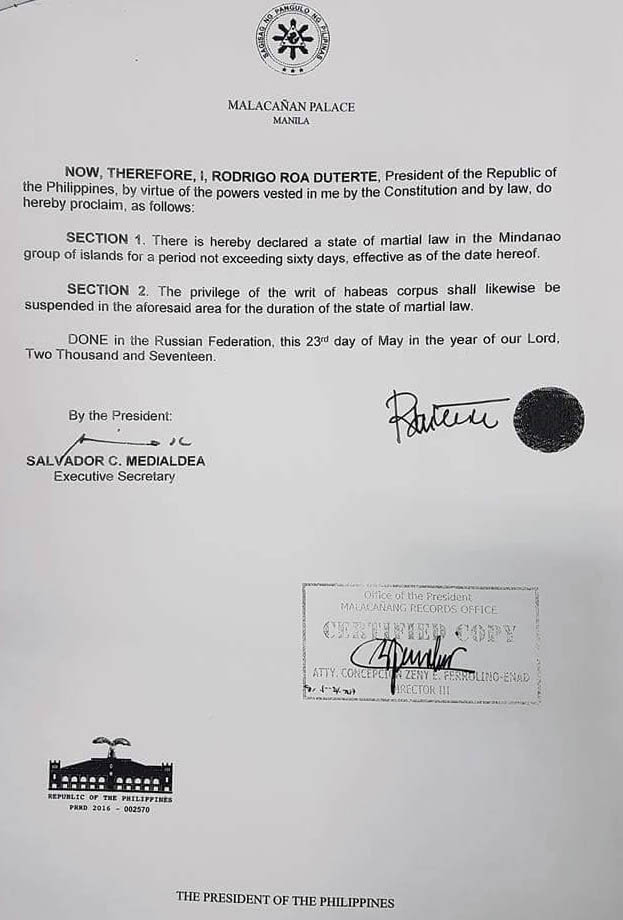 He adds he may declare martial law in Visayas "because it is just a walking distance actually, and because of the many islands, the terrorists may escape there and begin another terroristic activity." He says he may also suspend the privilege of the writ of habeas corpus there.
He adds:
"If I think that the ISIS has already taken foothold also in Luzon and terrorism is really not far behind, I might declare martial law throughout the country to protect the people."
10:26 p.m. The office of House Speaker Pantaleon Alvarez receives a certified copy of Proclamation No. 216.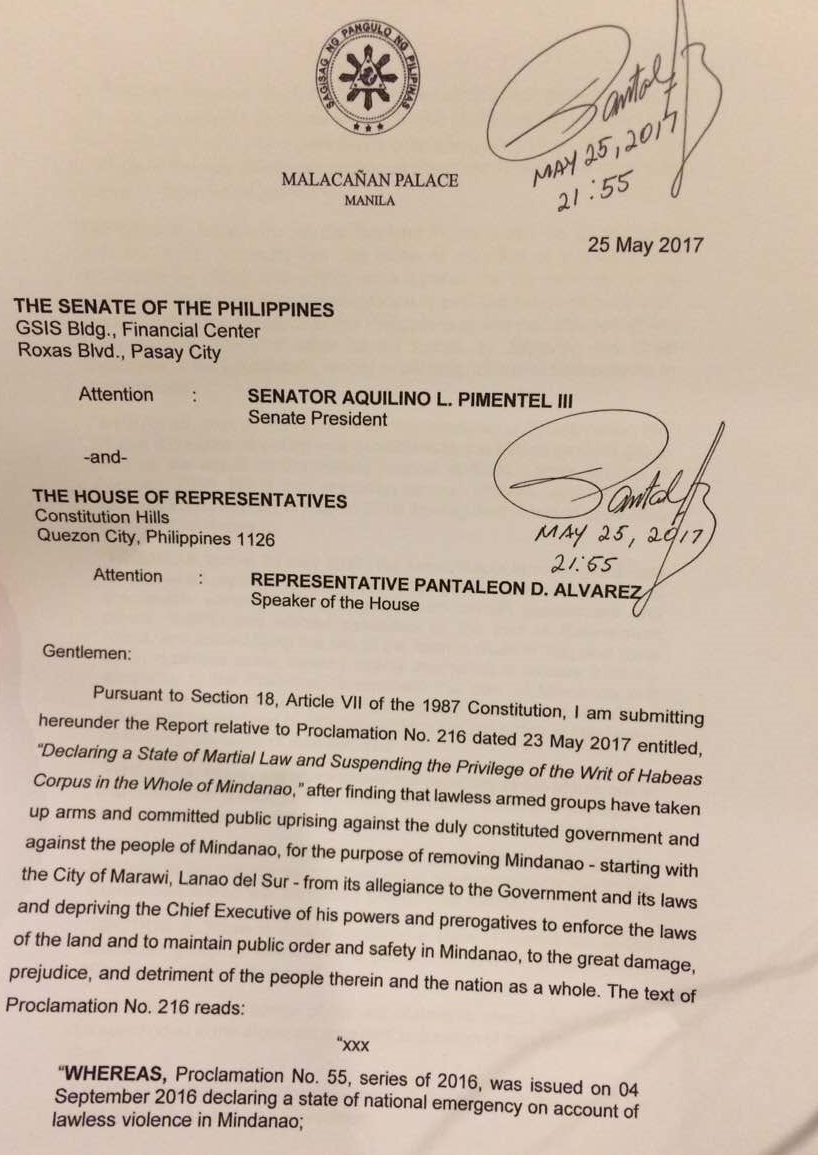 Sources:
May 23 press briefing in Moscow, Russia by Presidential Spokesperson Ernesto Abella, Defense Secretary Delfin Lorenzana and Foreign Affairs Secretary Allan Peter Cayetano
AFP statement and updates on the Marawi Operations by AFP Public Affairs Chief Col. Edgard Arevalo
AFP Spokesperson Brig. Gen. Restituto Padilla statement on the ongoing firefight in Marawi City