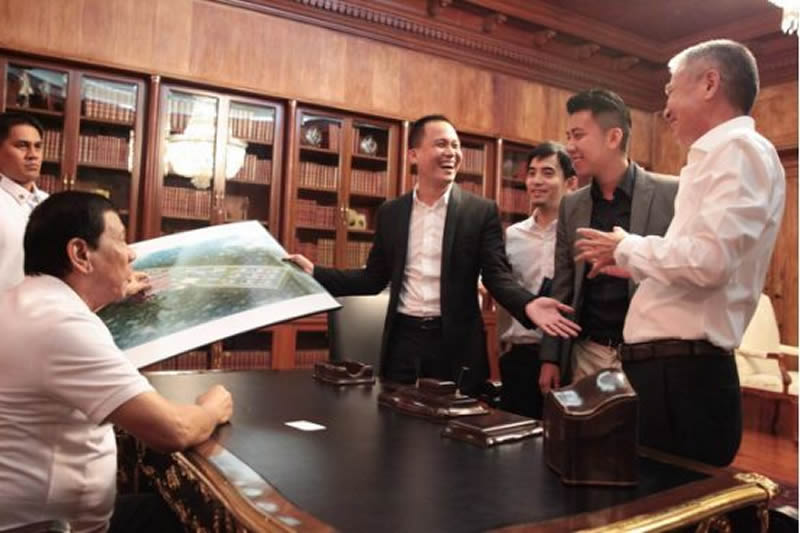 Pres. Duterte in a happy banter with businessman Michael Yang and his associates in Malacanang. Photo from Yang's website.
Things will never be the same between China and President Duterte after the latter's unprovoked comment about businessman Michael Yang and Chinese Ambassador Zhao Jianhua at the dinner with officers and members Philippine Military Academy Alumni Association, Inc. last Oct. 4 in Malacañang.
Duterte is now regarded by Chinese officials as a loose lip and untrustworthy.
They will use him to further China's interest for the remaining time of the Duterte presidency, which is now uncertain in the light of his revelation that he had to go through tissue tests following an endoscopy and colonoscopy three weeks ago, but they see him now as "somewhat crazy", someone they should be nice with but wary about, according to a source in the Chinese community.
Fresh from his "day-off" to undergo laboratory tests at the Cardinal Santos Medical Center in San Juan, Duterte was his usual talkative self. His started with his maraming- beses- ng- bumentaline of setting aside his prepared two-page speech and rambled. He talked of the same things he had been talking even beforeDay One of his presidency- about his reluctance to run for president in 2016 because he had no money, his son Sebastian's predilection for women, his wise daughter Inday Sara, his fight against corruption, etc. etc. . And of course his disdain for drugs.
Then, he mentioned Michael Yang: "Ito daw si isang Michael Yang na drug addict daw (This Michael Yang, they say he is a drug addict.)
He said something unclear and went to to say "ang ambassador ng China diyan natutulog sa bahay niya. At saka kasama 'yan doon sa entourage ni Premier of China (China's ambassador sleeps in his house and he was part of the entourage of the China's premier.)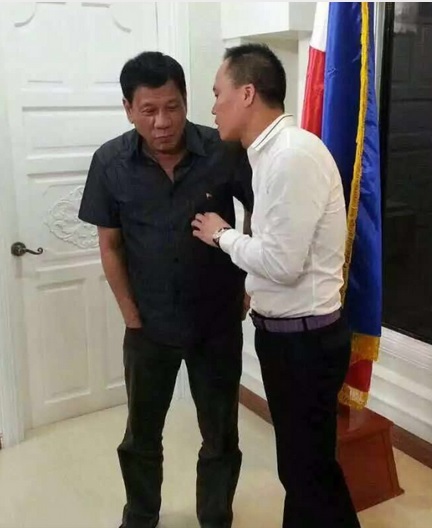 Pres. Duterte and his economic adviser. Photo from Yang's website.
The report that came out the next day was "Duterte links wealthy drug pusher to Chinese envoy"
Malacañang and the Department of Foreign Affairs the next day lambasted the news reports as "erroneous" and "malicious."
The report was indeed inaccurate. Probably because of the frenzy not to get scooped, reporters ignored the last part of the President speech where he hinted about someone being pressured to "ilabas daw niya si Yang (he will bring out Yang). " To which Duterte said, "Go ahead.Hindi ko man pinsan 'yan. (He is not my cousin) Am I my brother's keeper?"
Is Duterte talking of blackmail? He mentioned the word "dossier."
Duterte said Yang, who came to Davao 15 years ago, is the owner Davao City Los Amigos. Stores.He further said he doesn't know ofhis connections "but every time na may mabigat na (something serous), he's there."
What intrigued us is why Duterte and even Roque and Cayetano, in their statements, didn't mention that Yang is a "presidential economic adviser ." That's according to the businessman's website (www.opea.com.ph). (Update: the site is now inaccesible)

(Duterte has denied that he appointed Yang his economic adviser.)

While the title "presidential adviser" is usually bestowed as a favor to election contributors and friends, it's actually just for calling card purposes. But Yang has his emblazoned at the entrance of his plush-looking office.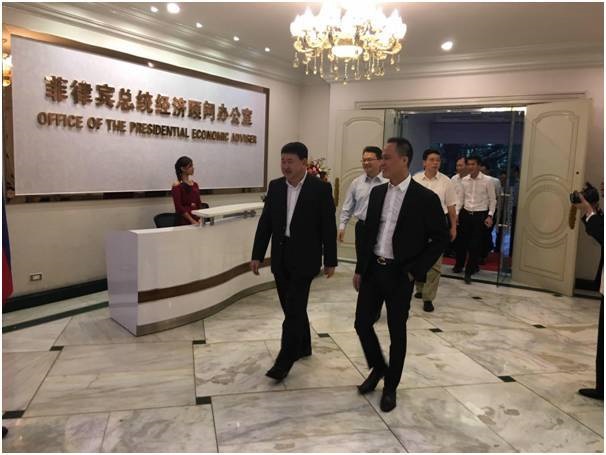 Yang's Philippine office. Photo from Yang's website.
A DFA source said he startled Philippine Ambassador to China Chito Sta Romana when he dropped by at the embassy in Beijing a few months ago and demanded for an office space there. We have to check yet if he got what he asked for.
Yang's credentials in his website reads:Ph.D. in Business Administration, Princeton University; Philippine Chinese Chamber of Commerce Labuan;Executive director of the Philippine Chamber of Commerce; Vice Chairman of China-Philippines Friendship;Managing Director of Fujian Normal University.
Yang's company website (which strangely does not state the office address) has a photo gallery which shows him with Duterte, and some members of the cabinet.. He has also a photo with Chinese Foreign Minister Wang Yi and Ambassador Zhao.
There's a photo online showing him part of the presidential entourage during Duterte's state visit to China.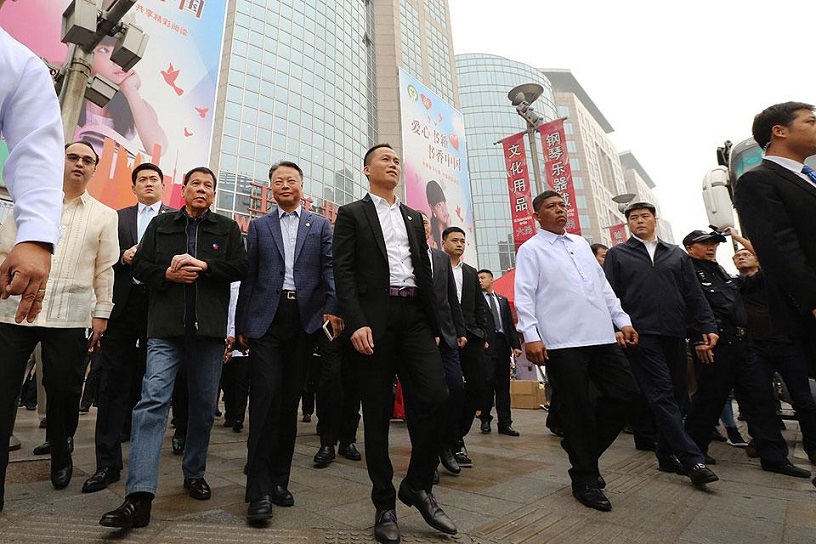 Michael Yang with Pres. Duterte, Amb. Zhao and Foreign
Secretary Cayetano walking along Wangfujing street during the Duterte's state
visit to China in Oct 2016. Malacañang photo by King Rodriguez.
Yes, there are a lot of talks about Yang and his relatives' involvement in the illegal drug trade. His name has been linked to the President's son, former vice mayor Paulo Duterte.
But the President has dismissed it: "Hindi ako maniwala niyan…You would think Ambassador Zhao with his 10,000 walking Chinese here, magpayag siya na matulog sa bahay . (I don't believe it. You would think with his 10,000 walking Chinese here, would agree to sleep in his house.)
We are actually glad our loose lip President talked about Michael Yang. We are just imagining the reaction ofAmbassador Zhao.