The images are jolting.
Splotches of blood. Chains and barbed wires. Dead activists. Barbaric soldiers. Lady Justice. Letters spelling out the words "justice" and "never forget". Defaced portraits of the late dictator, Ferdinand Marcos, Sr.
Using paint, glue, and photos cut out from magazines, newspapers, and other printed materials, the symbols tell the story of how 70,000 people were imprisoned, 34,000 were tortured, and 3,200 killed as a result of Marcos Sr.'s proclamation of martial law on the evening of Sept. 23, 1972.
The artworks created from these symbols are part of the Pira-Pirasong Kuwento ng Martial Law, a creative collage contest that morphed into an online digital exhibit of 50 artworks.
"It is in these narratives where we can glean the truth from and find the bravery to fight for the oppression that our generation continues to face today," part of the exhibit's introductory text read.
The idea for the contest was from Buklod Sining, a non-profit art organization based at University of the East (UE) Caloocan's College of Fine Arts, Architecture, and Design (CFAD), according to Eloisa Joy Saurin, the group's 4th year representative.
Gunita ng Nakaraan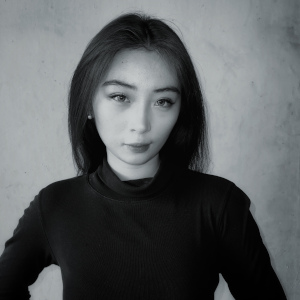 Rasheeda Dela Rosa, a multimedia artist of Skyrocket Studios Inc., participated in the contest. She uses mixed media in her art and creates contemporary collage.
Her art revolves around different issues in society. She also makes artworks depicting her feelings and what she's going through.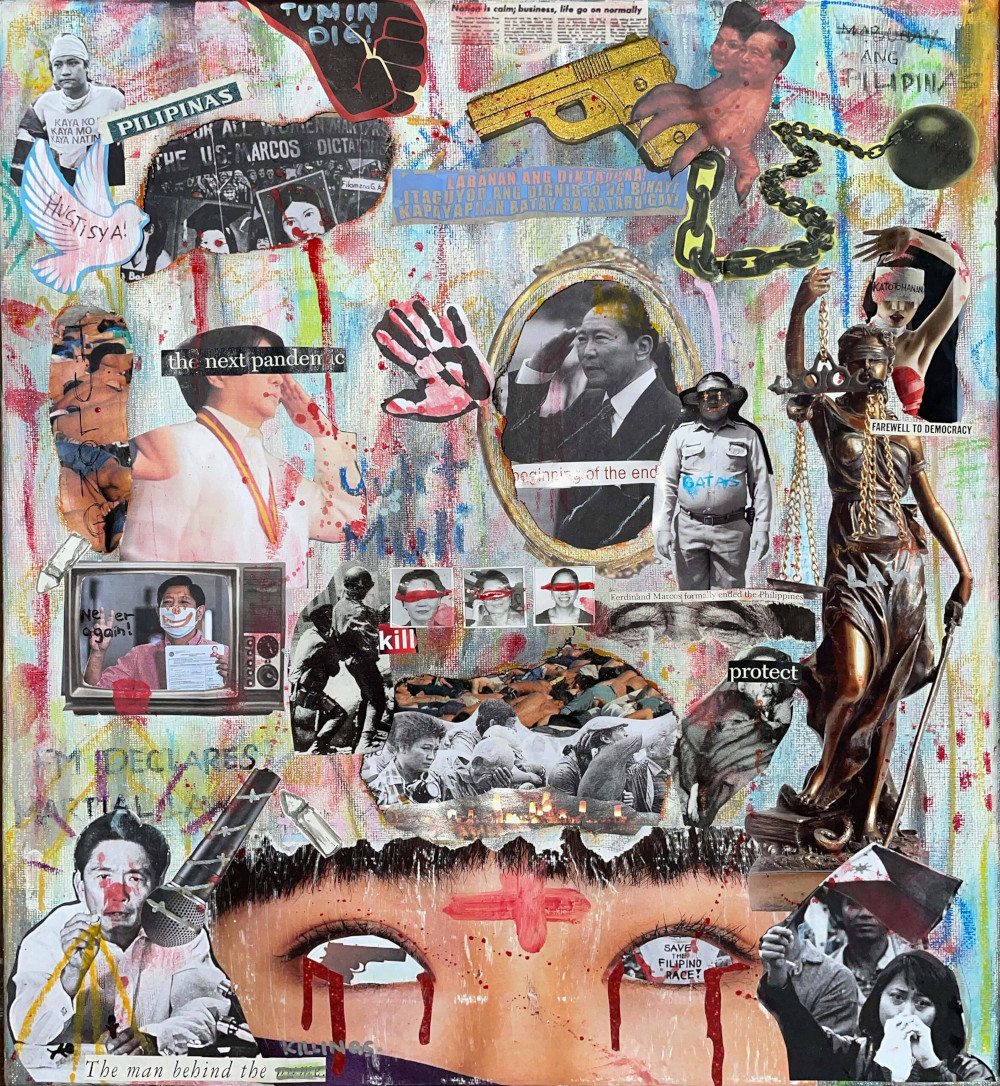 Victims of torture and their families inspired her piece. Most prominent are the eyes of a crying child, with blood as tears. It is the symbol of death of the innocent and quickly draws attention. Upon closer inspection, one can make out images of people who died during Martial Law – from student activists near the dove labeled "hustisya", to the three women with their eyes covered in red.
"Under the colorful page, beneath the burnt canvas are the images of those victims: The missing ones who are fighting for their rights, the grieving families who are still finding justice," Dela Rosa explained her work.
Other images that make up the collage are one of incumbent president Ferdinand "Bongbong" Marcos Jr. saluting his father, to symbolize passing on the reigns of power; the blindfolded Lady Justice depicting the death of democracy; and a claw representing the conjugal dictatorship of Mr. Marcos and his wife, Imelda.
The salute between father and son not only manifests how much the younger Marcos idolized Marcos, Sr. but behind it is the "horror that he might once again do what his father [did] during his term," the young artist explained.
Dela Rosa believes artists should use their talent not only to showcase creativity but as a tool to spread awareness about history and its realities.
"If people understand and use art wholeheartedly and in a positive way, it can serve as an eye opener for the truth.  Emotional and visual things can be very impactful."
"We should use it in [the] right way to tell the truth and spread awareness especially for the future generations," she said in an email interview.
Judging the winners
Dela Rosa's creative collage was one of the five which won the contest proper. The criteria for judging was agreed upon by Buklod Sining and its partner DAKILA,  a non-government organization and art collective.
Andrei Venal, DAKILA's director of communications and one of the judges for the contest, broke down the criteria into two: technical components and the depth of the artworks' story.
"Yung formal na visual presentation of the work, so andoon na yung 'gaano kaganda siya kinompose', paggamit ng materyales, paggamit ng dimension, lumabas ba siya sa nire-require o nag-think outside the box ba siya in terms of the materials that were used," Venal said.
"Yung pangalawa ay yung content. Ano ba yung istorya na pinapakita nung trabaho na iyon beyond the technical side? May isa bang specific na outlook o perspective na binibigay yung isang work?" he added.
The artworks which stood out to Venal were the ML-ka-BUL•GAD-ran by Via Bulaon, which used a circular canvas instead of the usual rectangle or square, and the Abante Babae by Prince Vanne Israel Jose, which focused on the role of women activists during martial law.
From contest to exhibit 
After the Pira-Pirasong Kuwento ng Martial Law's contest winners were announced on Feb. 10, Buklod Sining and DAKILA worked together to gather a total of 50 artworks to commemorate the 50th anniversary of martial law. This exhibition was uploaded on the website martiallaw.ph on Feb. 24 in time for the EDSA Revolution anniversary.
Martiallaw.ph is part of DAKILA's educational program, which seeks partnerships  and collaborations with organizations and schools. These projects aim to teach people about the realities of martial law through art, Venal said.
"Mas bumibilis na 'yung attention span ng mga tao. So to address this, without actually trivializing the need to educate people more or to facilitate their education, nag-isip kami ng paraan kung paano namin maituturo, kahit sa maliit na grupo lang, yung mga isyu ng martial law," he said.
The 40 other artworks were created by students, alumni, and professors who are also part of Buklod Sining.
Never forget the impertinent insects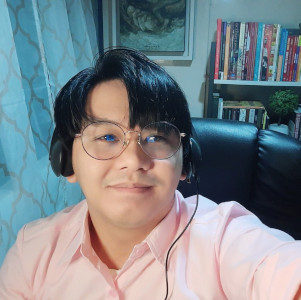 Ronwell Bacani is an assistant professor at UE Caloocan CFAD and chairman emeritus of Buklod Sining Alumni Association.
He usually uses mixed media combined with screen printing and monoprint. His artworks revolve around socio-political issues such as  inequality, human rights, academic freedom, labor rights, and injustices.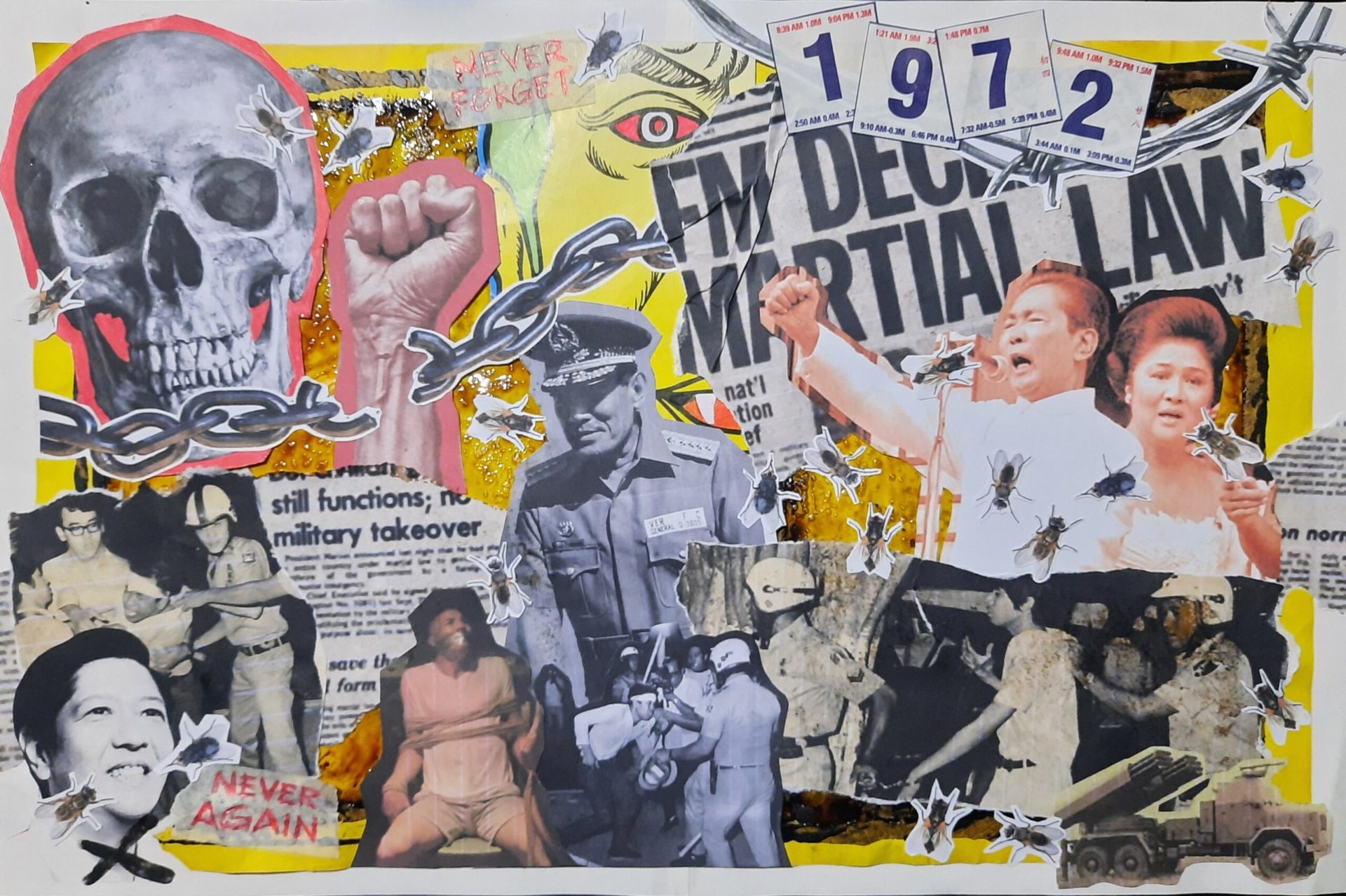 Aside from the prominent image of a skull, the broken chain, the raised right fist, and the words "FM DECLARES MARTIAL LAW", what stands out in this artwork are the house flies swarming around the photos of Mr. and Mrs. Marcos.
"For me, the house flies represent the increasing problems of our nation, as they are the scavengers or parasites of society. Their existence is related to the presence of evil which torments people and their lives," Bacani said.
This symbolism is present in most of Bacani's works. In this collage, he likens the declaration of martial law to a fly trap – "a short-term solution that does not solve the root of the problems".
"Contrary to what is expected, it increased and complicated the situation. It became a way for the crooked officials to mishandle and exploit the power that was borrowed from the people."
Inspired by the Latin phrase "Nunquam iterum" translated in English as "Never Again," Bacani created his artwork out of newspaper and online clippings, magazines, artworks, and other printed materials. He exerted this effort to make people understand that martial law was not a "golden era," contrary to what netizens claim.
"It was a period of our history where human rights abuses were widespread, freedom was suppressed, corruption was rampant, and justice was denied. It was a dark chapter of history that we do not want our country to experience again."
The UE Caloocan professor said he believes that artists should be responsible for unearthing the truth as instruments of freedom and expression.
"Our work should reflect and tell the stories of the past and its traditions in a straightforward and honest way, because artists, just like the other professions, must help in eradicating communal boundaries and make societal changes towards the common good.
Binalutan ng kasinungalingan ang Bayan Muli (BBM)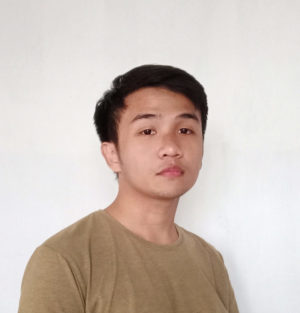 Kiko Moran is a fine arts graduate of UE Caloocan CFAD and a former representative of Buklod Sining. He majored in visual communication. 
As a visual artist, he often uses acrylic paint, and creates mixed media art. His artworks usually revolve around politics, social issues, psychology, and self-expression.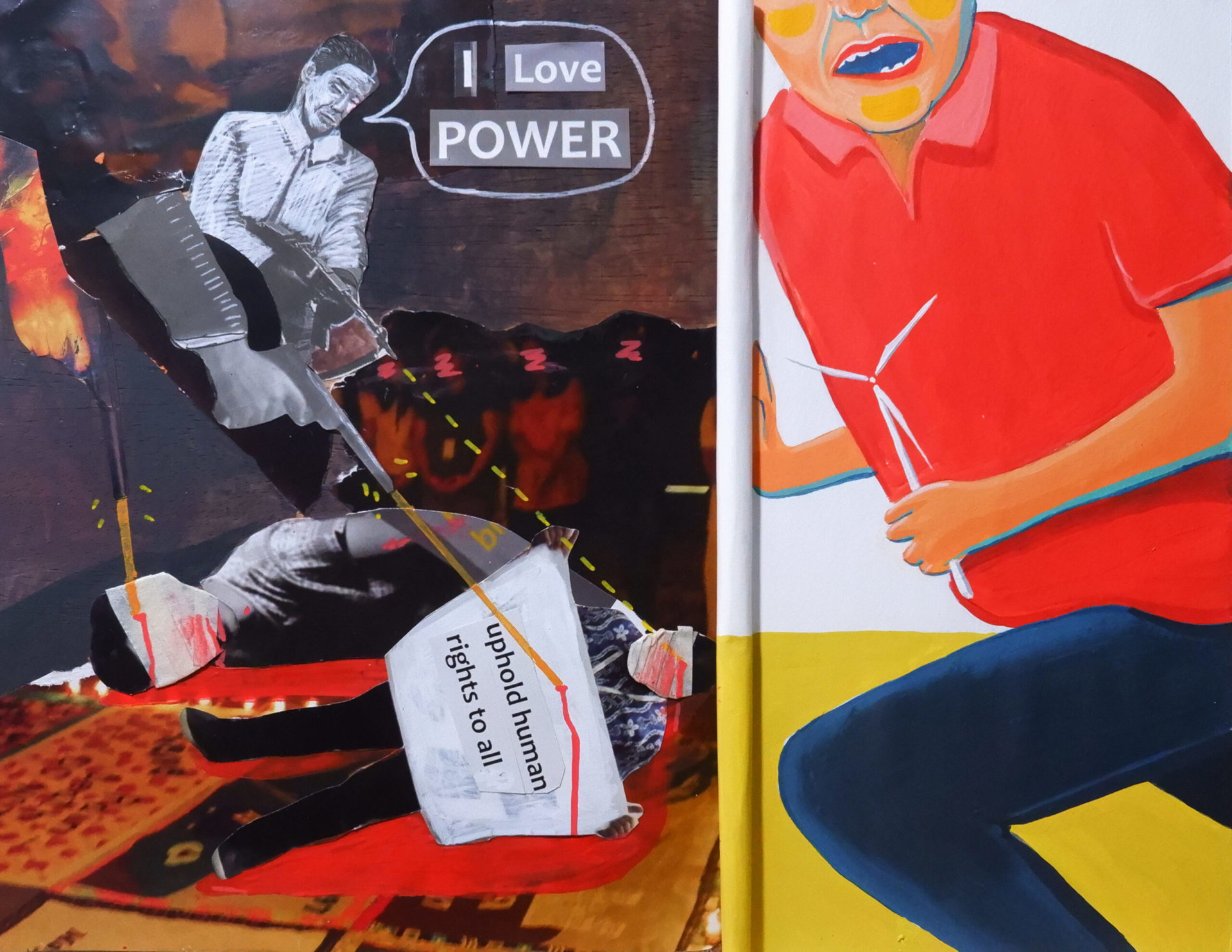 "Nais nilang pintahan ng maaliwalas na kasinungalingan ang masalimuot na pangyayari noong panahon ng rehimeng Marcos Sr," Moran said.
Anger overwhelmed Moran when he started working on his contest piece, But he eventually felt relieved as he went on to finish his artwork. "Habang nasa gitna ako ng proseso nakararamdam ako ng gaan dahil nailalabas ko sa pamamagitan nang paglikha ang galit kay Bong Bong Marcos, at sa mga propagandista nilang naglalayong limutin at i-distort ang tunay nakaganapan noong Martial Law."
After completing his masterpiece, Moran admitted to suddenly having second thoughts about participating in the contest. "Bigla kong naisip ang mga maaaring maging ganti ng mga taong di sang-ayon sa kahulugan ng artwork ko."
But courage and the desire to present truth through his art far outweighed the tinge of fear he felt prior to submitting his creation. "Nagparamdam sa 'kin ito ng takot pero pansin kong mas ramdam kong lamang ang katapangan ko. Alam ko kasing walang mali sa sining ko, nasa panig ako ng mabuti at katotohanan, at hindi ako nag-iisa 'pagkat mayroong akong mga kasamang sa misyong mapabuti ang bansang ito sa aming sariling paraan," he shared.
His creative collage is divided into two. The left side depicts Marcos Sr. and an arm shooting activists bearing slogans that read "Uphold human rights to all." The background is awash with blood.
On the other hand, the right side revolves around a metaphor depicting incumbent president Marcos Jr., in the process of sweeping under a white-and-yellow rug the instances of torture and killings of human rights defenders during his father's term.
"Ginamitan ko ng biswal na metapora upang madaling maunawaan ng madla…ang mga pang-aabusong naganap noong Martial Law at ang kasalukuyang pagbabaon nito sa limot ng pamilya Marcos," Moran said.
An activist at heart, the UE Caloocan graduate believes that it is important to create art about martial law as a form of preserving history.
"Ang bawat obra kasi ay may kakayahang magpreserba at magpalaganap ng mga mahahalagang kuwento at leksyon na gagabay sa kasalukuyang henerasyon at sa mga parating pa," he said.
Is art still relevant in remembering history?
Art, in general, helps make historical events such as martial law more relatable to people, according to Xiao Chua, historian and professor at the De La Salle University.
"When it (history) is presented in art, in music, in poetry, it's something that we can feel. It's something that shocks us, that can affect us, the issue of human rights becomes more relatable to people in that way," Chua said.
Citing films such as Heneral Luna and Goyo: Ang Batang Heneral, Chua hopes that art would help people become more interested in learning about the truths of history.
On the subject of human rights violations during martial law, Chua said it is important to remember because:
"When the rights of one person is violated, that may open the floodgates for other violations… it is important to remind people that the suppression of rights allowed the abuse of power… which also led to other consequences in the economy."
Why is art relevant?
Venal, who is also a multi-disciplinary artist and designer, explained that art has two crucial functions in the fight for human rights, democracy, and the common good: a mirror to see our current condition, and as a hammer to shape our future.
"Isa itong salamin kung saan pwede nating makita yung kalagayan ng bawat isa… 'Nangyari na rin ba sa akin ito, nangyari na rin ba ito sa aking nanay, sa aking tatay, sa aking kapitbahay?'"
"Art as a hammer… Hinuhulma natin yung paningin ng mga tao: yung kultura natin, yung paniniwala natin, yung perspective natin sa kung ano ang tama, ano ang mali, ano ang mabuti, ano ang masama, para sa sarili natin at para sa kapwa."
For Venal, who is also an artist in his own right, art is always needed, especially in the current political climate.
"Tingin ko, mas kailangan siya ngayon, ngayon na pagod na yung mga tao magbasa ng nakakapagod na istorya. Paano pa kaya natin sila ulit tutulungan na mangarap beyond what we have right now?"
"Pira-Pirasong Kwento ng Martial Law" is an exhibition of creative collage artworks from Buklod Sining in partnership with DAKILA, hosted online through martiallaw.ph.

View the online Martial Law exhibition here: https://martiallaw.ph/2022/02/24/pira-pirasong-kuwento-ng-martial-law/