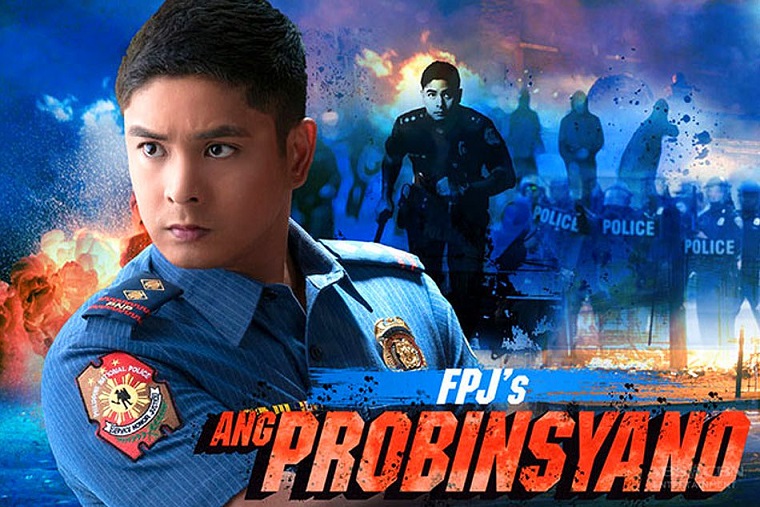 ABS-CBN's Ang Probinsyano
Police Chief Oscar Albayalde's tantrums over the blockbuster teleserye "Ang Probinsyano" is alarming coming on the heels of Pres. Duterte's renewed attack on ABS-CBN, threatening non-renewal of its franchise which is due to expire on March 30, 2020.
Duterte's threat not to renew ABS-CBN's license has been a common refrain in many of his speeches whenever he complained about unfavorable media reports about him.
"I will file a complaint. Congress, no need to renew it," he said in one speech.
Another time he said ABS-CBN owners sent feelers to talk with him but he refused.""I will not talk to you, but I will also never intervene. Pero if I had my way I will not give it back to you," he said.
There has been a noticeable respite from his threat to ABS-CBN in recent months as the public was pre-occupied with the successful Malacañang-initiated ouster of Chief Justice Lourdes Sereno and failed attempt to send back to prison Sen. Antonio Trillanes IV by voiding the amnesty granted to him by Pres. Benigno Aquino III in 2011.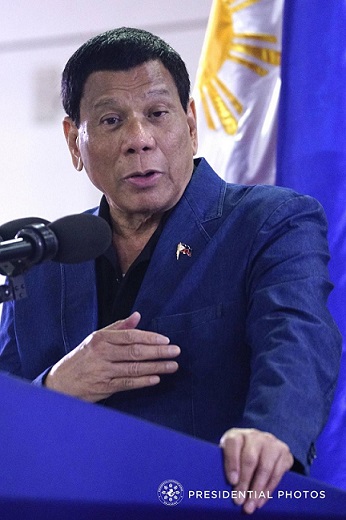 Pres.Duterte. Malacañang photo by Arman Baylon.
But it seems it was just the proverbial calm before the storm. Last month, a media activist shared with us his concern about an information he got that Duterte is so impatient with ABS-CBN and he does not want to wait until the 2020 expiration of ABS-CBN's franchise.
The source said Duterte wants ABS-CBN out of the way before the May 2019 elections.
The same source also said friends in the judiciary tipped him that Duterte's "bright boys" are thinking of usinga "quo warranto " against ABS-CBN, the same tactic Solicitor General Jose Calida used to oust Sereno.
Quo warranto (Latin for "by what warrant or authority?") is a legal procedure used to challenge an individual's right to or authority over the position he or she holds.
The source said Malacañang is going to question how the Lopezes regained ABS-CBN in 1986 after the ouster of Ferdinand Marcos who ordered the government take-over of ABS-CBN when he declared Martial Law on Sept. 21, 1972.
We could not believe these talks and we wished that they were just rumors.
Alarm bells, however, rang last Nov. 8, when Duterte brought up his issue with ABS-CBN againin his speech during his visit to the newly re-opened Boracay. He said,"Hindi ko palusutin. iyong franchise niyo matatapos. But let me ask you questions first. Kasi ako talaga mag-object na ma-renew kayo. Alam mo bakit? Magnanakaw kayo, estapador."
Our concern has been compounded by Albayalde's complaint, joined by Local Government Secretary Eduardo Año, of the negative portrayal of police in "Ang Probinsyano."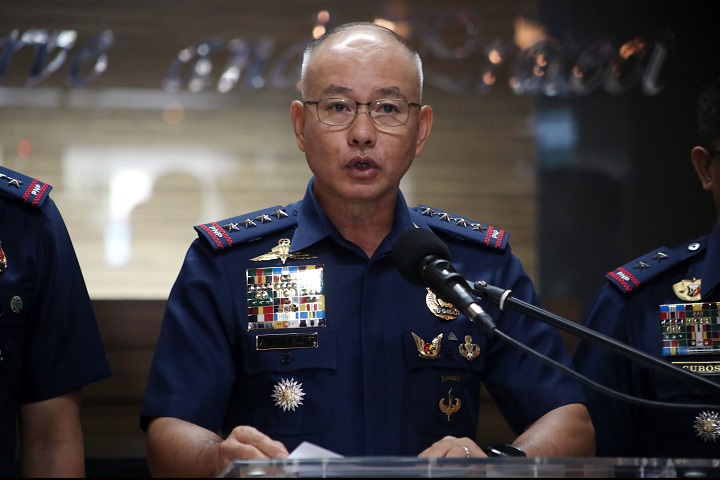 PNP Chief Oscar Albayalde. Photo from PTVNews.
Albayalde's complaint reeks with arrogance and stupidity.The militant Gabriela Women's Party put it in the right perspective: The police are the ones tainting the PNP's image with their bloody anti-drug crackdown and sexual abuse of women and minors.
Albayalde complained that the PNP chief in the current season of "Ang Probinsyano" is portrayed as villain. ""Parang 'yung the chief PNP himself is a villain — hindi naman po siguro kailanman nangyari sa amin. In reality, well, hindi puwedeng mangyari iyan."
Sen. Grace Poe, who has a personal attachment to the show because the series honors movie great Fernando Poe Jr, her father (her mother, Susan Roces also appears in the TV series) reminded Albayalde that the teleserye is a work of fiction. "The story emanates from the source material, with bits of twists. There are antagonists in the story, which did not only include the police, but many others," she said.
She added: "Pwede nating sabihin na 'bato-bato sa langit, tamaan ay wag magalit."
Albayalde said he is not calling for the cancellation of the hit series. Just a revision of the script.
That's censorship. That violates the constitutional guarantee of freedom of expression.
As Gabriela pointed out, Albayalde's statement "is censorship as it amounts to creating prior restraint on the part of the producers in sustaining the storyline of the show. This will also set a very dangerous precedent, as the DILG will abuse legal actions to sanction shows and content that are inconsistent with its desired image of the PNP. "
The DILG said is it "seriously considering" filing charges against the producers of"Ang Probinsyano."
DILG Spokesperson Jonathan Malayasaidamong the charges they are looking into include the prohibition on the use of police uniforms, properties and even using the acronym of the organization (PNP),and possible violations of the Children's Television Act of 1997 "because the show may have violated the National Council for Children's Television standards for television programs that should be child-friendly."
"We will seriously consider filing legal action and imposing sanctions…" Malaya said.
We just hope this is not in compliance with Duterte's crusade against ABS-CBN.