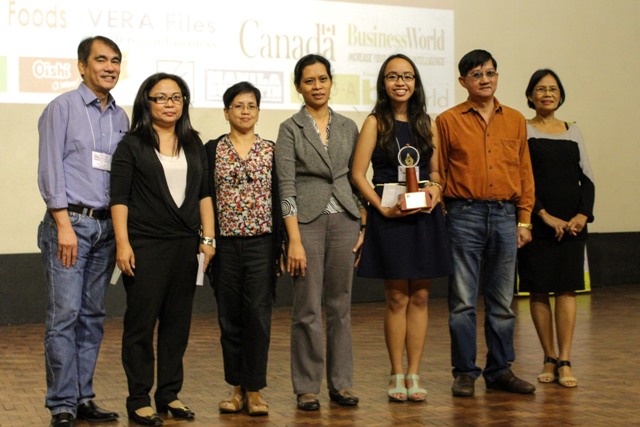 THREE outstanding journalism research papers undertaken by university students bagged this year's top awards of the Philippine Journalism Research Conference 2015.
The awards, named after the late University of the Philippines-Diliman journalism professor and VERA Files trustee Chit Estella, went to:
Southern Luzon State University's Beejay Alegria Castillo for his research on the pork barrel scam (Full journalism research category)
UP Diliman's Jhesset Thrina Enano for her study on the students with disabilities at UP-Diliman (Investigative journalism category)
UP Diliman's Beata Carolino for her video story on labor rights (Special projects category)
The three students received a trophy designed by renowned artist Neil Doloricon and cash prizes.
Now on its third year, the conference featured the research output in journalism of students from journalism and communication schools all over the Philippines. More than 300 students attended the event held at the University of the Philippines Film Center's Cine Adarna.
Led by the UP Diliman's Department of Journalism, the conference was co-organized by the University of Santo Tomas, Polytechnic University of the Philippines and the  Asian Institute of Journalism and Communication.
The three categories in year's competition —special  projects, investigative journalism  and  full research—reflect  the  multiplatform  nature  of journalism, organizers said.
Castillo's "Ginisang Baboy sa Utak ng Pinoy: Isang Kritikal na Pag-aaral sa Kung Paajo Hinubog ng Online Media ang Posisyon ni Juan sa Pork Barrel Scam 2013" looked into the coverage of the pork barrel scam of Inquirer.net and Rappler and how news has shaped or reshaped the public's perspective on the scandal.
Enano's "Padayon sa U.P." examined the admission policies and accessibility of the state university for students with disabilities to show if steps are being taken to make the national university inclusive.
Carolino's"Pag-ahon" documented the labor rights violations in Artex compound in Malabon City.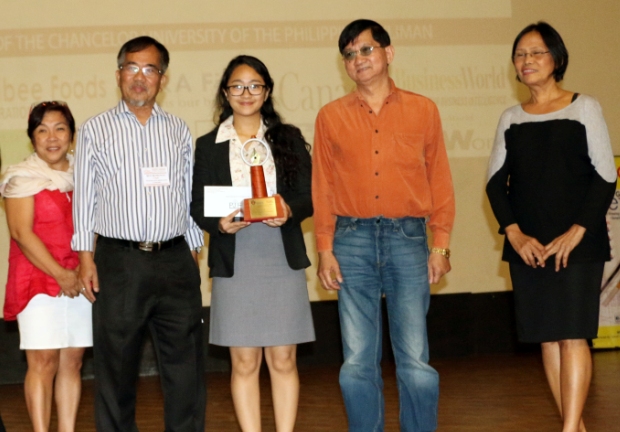 Estella's husband, Roland Simbulan, said in his remarks he expects a number of conference participants soon to become journalists and be covering next year's elections. "It is in the field where your mettle as journalists will be tested," he said.
The panel for research was headed by Professor Gerardo Mariano, member of the Commission on Higher Education (CHED) Technical Committee for Journalism, with members, Dr. Violet Valdez  of the Ateneo de Manila University, and Prof. Marco Polo, president of the Philippine Association of Communication Editors.
Prof. Ben Domingo, chair of the CHEDTechnical Committee for Journalism, led the panel for investigative journalism and was joined by Inday Espina Varona, former campaigns director of Change.org Philippines, and Avigail Olarte, writer-editor of VERA Files.
The panelists for the special projects were Prof. Ramon Tuazon, president of the Asian Institute of Journalism and Communication, Prof. Diosa Labiste of UP Diliman, and Winnie Velasquez, former Malaya features editor.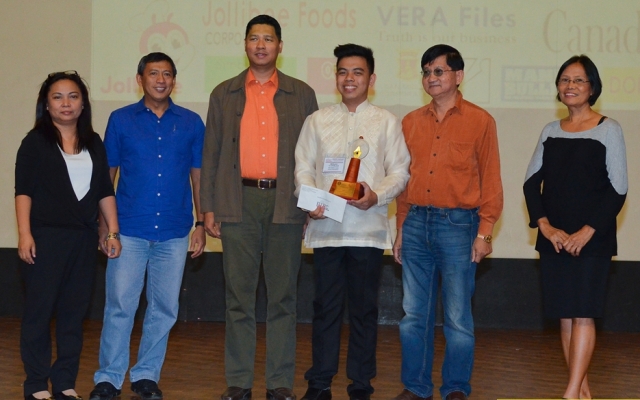 VERA Files co-sponsored the conference, together with Jollibee Fooods Corp., Embassy of Canada, Simbulan and Estella families, Manila Bulletin, BusinessWorld, San Miguel Corp., Oishi, Dong-A and the UP Journalism Club.—VERA Files