Regular fast food meals paired with sweetened beverages did not seem harmful at all to Kevin Cordoviz when he was in his early 20's.
It was when he started working as a teacher and was required to undergo tests that the Meteorology graduate student realized he was overweight and had hypertension because of his unhealthy eating habits.
"My poor health started affecting my work due to absences," Cordoviz said, adding that his sedentary lifestyle was partly to blame.
His frequent absences at work ultimately pushed him to shift to a healthier lifestyle sometime in 2014. That meant significantly reducing his fatty-food and sugar intake.
Five years later, he took this commitment to a healthier lifestyle a notch higher by working out in the gym.
"It was my friend who motivated me to start working out more since he signed up to join (a wrestling team) as a wrestler trainee. I got inspired and even joined in their training workouts, but as a referee trainee," he said.
Now 29, Cordoviz said his healthy diet and consistent exercise have started to pay off. Significant improvements include "increased stamina, slimmer waistline, [and] decreased joint pain and back pain."
"Overall, this current lifestyle changed me from someone who didn't care about health and just ate what tasted good to someone more health-conscious and disciplined," he said.
"It also spilled over to my other endeavors. My work ethic overall improved due to this lifestyle improvement," he added.
Entrepreneur and animal shelter owner Jearhan Uding also used to rely on instant meals. He admits to drinking sodas at least four times a day.
However, since the lockdown that was first imposed in March to control the spread of the coronavirus disease 2019 (COVID-19), he said he found himself doing more housework, leaving "no time for grocery and eating out".
He had turned to ordering food, opting for healthier meals instead of processed or fast food. Since March, he says his weight has dropped by more than 15 kilograms.
On top of the "drastic change" in weight and stamina, 48-year-old Uding is also happy about his "new craving" for healthier food.
Micah Pascual, 27, also changed her eating habits when she returned to the country late last year. While living in Uruguay as a social worker assistant, she consumed a lot of meat and dairy products like the locals did.
Now she claims that not eating red meat, chicken, dairy products and certain seafood significantly helped her address her high levels of bad cholesterol and sugar.
"I feel lighter, seldom bloated. It made me more conscious of available food options locally, and to be creative in cooking and meal-planning," she said. She also encourages others to "switch to natural and trans fat-free food."
Cordoviz, Uding and Pascual were right to switch to healthier food options after they realized the impact of fatty and oily foods on their health.
Lethal like a virus

Trans fats are fatty acids that come from natural sources, like from cows and sheep, or are industrially produced.
In the industrial production of trans-fatty acids (TFAs), hydrogen is added to vegetable oil, thus converting the liquid into a solid, resulting in partially hydrogenated oil (PHO). This prolongs shelf life of food but health experts warn that it harms the consumer's health.
Globally, TFAs, which are often found in fast foods and deep-fried food, cause an estimated 500,000 deaths from cardiovascular disease (CVD) every year, according to the World Health Organization (WHO).
The health body launched in 2018 a campaign to eradicate trans-fats from food supplies, claiming this form of fat is "toxic to people even at low levels of intake" as it may clog arteries and increase the risk of other diseases, as well as death.
In the Philippines, non-communicable diseases (NCDs) account for 68 percent of deaths, says a 2019 WHO report.
The Department of Health (DOH), meanwhile, says one in three Filipinos are likely to die before the age of 70 from one of the four major NCDs, specifically CVD, cancer, diabetes, and chronic respiratory diseases.
This was reiterated by policy associate Mikhail Millan of ImagineLaw, a public law interest and advocacy group, in a Sept. 17 interview.
"In the Philippines, CHD or coronary heart disease, a type of cardiovascular disease, is a leading cause of death, claiming more than 80,000 Filipino lives annually. High consumption of TFA increases the risk of CHD and related mortality by as much as 28 percent."
These statistics have earned the attention of some lawmakers who are seeking to regulate TFAs in the market.
Bills for a Trans-fat free Philippines

Last July 29, Ang Probinsyano Partylist representatives Ronnie Ong and Alfred Delos Santos filed the Trans Fat Free Philippines Bills, House Bills (HB) 7200 and 7202, which aim to regulate TFAs and lower the risk of heart disease among Filipinos.
"The importance of addressing the problem of CVDs linked to the high intake of TFA has never been more pronounced than during this COVID-19 pandemic where patients with comorbidities have a higher risk of serious illness or death," said Millan.
According to Ong's explanatory note in the bill, 49 percent of COVID-19 deaths in the Philippines had comorbidities as of June 8, 2020, referring to existing medical conditions that increase the risk and severity of COVID-19. Tackling the issue of TFAs, dubbed the "tobacco of nutrition" will address premature deaths due to heart disease.
"As we also know, the prioritization of COVID-19 patients in our hospitals has made health services less accessible to other patients such as those with CVDs. In the long run, this bill will also promote preventative health care, stronger immune systems and healthier lifestyle in our country," said Ong in an email interview on Sept. 19.
"The bill complements our COVID-19 response by promoting preventive health-care and addressing the risk of dying from COVID-19," he added.
The bill coincides with the WHO's global plan to eliminate industrially-produced TFA as food supply by 2023 under its REPLACE action package.
"The most effective way to reduce [TFAs] in the food supply is implementation of legislation or regulatory actions to limit or prohibit industrially produced trans fatty acids," said Dr. Ivy Boyose-Nolasco of WHO Philippines during a webinar on July 29, shortly after the filing of the Trans Fat Free PH Bill.
The WHO's REPLACE package launched in 2018 serves as a guide to "ensure the prompt, complete, and sustained elimination," of trans fats and their replacement with healthier fats and oils.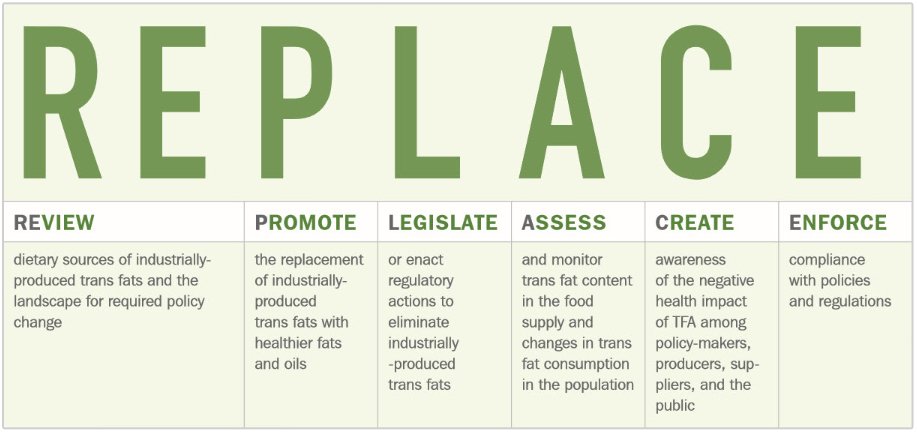 Averting harmful trans fats

Nolasco said the first step to eliminating TFAs is to "review" what can be used as alternatives.
"We need to see what we are up against and the resources that we have…We need to replace industrially produced TFAs with healthier oils and fats. WHO recommends that PHOs and products should be replaced with formulations that contain as little saturated fatty acids and as much unsaturated fatty acids…as possible,"she said.
Among these possible alternatives are canola oil, sunflower oil, extra virgin olive oil, avocado oil and coconut oil, as several studies have supported that these oils can help reduce the risk of heart disease and other diseases.
One such study is a 2013 report published on an online portal of the US National Library of Medicine National Institutes of Health (NLM-NIH) which examined the health benefits of consuming canola oil and showed substantial reductions in total cholesterol levels.
"As more countries regulate TFA, countries without regulations become vulnerable to dumping of TFA-rich imported food. Not only would regulating TFA lead to healthier lives for Filipinos, but it would also lead to significant healthcare savings and lessen the burden on our healthcare facilities," said ImagineLaw's Millan.
In Denmark, the first country to regulate artificial trans fat in certain food, the measure contributed to a 75 percent reduction in CHD- related deaths, according to a 2018 NLM-NIH study.
Argentina is another country which now has a law regulating trans fat. According to the WHO, since the law's enactment, an estimate of 301 to 1,517 annual cardiac deaths were averted by eliminating harmful TFAs. It also saved their government as much as USD 87 million in healthcare costs annually.
"The same results are achievable here in our country despite the fact that Filipinos are used to eating deep-fried food and fast food," said Millan, claiming New York City, which has abundant fast food places, was able to "successfully regulate" TFA.
A 2017 study from the NLM-NIH found that people in New York saw an additional 6.2 percent decline in hospital admissions for stroke among populations living in counties with TFA restrictions, as compared to those without. This was the case three years after restrictions were implemented.
In the Philippines, many consumers turn to fast food for convenience and affordability and Millan says there is concern among consumers that the cost of replacing TFA with healthier alternatives will be passed on to them. "But the difference in cost would merely be in the range of centavos," he said.
The WHO has also said that replacing industrially produced TFA would have little to no difference in cost and taste of food.
An ongoing campaign

Bills similar to the current TFA regulation measure were also filed by senators Nancy Binay, Lito Lapid, and the late Miriam Defensor Santiago starting from the 14th Congress that convened in 2007.
While Millan admits there are a lot of competing interests vying for the attention of Congress, especially amid the pandemic, he, along with advocacy groups, believe that HB 7200 and 7202 "should be prioritized as preventive health care has never been more important and more pronounced than in today's climate."
Groups like the Trans Fat Free Philippines, in coordination with the DOH, have a nationwide campaign on social media to spread awareness on the dangers of TFAs.
"Because of COVID-19, we can see better the importance of our health, a strong immune system and healthy lifestyle," said Ong.
"I ask all stakeholders, including experts and affected industries, to participate in our upcoming hearings and work with us in finding the right balance and timing in finally making the Philippines trans-fat free," he added.
At this time when people with comorbidities are more likely to suffer from COVID-19, Cordoviz likewise emphasized the importance of the bill.
"Given our current health crisis brought about by this pandemic, and with the scientific findings that pre-existing conditions such as diabetes, hypertension, obesity increase the mortality risk for COVID-19, it is indeed important to have a healthy citizenry to ensure a reduction of the mortality rate," he said.
He added that he will continue to "advocate for a TFA-free diet that is both attainable and affordable for all Filipinos…the health of the citizens is an integral part of the health of the nation."
When tempted to try food with harmful TFA, Pascual reminds herself and encourages others to ditch them to "enjoy a longer time with loved ones."
"Life is short. We shouldn't make it any shorter by not being conscious of what we put in our body," Uding said.

This story was produced under the '(Un)Covering Trans Fats Media Training and Fellowship Program' by Probe Media Foundation Inc. and ImagineLaw. The views and opinions expressed in this piece are not necessarily those of PMFI and IL.