Yet another video compilation on Facebook (FB) allegedly showing Typhoon Doksuri, locally known as Egay, ravaging China misleads netizens by using several old clips that were stripped out of context.
On Aug. 5, an FB user published a one-minute and nine-second video splicing seven clips, all showing torrential flood sweeping away cars, buildings, homes, and more in a montage. It bore the caption:
"Grabi (sic) ang ginawa ni bagyong igay (sic) sa china, tapos paparating pa sa kanila ngayon si bagyong falcon (What Typhoon Egay has done to China is so severe. And Typhoon Falcon is also coming their way now)".
At least one of these clips was taken from a different country and two were taken before Typhoon Doksuri struck China on July 28.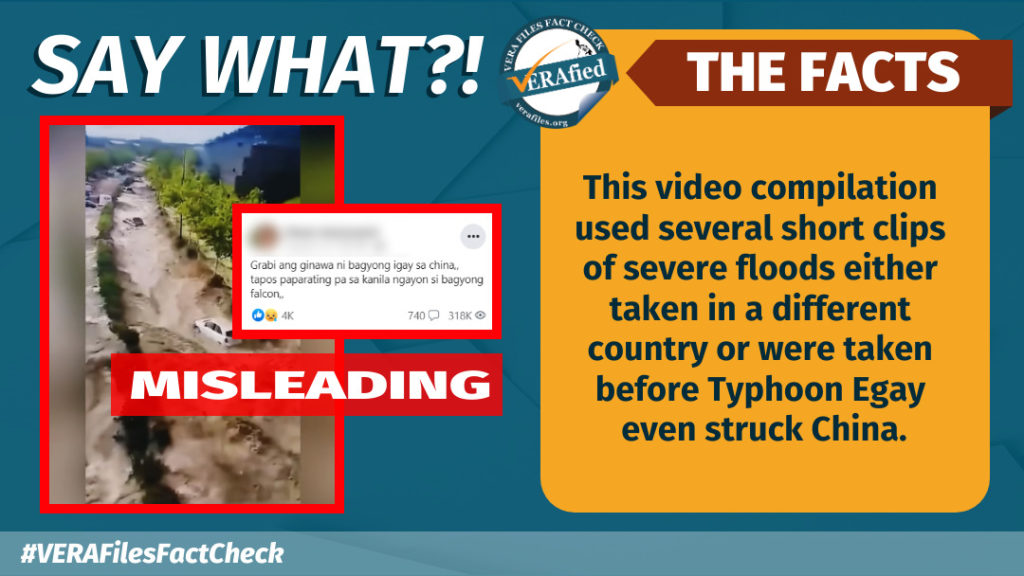 VERA Files Fact Check uncovered the original context of these short videos through a reverse image search.
Note: Click on the photos to view their original source.
Just last week, a similar video was debunked by VERA Files Fact Check for using old disaster clips taken from different countries while claiming to show China's tragedy following the typhoon.
(Read Video does NOT show Typhoon Egay's wrath in China)
Amid recent news of Chinese ships allegedly firing water cannons at Philippine vessels again in the West Philippine Sea, FB users misled by the circulating video wrote in the comment section that this was China's "punishment."
The erroneous FB post, which continues to circulate this week, has garnered over 4,000 likes, 740 comments, 1,900 shares and 318,000 views.
Have you seen any dubious claims, photos, memes, or online posts that you want us to verify? Fill out this reader request form or send it to VERA, the truth bot on Viber.
(Editor's Note: VERA Files has partnered with Facebook to fight the spread of disinformation. Find out more about this partnership and our methodology.)