A Facebook (FB) post has insinuated that relief goods found buried in Camarines Sur were items "hidden" from Typhoon Yolanda victims. This is wrong.
Nine images showing relief goods excavated from a dumpsite were uploaded on FB page Real Life Confession on April 15. The page said it was "unclear where they came from" and it must have been during the "time of (Typhoon) Yolanda." More than six weeks after, the post remains popular with new comments, over 41,000 shares and more than 17,000 reactions from netizens
The relief goods were actually found in 2019, in a dumpsite in Brgy. San Antonio in Bombon, Camarines Sur. Super typhoon Yolanda, also known as Haiyan, struck and devastated parts of the central Philippines in November 2013.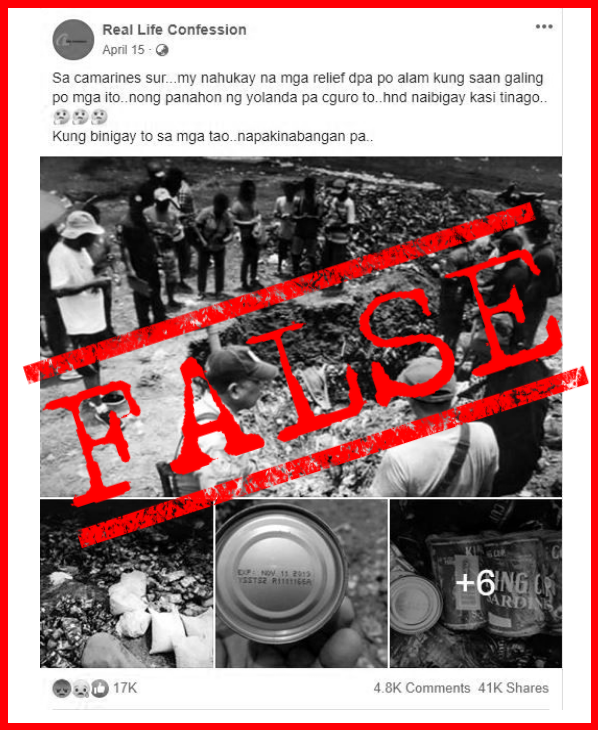 According to news reports, Bombon's former mayor Oscar Borja ordered the Municipal Disaster Risk Reduction and Management Office (MDRRMO) to bury the goods because they were no longer safe for consumption. These items were supposedly given by the Department of Social Welfare and Development in the event of a disaster.
A GMA Regional TV Weekend News report on Aug. 17, 2019, showed Engr. Arnel Talaguit of the Bombon MDRRMO saying they did not want to take the risk because some of the canned goods were already "rusty."
Bombon's current mayor, Ma. Luisa Angeles, argued that the items were still edible, as some of the goods were still sealed. Based on the "partial inventory" of the local government, 693 coffee sachets, 85 kilo packs of rice and 1586 canned goods have been recovered from the dumpsite.
Angeles had reached out to the Office of the President for help in investigating the incident, according to this report from local radio station Bombo Radyo.
This is not the first time the same images were used spuriously on social media. (See VERA FILES FACT CHECK: FB Page using Duterte name FALSELY links Robredo to CamSur dumpsite incident)
Real Life Confession identifies itself as a personal blog site. It was created only last March 10.
(Editor's Note: VERA Files has partnered with Facebook to fight the spread of disinformation. Find out more about this partnership and our methodology.)