Two YouTube videos falsely claimed that the new 10-dash line map of China has included the entire Philippines as part of its territory. This is not true. The new map covered only parts of the country's maritime zones.
First uploaded on Aug. 31, three days after the Chinese Ministry of Natural resources released the map, the video's headline read:
"KAKAPASOK LANG! CHINA BINAGO ANG MAPA NG MUNDO! PILIPINAS PAG MAMAYARI NADAW NG CHINA! PBBM NAALARMA! (Just in! China changed the world map. The Philippines is now owned by China! President Bongbong Marcos was alarmed!)" 
Beijing's new standard map claimed most of the South China Sea, similar to its previous nine-dash line version that has been declared illegal by the Permanent Court of Arbitration at the Hague. Both maps included, as part of China, the West Philippine Sea and the Kalayaan Island Group, which fall under the Philippines' 200-nautical-mile exclusive economic zone.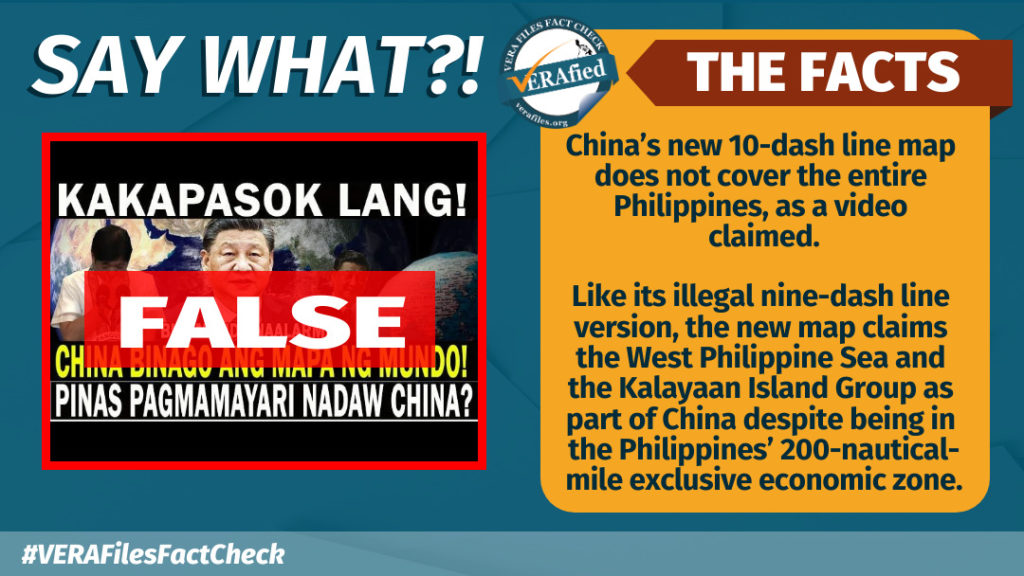 The addition of one new dash east of Taiwan in China's standard map has effectively included the island as part of its territory. China sees Taiwan as a renegade province subject to reunification. 
The video also wrongly claimed that the Indian Ocean has been included in the 10-dash line map. At the 0:17 mark, an anonymous narrator said: 
"Kung dati ay nine-dash line lang ang sinasakop ng China ngayon ay naging 10-dash line na kung saan sinasakop na rin nila ang karagatan ng buong India. (Before, China only claimed the nine-dash line but it has now become a 10-dash line covering the entire Indian ocean.)"
The map did not include the Indian Ocean but it did show the Indian state of Arunachal Pradesh and the Aksai Chin plateau as part of China. 
The narrator also incorrectly referred to former Senior Associate Justice Antonio Carpio as former justice secretary. 
The rest of the video played clips of Sen. Francis Tolentino and Senate President Juan Miguel Zubiri's press conferences on Aug. 31 where they condemned China's new map.
Uploaded by YouTube channels Boss Balita TV and BALITA NI JUAN, the videos received 26,272 views and 890 likes. Facebook users reposted the links.
Have you seen any dubious claims, photos, memes, or online posts that you want us to verify? Fill out this reader request form or send it to VERA, the truth bot on Viber.
(Editor's Note: VERA Files has partnered with Facebook to fight the spread of disinformation. Find out more about this partnership and our methodology.)