An old claim that Sen. Manny Pacquiao obtained a four-year political science degree in three months from the University of Makati (UMak) is again making the rounds on social media. This rehashed post needs context.
At least 83 Facebook (FB) posts — 35 of which were published by FB pages and 48 posted in public groups — questioned how the senator "finished a four-year course in just three months," citing the period September to December 2019.
The posts further asked if Pacquiao took "an easy way to obtain a diploma", insinuating the involvement of money in the process.
UMak Vice President for Academic Affairs Elyxzur Ramos already belied these claims in a December 2019 Inquirer.net article. Pacquiao completed his eligibility requirements for a degree in 16 months not three, and this is under its College of Continuing, Advanced and Professional Studies (CCAPS) program.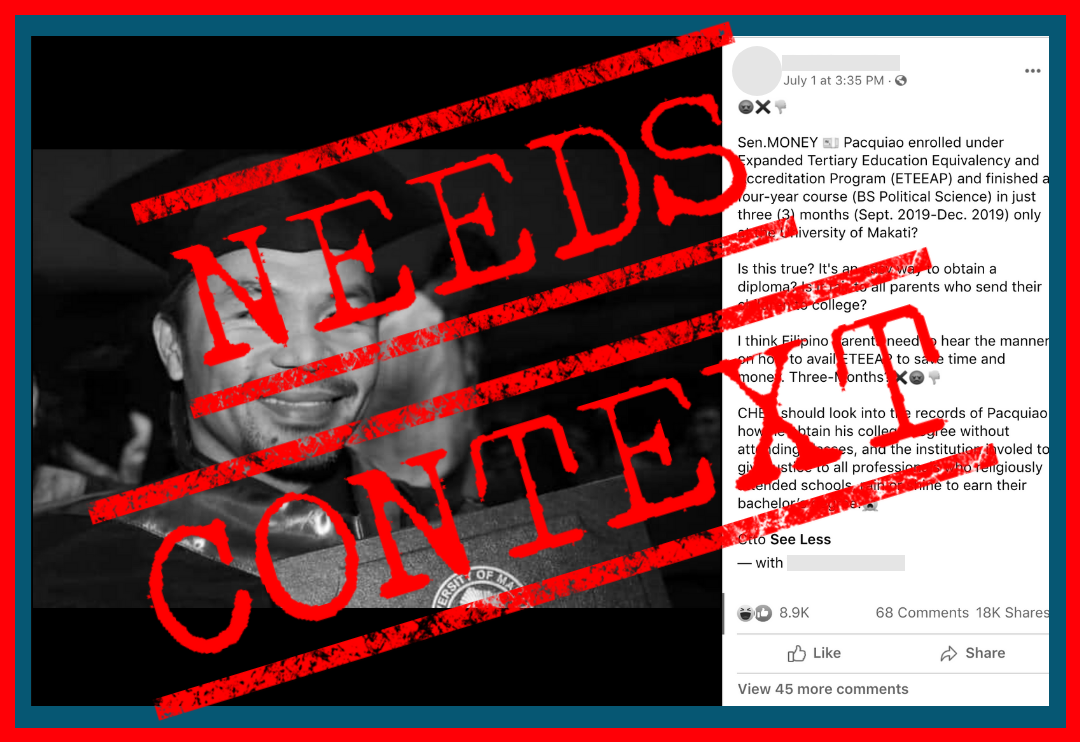 This is similar to the Commission on Higher Education's Expanded Tertiary Education Equivalency and Accreditation Program (ETEEAP), which allows individuals to attain tertiary education equivalent to their proficiency and knowledge in their current work.
According to Ramos, Pacquiao enrolled in the university in August 2018 — not September 2019 — and needed to complete 10 academic modules for him to be eligible for a degree under UMak's CAPPS program. The senator was able to finish all 10 modules in 16 months, from August 2018 to December 2019.
The inaccurate claim that Pacquiao got his degree after studying for only three months stemmed from two of his Instagram posts in 2019. The first one, published in September, carried a photo of Pacquiao's UMak-CCAPS school ID. The second one, posted in December, were pictures of him during his graduation rites.
Netizens misleadingly took Pacquiao's first post at the time he enrolled in UMak, and his second post — published just three months after the first — as the time he graduated from the university.
Meanwhile, to disprove accusations that the senator paid for his college degree, Ramos clarified that UMak is "not a for-profit institution," with its funds coming from the local government of Makati. "We don't need money as we are greatly provided for," Ramos told Inquirer.net.
All of the 83 inaccurate FB posts carried the same text that ends with a "ctto" or "credit to the owner." The oldest copy among them was published by a netizen on July 1, just two days after President Rodrigo Duterte dared Pacquiao to "come up with a list" of corrupt public officials and offices, following the senator's allegations of corruption in the government.
The July 1 FB post alone got over 9,000 reactions, 68 comments, and 18,000 shares from FB users. Social media monitoring tool CrowdTangle shows all 83 copies of the inaccurate post collectively received more than 38,100 engagements from netizens.
(Editor's Note: VERA Files has partnered with Facebook to fight the spread of disinformation. Find out more about this partnership and our methodology.)