Scammers are again using the identity of cardiologist Dr. Willie Ong to fraudulently promote unlicensed products, this time for pesticide.
The advertisements continue to circulate this May, over two weeks since first appearing on April 18. Part of the text of one of the ads read:
"[T]he Japanese Institute of Biological Research has introduced [a product] to kill insects, bugs, yellow flies, red spiders, snails to protect plants completely with natural herbs."
These posts further claim that more than 300 customers have tried the insecticide product called "Bestkill" that can allegedly kill any pest in one spray without harming the plant. In an effort to legitimize the claim, the posts carried photos of Ong "endorsing" the product.
Bestkill is not registered with the Fertilizer and Pesticide Authority (FPA), an agency under the Department of Agriculture that regulates, controls and develops the fertilizer and pesticide industries in the country. The photos of Ong have also been edited.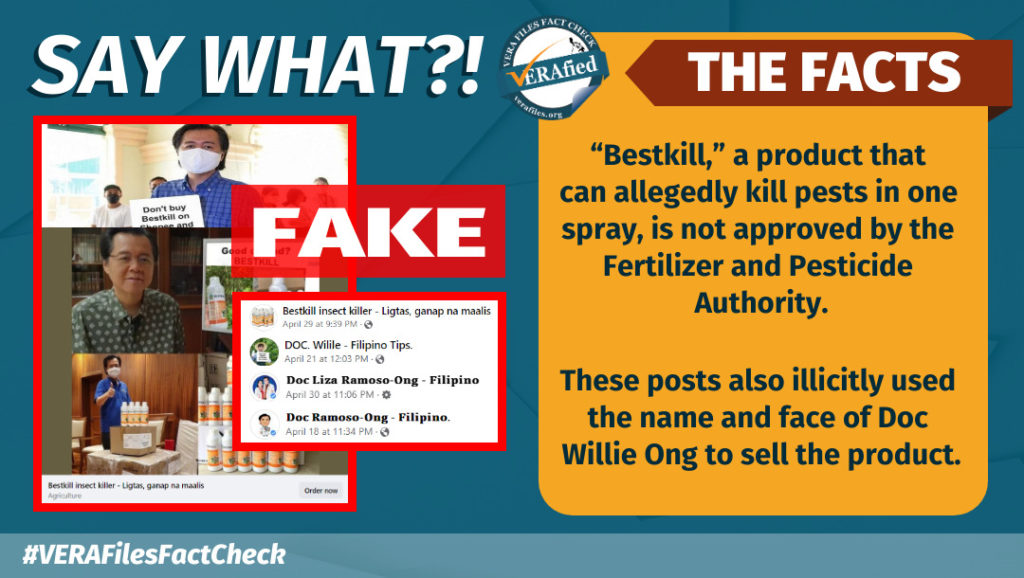 Not FPA-registered
In a March 22 advisory, the FPA warned the public — especially farmers — from purchasing and using the product. "Considering that the abovementioned product has not gone through the evaluation process of the FPA, the agency cannot assure its safety and quality," the agency stated.
The list of products approved by the FPA can be found on the regulatory agency's official website.
Altered photos used
Aside from the fraudulent claim on the insecticide's efficacy, these FB posts also illicitly used the face and name of Ong to peddle the product.
Note: Click on the photos to view their original source
The fraudulent ads continued to make the rounds as the Department of Agriculture held information drives on pest control and prevention in the Caraga region in late April.
Newly created imposter pages DOC. Willie – Filipino Tips. (made on April 21), 𝐃𝐨𝐜 𝐋𝐢𝐳𝐚 𝐑𝐚𝐦𝐨𝐬𝐨-𝐎𝐧𝐠 – 𝐅𝐢𝐥𝐢𝐩𝐢𝐧𝐨 (March 10), 𝐃𝐨𝐜 𝐑𝐚𝐦𝐨𝐬𝐨-𝐎𝐧𝐠 – 𝐅𝐢𝐥𝐢𝐩𝐢𝐧𝐨. (April 10) and FB page Bestkill insect killer – Ligtas, ganap na maalis (April 29) published the deceptive ads. Their posts have reached at least 550,000 users collectively, according to FB.
Have you seen any dubious claims, photos, memes, or online posts that you want us to verify? Fill out this reader request form or send it to 'VERA, the truth bot' on Viber.
(Editor's Note: VERA Files has partnered with Facebook to fight the spread of disinformation. Find out more about this partnership and our methodology.)