President Rodrigo Duterte since the start of the drug war has been painting a grim picture, saying more and more state agents are getting killed daily.
Government figures tell a contrary story.
STATEMENT
Since the drug war began in July 2016, Duterte has claimed at least 14 times that law enforcers are being killed daily, increasingly varying the average from "two to three" to "three to four" to "four to five."
Most recently, in a speech Dec. 7, he said the war on drugs has gotten so "dangerous and violent" that "six to eight" soldiers and cops are killed daily in drug-related cases:
"And you can be very sure of this. I'm losing on the average six to eight soldier or policemen in Mindanao in drug-related cases."

Source: Speech of President Rodrigo Roa Duterte during his Attendance to the Kapampangan Food Festival, Dec. 7, watch from 41:35 to 41:46
The number of cops killed "to date" is 242, Duterte said:
"Why is it, if it is not that dangerous and violent, why is it that to date, I have lost 242 policemen in drug-related raids and arrest?"

Source: Speech of President Duterte, watch from 40:15 to 40:30
FACT
At least 3,000 law enforcers should have been killed since July 2016 for Duterte's "six to eight" daily average to be correct. (See VERA FILES FACT CHECK: When did the anti-drugs campaign under Duterte officially begin?)
"Real Numbers PH," the government's figures on the drug war released monthly by the Philippine Drug Enforcement Agency (PDEA), has a much lower tally: 86, as of Nov. 27.
The total includes members of PDEA, the Philippine National Police, National Bureau of Investigation and Armed Forces of the Philippines killed "in anti-drug operations." . (See VERA FILES FACT CHECK: Duterte says 2-3 cops killed daily in war on drugs)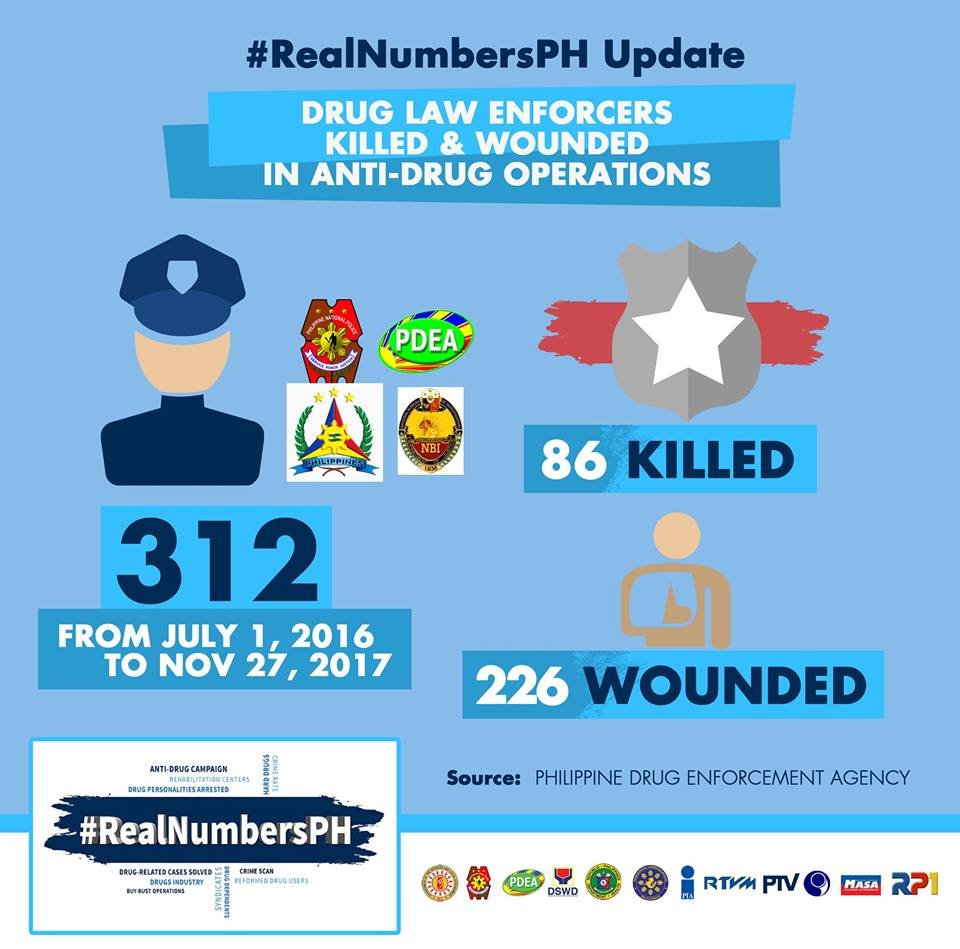 It is unclear what Duterte meant by law enforcers killed "in Mindanao."
Yet tally at the end of the Marawi crisis, 165 soldiers and cops killed, also does not support Duterte's claim:
"The number of soldiers and policemen killed in action is 165."

Source: CNN Philippines video of Col. Romeo Brawner in a press briefing after the announcement of the end of combat operations in Marawi, Oct. 23, watch from 8:21-8:22
Duterte, in a speech Sept. 26, claimed the Marawi crisis broke out when security forces served a warrant of arrest on a local drug lord.
"Real Numbers PH" shows no law enforcer was killed between Oct. 25 to Nov. 27, around the same period Duterte transferred to PDEA leadership in anti- drug operations.
On Dec. 5, he directed the PNP and other agencies to "resume providing active support" to PDEA.
Sources:
Philippine Information Agency, Real Numbers PH
Official Gazette, Memorandum from the President, Oct. 10, 2017
Official Gazette, Memorandum Order 17, Dec. 5, 2017
RTVM, Speech of President Rodrigo Duterte during the 56th Anniversary of the Philippine Constitution Association, Sept. 26, 2017
(Guided by the code of principles of the International Fact-Checking Network at Poynter, VERA Files tracks the false claims, flip-flops, misleading statements of public officials and figures, and debunks them with factual evidence. Find out more about this initiative.)
2017-12-12 06:13:29 UTC