Contrary to the claim of a circulating social media graphic, former Supreme Court Chief Justice Artemio V. Panganiban did not come in defense of presidential aspirant Ferdinand "Bongbong" Marcos Jr. with regard to the petitions challenging the validity of his candidacy in the May polls.
Carried in at least 150 Facebook (FB) posts published by various pages and accounts from Feb. 3 to 8, the erroneous quote card attributed to Panganiban the following statement:
"Huwag po pairalin ang inyong pagka-Anti Marcos. Si BBM po ay nahatulan ng Regional Trial Court (RTC) ng Tax Evasion pero binaliktad ng Court of Appeals (CA) and (sic) decision ng RTC, kaya nawalang saysay ang decision ng RTC. Hindi po nagsinungaling si BBM sa kanyang COC nang sabihing hindi sya convicted of crime involving moral turpitude kasi nga po binasura ng CA ang ruling ng RTC.
(Don't let your anti-Marcos sentiment prevail. BBM was found guilty of tax evasion by the RTC, but its decision was reversed by the CA, so the RTC's decision was rendered meaningless. BBM did not lie in his COC when he said the court did not convict him of a crime involving moral turpitude because the CA junked the RTC's ruling.)
There was no indication of any source in the circulating posts where he made the alleged statement.
And there is no media report showing the retired chief justice said this. Neither did he make this remark in any of his columns published weekly in the Philippine Daily Inquirer.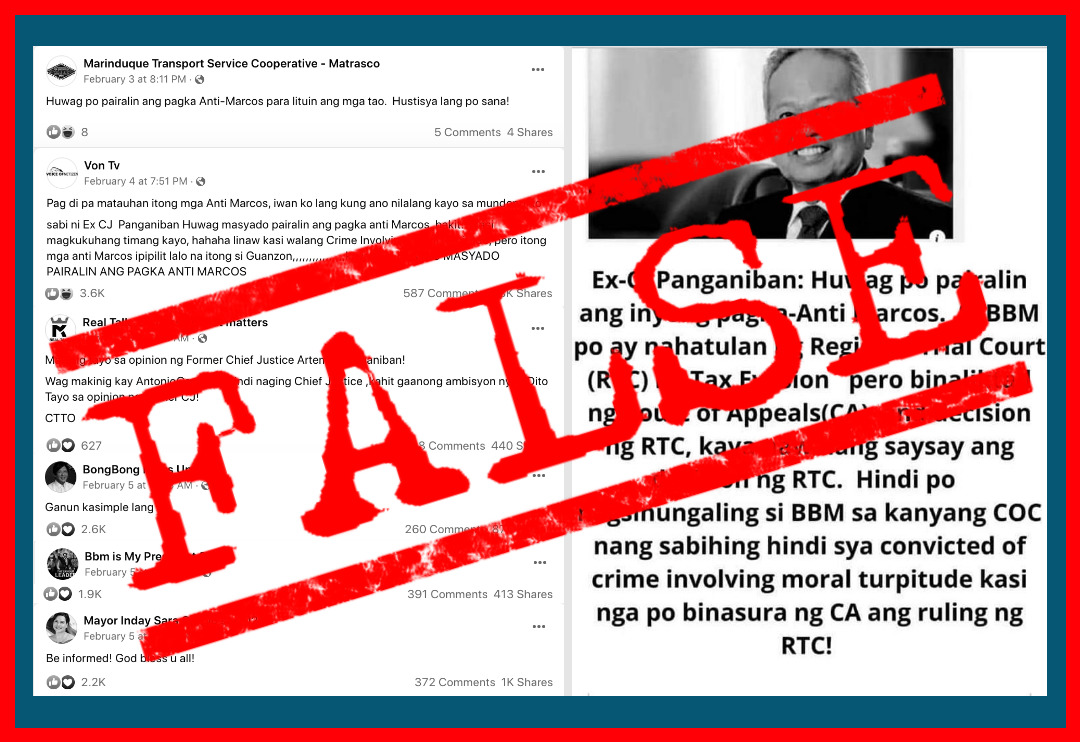 In his Jan. 30 column titled "Petitioners: BBM lied, COC must be nixed," Panganiban even supported the stand of petitioners that Marcos committed false material representation in his certificate of candidacy (COC).
He wrote:
"Moreover, his 'No' answer in Item No. 22 is 'false' because the offense he was convicted of carried with it—in fact and in truth—the accessory penalty of disqualification from holding a public office."
Item number 22 that he referred to was a question on the COC that states: "Have you ever been found liable for an offense which carries with it the accessory penalty of perpetual disqualification to hold public office, which has become final and executory?"
The offense that led to his conviction was Marcos' failure to file income tax returns from 1982 to 1985.
In a response to VERA Files Fact Check on Feb. 17, the former chief justice said this about the circulating quote card: "I do not have a social media account. Hence, I do not comment on posts made therein. However, I stand by what I wrote in my Inquirer column."
Moreover, Panganiban made no categorical remark on whether or not the offense is a crime involving moral turpitude – a ground to disqualify a candidate from running for public office.
In his Feb. 6 column, Panganiban mentioned "moral turpitude" but only to elucidate on a 2009 Supreme Court case. In this instance, Marcos was not disqualified as executor of his father's will because the court deemed his failure to file tax returns as "not a crime involving moral turpitude."
The false quote card began to surface a day after Comelec Commissioner Rowena Guanzon retired on Feb. 2. In an interview, Guanzon, as a member of the Comelec's First Division, revealed she had voted to disqualify Marcos.
However, in its decision on Feb. 10, the division voted 2-0 to junk the disqualification petition, disregarding the retired commissioner's opinion.
The graphic's oldest traceable copy was published on Feb. 3 by FB page Marinduque Transport Service Cooperative – Matrasco. A look at the page's activities showed it often shared posts that favor Marcos or are critical of his political rival Vice President Leni Robredo.
Meanwhile, its copy with the most number of engagements from netizens was posted by page BongBong News Updates. As of writing, it has received 2,600 reactions, 260 comments, and 877 shares from FB users. There is also a version of the spurious graphic in the video format, published by page Von Tv (Voice of Netizen), which now has almost 5,000 engagements and over 67,000 views.
Collectively, the 150 posts identified by social media monitoring platform CrowdTangle as carrying the erroneous quote card received more than 27,600 interactions on FB.
Have you seen any dubious claims, photos, memes, or online posts that you want us to verify? Fill out this reader request form or send it to 'VERA, the truth bot' on Viber.
(Editor's Note: VERA Files has partnered with Facebook to fight the spread of disinformation. Find out more about this partnership and our methodology.)