Foreign Affairs Secretary Teodoro Locsin Jr. erroneously claimed that the respondents in the latest Pulse Asia survey who said they "approve" of President Rodrigo Duterte did so "to the max" with "no exceptions."
STATEMENT
On Nov. 19, Locsin retweeted an ABS-CBN news report in which lawyer Barry Gutierrez, spokesperson of Vice President Leni Robredo, reacted to Duterte's recent 17-minute rant against the vice president.
In his Nov. 17 address, Duterte "cautioned" Robredo for supposedly "lying" about his absence, and starting the #NasaanAngPangulo (#WhereIsThePresident) trend on social media during the onslaught of Typhoon Ulysses.
Gutierrez debunked the allegation, adding, "Why be insecure if you (Duterte) have a 91 percent approval rating?," which was quoted in the news report's headline.
In the caption of his retweet, Locsin said:
"He does have 91% approval; remaining 9% are kids who weren't polled. He doesn't want to disappoint the 91% whose approving cooperation makes possible his successful fight against crime & contagion. 91% approve of everything he's done so far; everything, todo (to the max), no exceptions."

Source: Teodoro Locsin Jr. official Twitter account, "He does have 91% approval…," Nov. 19, 2020
The secretary's Twitter post has since garnered over 100 retweets as of publication, and could have potentially reached over 22,900 people on the platform alone, based on social media monitoring tool CrowdTangle.
FACT
Locsin is wrong: the 91% "approval" rating that Duterte got in the most recent Pulse Asia survey on trust and approval ratings is actually a combination of people who "truly approve" and "somewhat approve" of the president's performance.
The poll, which was conducted from Sept. 14 to 20, asked 1,200 Filipinos aged 18 years and up nationwide about their "opinion" on how each of the five top government officials (president, vice president, Senate president, House speaker, and chief justice) performed his or her duties in the past three months.
Respondents were instructed to rate the officials using the following scale:
Talagang aprobado

(Truly approve)

Medyo aprobado

(Somewhat approve)

Maaring aprobado o maaaring hindi aprobado

(May approve or may disapprove)

Medyo hindi aprobado

(Somewhat disapprove)

Talagang hindi aprobado

(Truly disapprove)

Not aware
In an email to VERA Files on Nov. 20, Ana Maria Tabunda, research director of Pulse Asia Research, said the polling body did not provide a definition for the ratings.
Of Duterte's 91% "approval" rating, about 66% said they "truly approve" while 25% said they "somewhat approve," Tabunda said in the email.
From the 1,200 representative sample, about five percent said they "disapproved" of Duterte's performance, while another five percent were "undecided." They were described by Locsin as the "remaining nine percent kids who weren't polled."
In the same way, the five percent "disapproval" rating is the sum of those who said they "truly disapprove" (2%) and "somewhat disapprove" (3%) of the president's performance.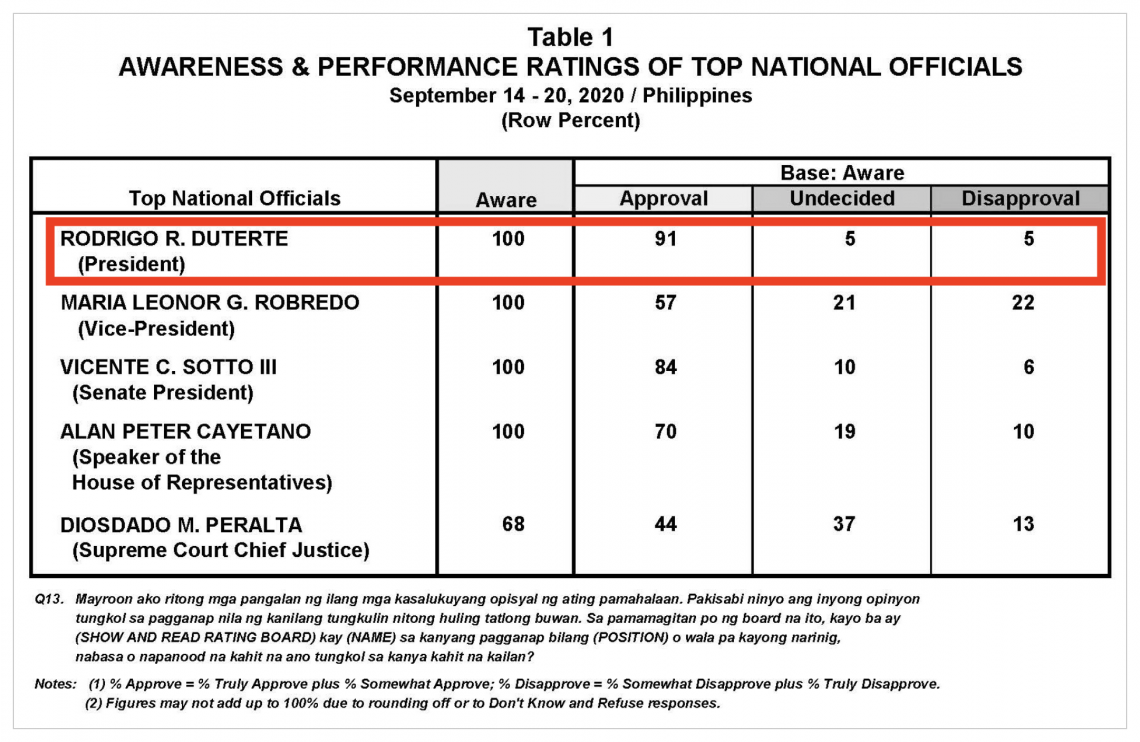 Screenshot taken from Pulse Asia's official website
The sum of the figures exceed 100% "because of rounding," Tabunda noted.
The survey had a margin of error of ±2.8 percent. Prior to rounding, the breakdown of Duterte's approval ratings, according to Tabunda, was:
Truly approve: 65.55%
Somewhat approve: 25.27%
Somewhat disapprove: 2.56%
Truly disapprove: 2.01%
Undecided: 4.61%
Sources
Teodoro Locsin Jr. official Twitter account, "He does have 91% approval…," Nov. 19, 2020
ABS-CBN News, Robredo camp tells Duterte: 'Why be insecure if you have a 91 percent approval rating?', Nov. 19, 2020
Presidential Communications Operations Office, Talk to the People of President Rodrigo Roa Duterte on Coronavirus Disease 2019 (COVID-19), Nov. 17, 2020, watch from 1:50 to 19:35
GMA News Online, 'Kalokohan lang ng oposisyon,' Roque says of #NasaanAngPangulo, Nov. 13, 2020
Inquirer.net, Roque plea to netizens: Stop asking 'Nasaan ang Pangulo?', Nov. 14, 2020
ABS-CBN News, Duterte to Filipinos asking #NasaanAngPangulo: 'We were working', Nov. 14, 2020
Pulse Asia, September 2020 Nationwide Survey on the Performance and Trust Ratings of the Top Philippine Government Officials and the Performance Ratings of Key Government Institutions, September 2020, Accessed on Nov. 19, 2020
Email interview, Pulse Asia Research – Research Director Ana Maria Tabunda, Nov. 20, 2020
(Guided by the code of principles of the International Fact-Checking Network at Poynter, VERA Files tracks the false claims, flip-flops, misleading statements of public officials and figures, and debunks them with factual evidence. Find out more about this initiative and our methodology.)