In his recent interview with actress and television host Toni Gonzaga, President Ferdinand "Bongbong" Marcos Jr. claimed that his family was "never allowed to argue" on the P203-billion real estate tax case because they were in exile in Hawaii when the case was in court.
This is false.
STATEMENT
When Gonzaga asked Marcos Jr. about his thoughts on the real estate tax issue, he said:
"Well, we are actually encouraging that this finally be resolved because I don't want to make a legal opinion for which I am not qualified. But rather to say that we were never allowed to argue because when this case came out we were all in the United States. So when it was the time for us to answer, we had no chance to answer because we were nakakulong (detained) in Hickam Air Force Base."

Source: Toni Gonzaga Studio YouTube channel, An Exclusive Interview with President Ferdinand Bongbong Marcos Jr. | Toni Talks, Sept. 13, 2022, watch from 37:54 to 38:57
FACTS
The Supreme Court, in its 1997 ruling on the case, noted that the Bureau of Internal Revenue (BIR) issued around 30 notices of levy to "satisfy" the estate tax and deficiency income taxes on the properties of the Marcoses.
According to the ruling, the BIR commissioner issued 22 notices of levy on Feb. 22, 1993 "against certain parcels of land owned by the Marcoses – to satisfy the alleged estate tax and deficiency income taxes of Spouses Marcos."
The BIR issued four more notices of levy on May 20, 1993, and another four on May 26, 1993.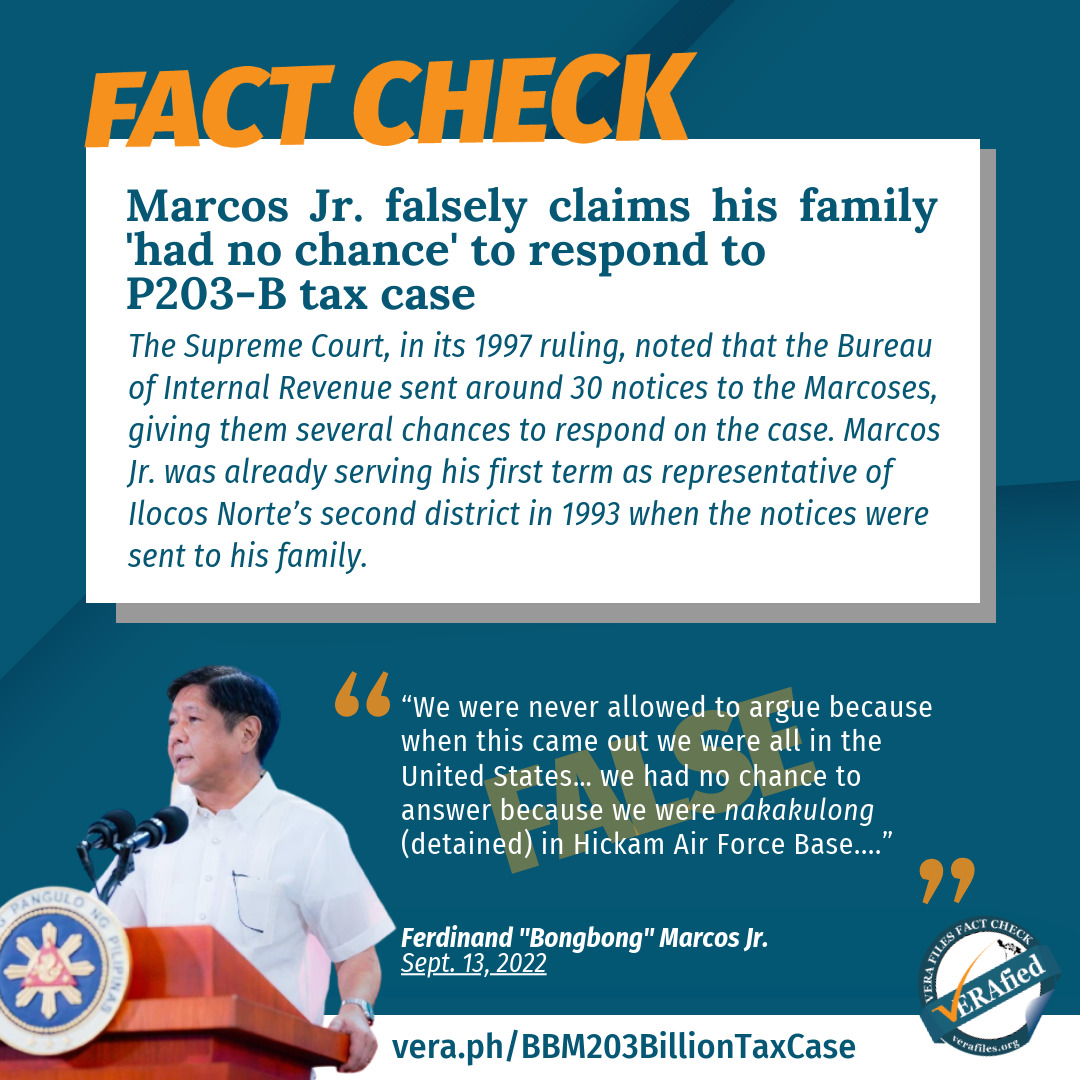 Marcos Jr. is a petitioner in the case, questioning the BIR's computation of the original P23-billion tax liability. The decision says:
"The foregoing notwithstanding, the record shows that notices of warrants of distraint and levy of sale were furnished the counsel of petitioner on April 7, 1993, and June 10, 1993, and the petitioner himself on April 12, 1993 at his office at the Batasang Pambansa. We cannot, therefore, countenance [the] petitioner's insistence that he was denied due process."

Source: Supreme Court E-Library, G.R. No. 120880, June 5, 1997
Marcos Jr. returned from exile in Hawaii in 1991. He ran and won as congressman of Ilocos Norte's second district in 1992, a post he occupied until 1995 when he ran for a Senate seat but lost.
The P203-billion tax liability of the Marcos family became an issue in the May 2022 presidential elections. (Read VERA FILES FACT SHEET: What you need to know about the presidential, VP hopefuls)
In a March 11 letter to Aksyon Demokratiko Chairman Ernesto Ramel Jr. posted on the political party's official Facebook page, the Presidential Commission on Good Governance provided a breakdown of the family's original tax dues:
| | |
| --- | --- |
| Description | Amount |
| Deficiency estate tax assessment against the estate of the late dictator Ferdinand Marcos Sr. | P23,293,607,638.00 |
| Deficiency income tax assessments of Ferdinand Marcos and former first lady Imelda Marcos from 1985 to 1986 | P184,159,289.70 |
| Deficiency income tax assessment against Ferdinand Marcos Jr. from 1982 to 1985 | P20,410.00 |
Have you seen any dubious claims, photos, memes, or online posts that you want us to verify? Fill out this reader request form.
Sources
Toni Gonzaga Studio YouTube channel, An Exclusive Interview with President Ferdinand Bongbong Marcos Jr. | Toni Talks, Sept. 13, 2022
Supreme Court E-Library, G.R. No. 120880, June 5, 1997
Senate of the Philippines official website, Senator Ferdinand "Bongbong" Marcos Jr., accessed on Sept. 20, 2022
Aksyon Demokratiko official Facebook page, PAHAYAG SA BIR, PCGG AT SUPREME COURT RULING LABAN SA MARCOS UNPAID ESTATE TAX!, March 16, 2022
(Guided by the code of principles of the International Fact-Checking Network at Poynter, VERA Files tracks the false claims, flip-flops, misleading statements of public officials and figures, and debunks them with factual evidence. Find out more about this initiative and our methodology.)