A YouTube channel uploaded old clips from an aerospace exhibition and falsely claimed that the bomber planes from the United States are now in the Philippines. 
Uploaded on Aug. 27, the two-minute and 17-second video showing two planes conducting a flyover bore the headline: 
"24 ORAS EXPRESS REGALO NG AMERICA NASA PILIPINAS NA (AMERICA'S GIFT NOW IN THE PHILIPPINES) ! PILIPINAS VINES NEWS VIRAL."
The thumbnail bore a "breaking news" tag and featured edited images of two aircrafts with the Philippine flag. The text in the video further claims that the bomber planes were given by US President Joe Biden as an expression of gratitude for their new bases in the Philippines under the Enhanced Defense Cooperation Agreement (EDCA). 
This is not true. The video shows two U.S. Air Force B-1B Lancer bomber aircraft during an aerospace exhibition in 2017.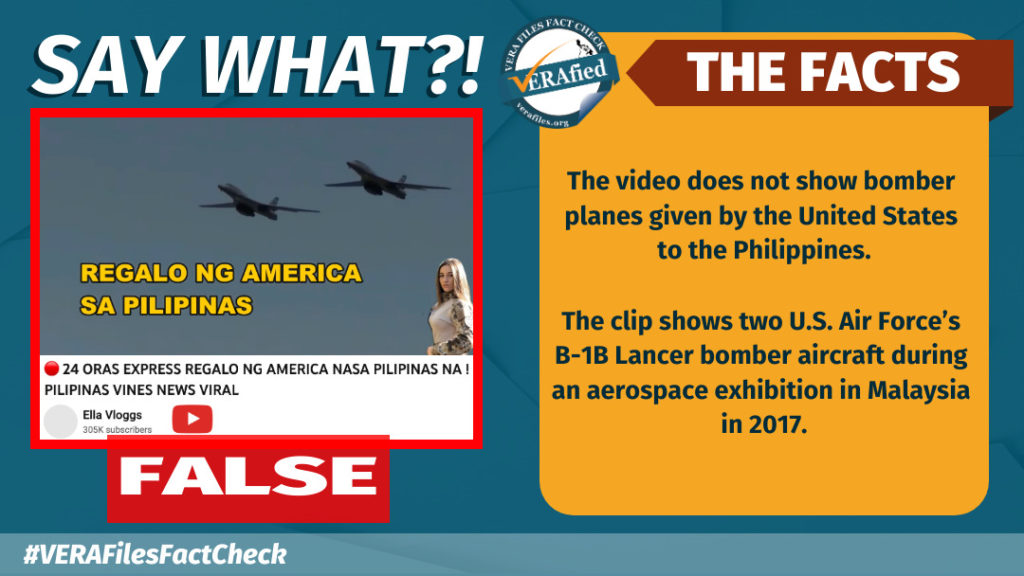 YouTube channel Nigel Woolle uploaded the original clip on March 21, 2017. It shows the two weapon systems conducting a flyover during Malaysia's Langkawi International Maritime and Aerospace Exhibition 2017. The clips were mirrored in the false video. 
Last April, the Philippines granted four additional EDCA sites for the U.S. troops: Naval Base Camilo Osias in Santa Ana, Cagayan; Camp Melchor Dela Cruz in Gamu, Isabela; Balabac Island in Palawan; and Lal-lo Airport in Cagayan. 
According to a May 1 White House statement, the U.S. also intends to transfer three C-130H cargo aircraft, along with patrol vessels, to the Philippines "pending applicable Congressional notification." 
The false video was posted more than a week after the biennial and multinational exercise Pacific Airlift Rally was held in various air bases in the Philippines. Fourteen countries, including the US, participated in the event. 
YouTube channel Ella Vloggs (created on Feb. 15, 2019), with 305,000 subscribers, uploaded the video that has 3,890 views as of writing. VERA Files Fact Check has previously flagged this channel for repeatedly posting military-related disinformation.
Have you seen any dubious claims, photos, memes, or online posts that you want us to verify? Fill out this reader request form or send it to VERA, the truth bot on Viber.
(Editor's Note: VERA Files has partnered with Facebook to fight the spread of disinformation. Find out more about this partnership and our methodology.)