A video circulating on Facebook and YouTube claims that the Philippines and Iran have formed a military alliance against China. No such pact was forged. Iran's new ambassador just made the customary courtesy call on President Ferdinand Marcos Jr. last month.
Uploaded on Aug. 23, or six days after the Iranian envoy met with the chief executive, the erroneous video carried this headline:
"IRAN BABANAT NA! Iran At Pilipinas BAGONG ALYANSANG BABANGGA Sa Pwersang Pandigma Ng China (Iran will now attack! Iran and the Philippines' new alliance will confront the war forces of China)!"
Its thumbnail also contained this text: "IRAN AT PILIPINAS DUDUROG SA CHINA. XI JINPING HINDI INAASAHAN ANG BAGONG KAKAMPI NG HUKBO NG PILIPINAS (Iran and the Philippines will crush China. Xi Jinping did not expect the new ally of the Philippine military)" along with a photo of three ships appearing to fire missiles on two vessels.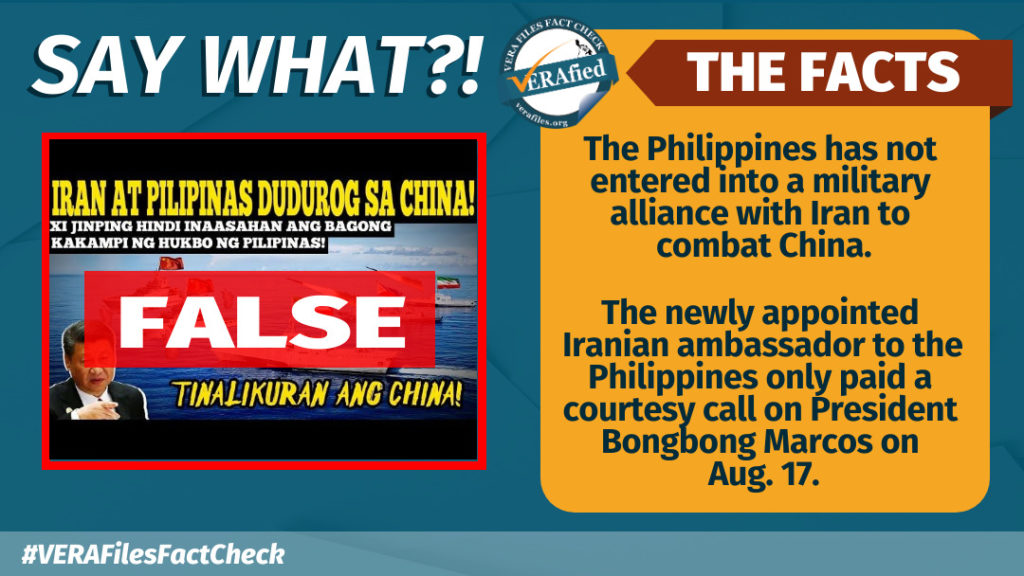 The photo was altered. Reverse image search showed there are no Chinese coast guard vessels, missiles, as well as Philippine and Iranian flags attached to the ships in the original photo.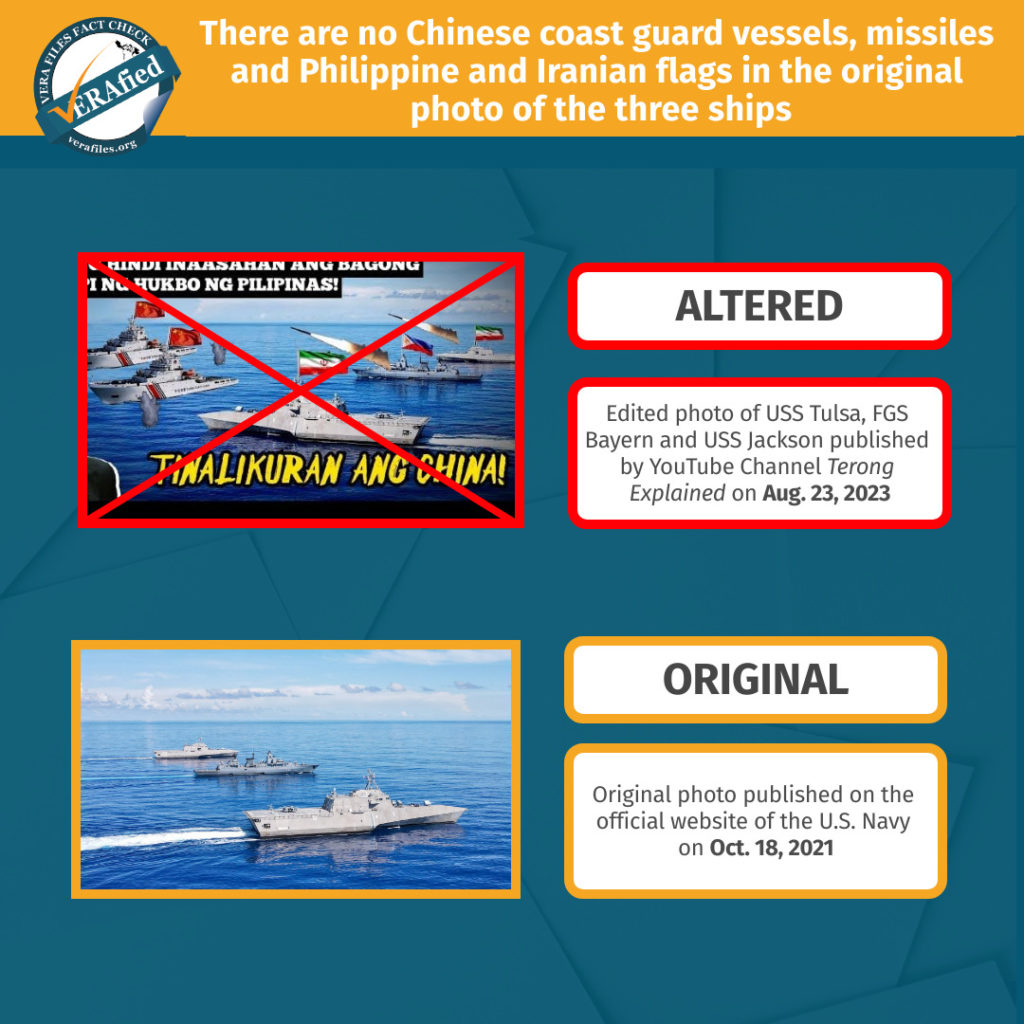 The original image used in the video was taken on Oct. 18, 2021, and it actually showed USS Tulsa (left), FGS Bayern (center) and USS Jackson (right) traversing the Philippine Sea during a naval exercise between Germany and the United States. 
According to the Presidential Communications Office, newly appointed Iranian ambassador Yousef Esmaeilzadeh paid a courtesy call on Marcos on Aug. 17 where they talked about strengthening bilateral cooperation in science and technology, tourism, people-to-people exchanges and maritime security. 
The Philippines has no defense pact with Iran, but in 2017, it signed a memorandum of understanding with the Gulf nation for oil and gas exploration, and in 2019 for science and technology cooperation. 
First uploaded by verified YouTube channel Terong Explained, the video received 41,944 views and 2,100 likes. FB page Ukraine fights reposted the clip that same day and garnered 2,600 views, 115 reactions and 20 shares.
Have you seen any dubious claims, photos, memes, or online posts that you want us to verify? Fill out this reader request form or send it to VERA, the truth bot on Viber.
(Editor's Note: VERA Files has partnered with Facebook to fight the spread of disinformation. Find out more about this partnership and our methodology.)