A Filipino Facebook (FB) page is claiming that China will attack any U.S. aircraft that will dare to fly over the South China Sea. This is not true. Beijing has issued no such warning. 
Days after the United States (U.S.) shot down a Chinese balloon that entered its territory, the FB page published on Feb. 7 the video with this false headline:
"GRABE NA ITO! China AATAKIHIN ANG Mga Eroplano NG US NA MAGBABALAS (sic) SA South China Sea! (THIS IS BAD! China WILL ATTACK any aircraft of the U.S. entering the South China Sea!)"
At the 4:18-minute mark, the narrator claimed in Filipino: "Beijing and [Chinese President] Xi Jinping now believe that it is within their jurisdiction to take down any U.S. airplane in the disputed airspace above the South China Sea."
No news organization has reported on this alleged pronouncement by China. But the erroneous claim seemed to echo a Feb. 6 Sky News opinion article by political commentator Joseph Siracusa, who gave his insights on what might happen after the U.S. took down what it claimed was a Chinese spy balloon.
"My guess is Beijing now has what it believes is the perfect jurisdictional pretext to bring down a U.S. plane in China's contested airspace high above its claims in the South China Sea," Siracusa said.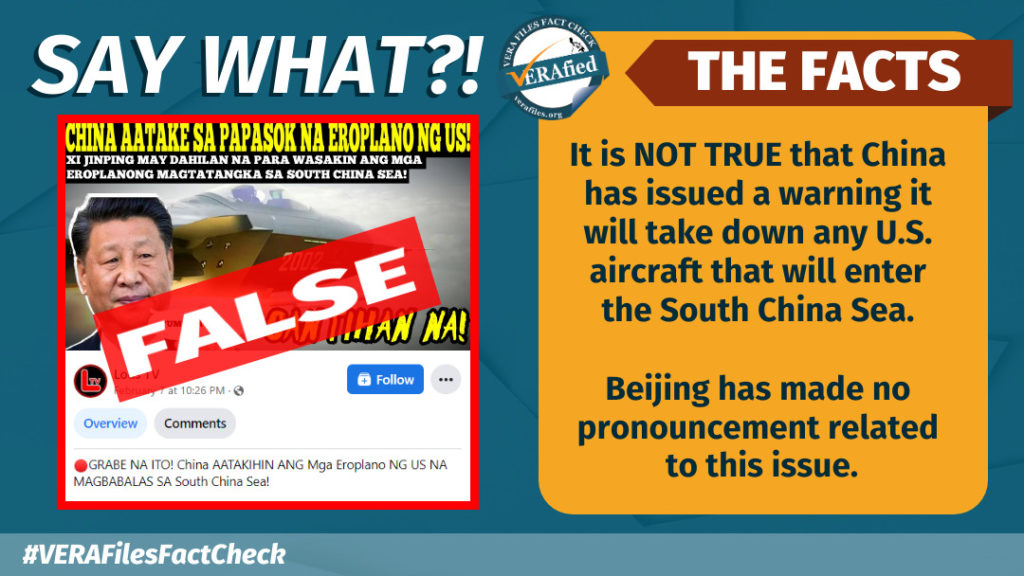 China's Ministry of Foreign Affairs condemned Washington's use of force and called it a "clear overreaction," stating it will "respond as necessary" in light of recent development. Beijing has  claimed that the unmanned balloon was an errant civilian airship only used for meteorological purposes.
This video emerged two days after a U.S. Air Force jet downed the alleged Chinese surveillance balloon first detected by the U.S. near the state of Alaska on Jan. 28, further worsening tensions between the two countries.
FB Page Lods TV (created on Dec. 21, 2022) published the video, garnering over 12,000 reactions, 1,500 comments, 500 shares and 411,000 views. YouTube channel Terong explained (Oct. 6, 2015) also uploaded the same video, receiving more than 1,900 interactions and 107,000 views.
Have you seen any dubious claims, photos, memes, or online posts that you want us to verify? Fill out this reader request form or send it to 'VERA, the truth bot' on Viber.
(Editor's Note: VERA Files has partnered with Facebook to fight the spread of disinformation. Find out more about this partnership and our methodology.)