The same day a hoax that Vice President Leni Robredo claimed she would step down if nobody from the opposition slate
Otso Diretso wins a Senate seat circulated on social media, netizens also revived a fabricated quote about earthquakes being attributed to her.
On May 14, a day after the midterm elections, Facebook page Payo ni Kyah Iji re-shared an April 22 post by blog pesoeconomics.blogspot.com. It bore the headline, "Earthquakes happen because of the Earth, says VP Leni Robredo."
There is no record of Robredo having said such a thing.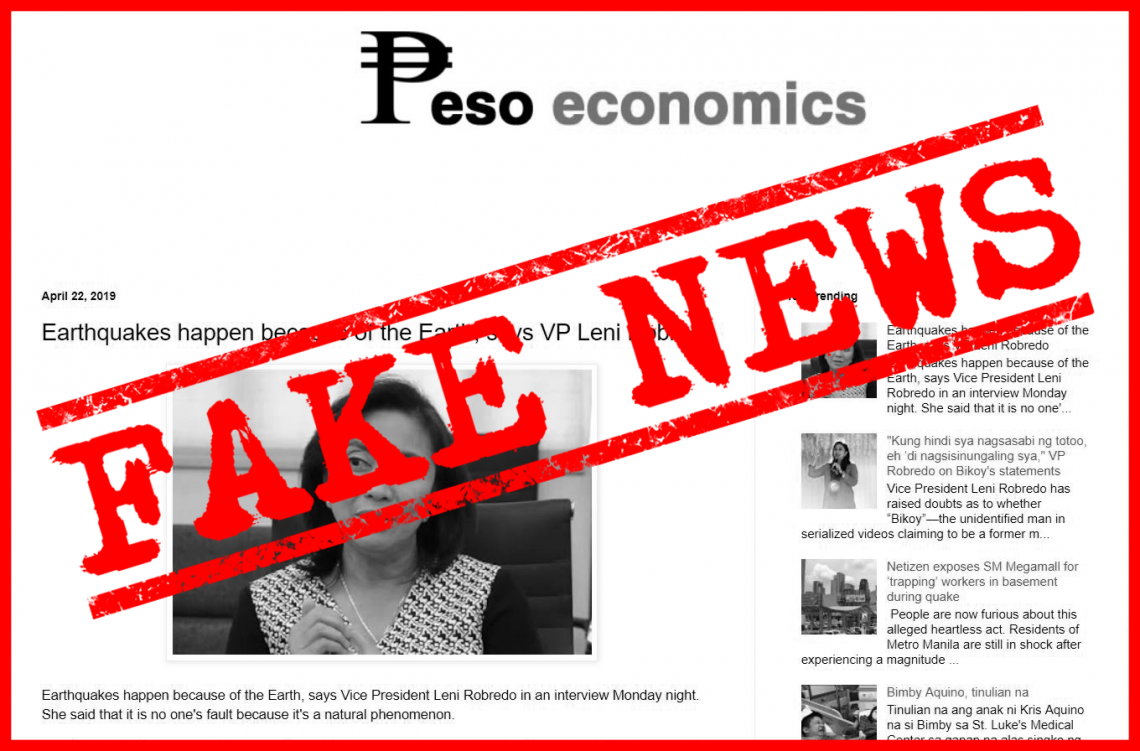 Apart from the fabricated quote, the story is composed of paragraphs lifted from two news reports:
The lead sentence of an April 23 GMA News Online report about Robredo extending her condolences to victims of an earthquake the day earlier
Six paragraphs from an April 22 Philstar.com story about the quake that day.
The fraudulent post also used a file photo of Robredo by Philstar.com.
The fake statement appears to spoof Robredo's statement last September, when she countered President Rodrigo Duterte's statement about rape supposedly existing because of "beautiful women." The vice president said, "Mayroong rape kasi mayroong rapist (Rape exists because of rapists)."
Pesoeconomics.blogspot.com published its fake report the same day a magnitude 6.1 quake rocked Luzon. It could have reached over 852,000 people.
The fabricated report's top traffic generators from social media are Payo ni Kyah Iji, HARRY ROQUE, BONG GO, GEN. BATO, DOC. WILLIE, FRANCIS TOLENTINO SA SENADO, and RODY DUTERTE FOR PRESIDENT MOVEMENT INTERNATIONAL.
Pesoeconomics.blogspot.com began publishing online posts in August 2018.
(Editor's Note: VERA Files has partnered with Facebook to fight the spread of disinformation. Find out more about this partnership and our methodology.)