Palace spokesperson Harry Roque in a radio interview described President Rodrigo Duterte's recent flip-flop on same-sex marriage as "medyo bago (somewhat new)."
It's not; the president has a history of shifting his stance on the issue, depending on his audience at the time.
STATEMENT
Asked in a Radyo Singko interview Dec. 19 if Duterte had a "change of position" on same-sex marriage, Roque agreed and said the president's view is "somewhat new:"
"Alam niyo po medyo bago ang posisyon ng ating presidente. Dati kasi wala siyang tutol sa civil union, pero ayaw niya iyong same-sex marriage. Pero nung araw ng Sabado ata iyon, sa Davao eh malinaw na sinabi na sumang-ayon din siya sa same-sex marriage (You know, the president's position on same-sex marriage is somewhat new. He had no objections to civil union before, but was against same-sex marriage. But last Saturday, he clearly said he also agrees with same-sex marriage)."

Source: Radyo Singko 92.3 News FM, Interview with Roque by Orly Mercado, Dec. 19, 2017, watch from 50:52 to 51:12
In a speech Dec. 17, Duterte said:
"Ako gusto ko (I want) same sex marriage. Ang problema (The problem is) we'll have to change the law. But we can change the law."

Source: Speech of President Rodrigo Roa Duterte during the 7th LGBT Davao's Year-End Gathering, Dec. 17, 2017, watch from 7:04 to 7:14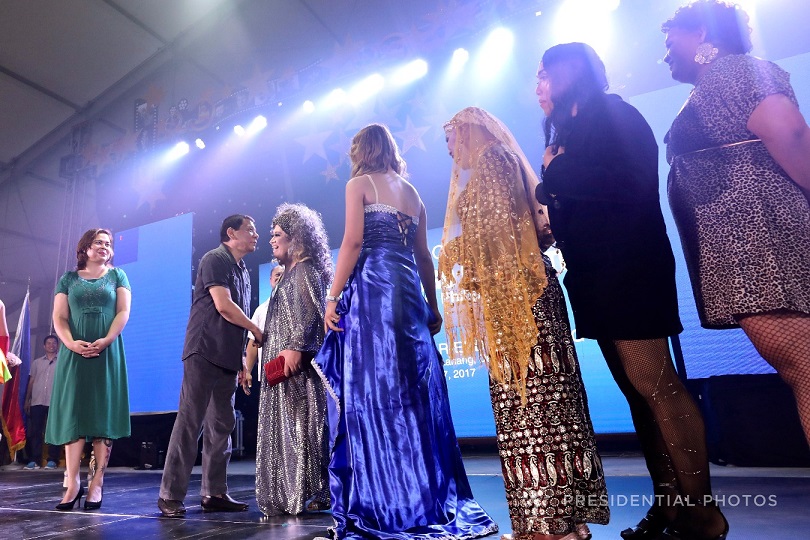 President Rodrigo Duterte invites the LGBT community to nominate a candidate to join the Presidential Commission for the Urban Poor. Photo courtesy of the PCOO
FACT
The president's flip-flop isn't "somewhat new."
He has made both pro- and anti-same-sex marriage claims, depending it would seem on who he is speaking to; the Dec. 17 speech was during a lesbian, gay, bisexual, and transgender (LGBT) year-end gathering.
Earlier, speaking before the Filipino community in Myanmar March 19, Duterte was all about reverence for both the law and religious values, lashing out against the "west" for supposedly imposing its values on the rest of the world:
"Look at the cover of TIME magazine. Isang babae o lalaki, wala nang 'he' or 'she.' 'Yun ang kultura nila. Eh di kayo lang, hindi 'yan pwede sa amin kay Katoliko kami at there is the Civil Code, which says that you can only marry a woman for me…for a woman to marry a man. Iyan ang batas natin (Look at the cover of TIME magazine. There is no longer any 'he' or 'she.' That's their culture. But that's not allowed here because we're Catholics and there's the Civil Code, which says a woman should marry a man. That's our law)."

Source: Speech of President Rodrigo Duterte Roa during his meeting with the Filipino community in Myanmar, March 19, 2017, watch from 31:16 to 31:23
In a subsequent interview, he claimed allowing same-sex marriage would mean violating the law:
"In the Family Code sa ating Civil Code…our society, marriages and everything, it says that marriage is always between a man and a woman. If I allow it then I would have violated the law."

Source: RTVM, Arrival Statement and Media Interview of President Rodrigo Duterte following his official visits to Myanmar and Thailand, March 23, watch from 35: 10 – 36:05
Back in 2015, in an interview with Vice Ganda, a comedian and television host who is gay, Duterte said same-sex marriage is "good:"
"Vice Ganda: What's your take on same-sex marriage?"

"Duterte: It's good. Everyone deserves to be happy."

Source: ABS-CBN News, What Duterte thinks of homosexuality, same-sex marriage, watch from 2:00 to 2:06
BACKSTORY
Roque during the same Radyo Singko interview said Duterte's recent pronouncement might provide Congress the push to pass a same-sex marriage law.
Speaker Pantaleon Alvarez in October filed a civil partnership bill to uphold the rights of couples "who are not eligible for marriage under the law."
Marriage is defined in the Family Code of the Philippines as a "special contract of permanent union between a man and a woman."
The bill is currently pending at the House committee level.
Since 2004, several bills seeking to either recognize or deny marriage rights to same-sex couples have been filed but failed to hurdle Congress.
They include:
Sources:
House Bill No. 6595, Civil Partnership Act of 2017
House Bill No. 3179, Same Sex Property Relations Act of 2013
House Bill No. 4269, An Act Amending Article 26 of Executive Order 209 or the Family Code of the Philippines, and for Other Purposes
Senate Bill No. 1282, An Act Amending the Family Code, Article 26 on the Validity of Same-Sex Marriages Solemnized Outside the Philippines
Senate Bill No. 1575, An Act Amending Executive Order No. 209 as amended by Executive Order 227, otherwise known as the Family Code of the Philippines, thereby Limiting Marriage to Natural Born Males and Natural Born Females
Senate Bill No. 1276, An Act Amending the Family Code of the Philippines, Article 26
Executive Order No. 209, Family Code of the Philippines
(Guided by the code of principles of the International Fact-Checking Network at Poynter, VERA Files tracks the false claims, flip-flops, misleading statements of public officials and figures, and debunks them with factual evidence. Find out more about this initiative.)
2017-12-20 10:24:41 UTC