Several Facebook (FB) accounts, including a page of a lawyer who was a former Malacañang social media consultant, published an alleged exchange between Vice President Leni Robredo and former Senate President Juan Ponce Enrile. It needs context.
The supposed statement of Robredo in response to Enrile's questions published in an unverified FB account using his name was from Atty. Leni Robredo, a satirical page pretending to be the vice president.
STATEMENT
On April 26, FB page Luminous by Trixie Cruz-Angeles & Ahmed Paglinawan, managed by the two lawyers, posted screenshots of Robredo and Enrile allegedly engaged in verbal sparring.
The images showed Robredo's supposed response to Enrile questioning the vice president's experience as a lawyer and the former senator's subsequent reply. Robredo's purported statement read:
"I was a developmental lawyer engaged in public interest cases like defending the land rights of Sumilao farmers.

If you don't know what that means Mr. Juan Ponce Enrile, developmental lawyering is:

'The practice of law fundamentally for individuals, communities and sectors that have been historically, culturally and economically marginalized and disenfranchised.' (See: cas.upm.edu.ph:8080/xmlui/handle/123456789/372)

But you probably don't know that because as evident from your post and examples, you only know big-ticket or money-making law practices.

You defend the rich. I defend the poor. We are not the same.

xoxo,

Atty. Ma. Leonor G. Robredo

Roll No. 41533"

Source: Luminous by Trixie Cruz-Angeles & Ahmed Paglinawan, Oops, he did it again, April 26, 2022
The unverified FB account bearing Enrile's name later replied to Robredo's so-called answer and told the vice president that she is not a lawyer "in the full sense of the word" since her law practice experience was only for a year.
The comments indicate that the netizens did not know the post was satire. Under FB's third-party fact-checking program, satire is a type of content that "uses irony, exaggeration, or absurdity for criticism or awareness, particularly in the context of political, religious, or social issues, but that a reasonable user would not immediately understand to be satirical."
Cruz-Angeles previously worked as a social media strategist for the Presidential Communications Operations Office (PCOO).
The FB post of Luminous by Trixie Cruz-Angeles & Ahmed Paglinawan has garnered more than 9,500 reactions, 1,200 comments and 2,200 shares as of May 4.
Pro-Robredo FB pages Samasa Kontra Mandarambong and Makati for Leni Kiko 2022 also posted the text of Robredo's supposed response to Enrile. Their posts have collectively garnered more than 1,760 reactions, 150 comments and 590 shares as of May 4.
FACT
The statement was published by satirical FB page Atty. Leni Robredo on April 25. In its About section, the page put a disclaimer saying it is "not the real Leni Robredo."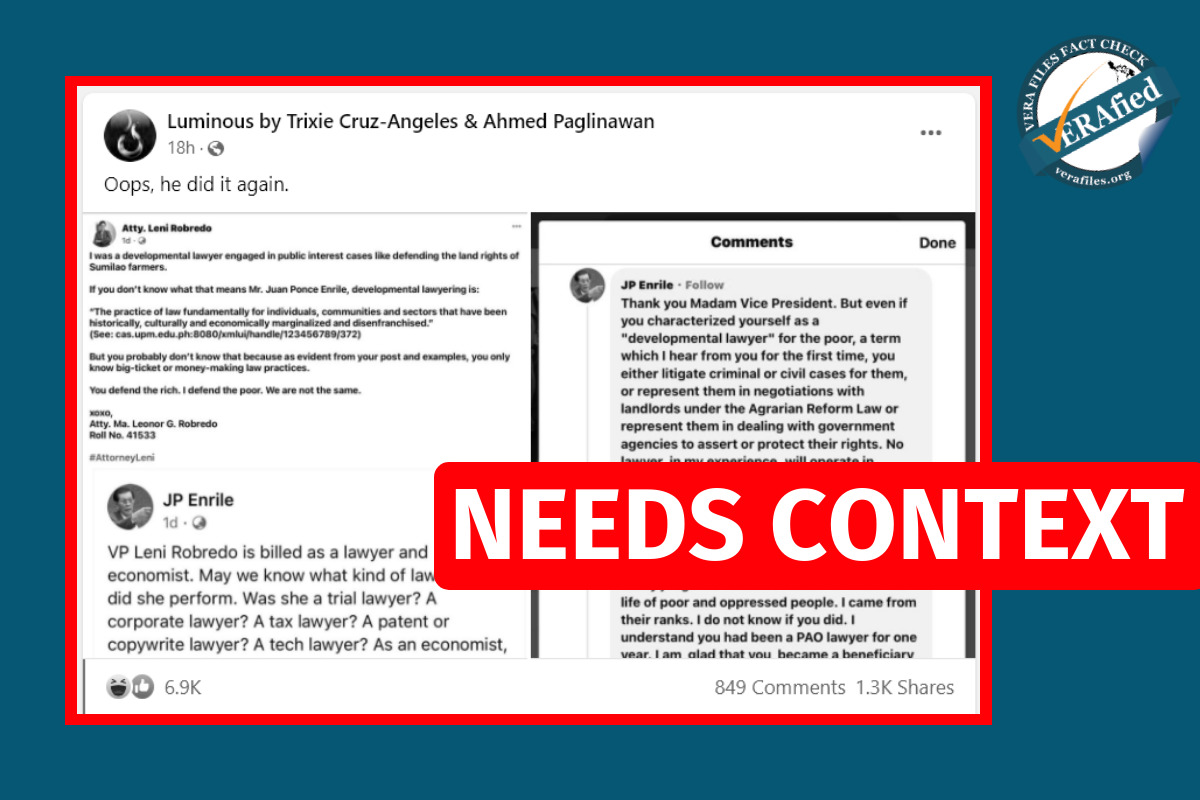 The vice president never made such remarks addressed to Enrile in either official press releases, statements, or media interviews.
Luminous by Trixie Cruz-Angeles & Ahmed Paglinawan did not clarify that the answer to Enrile's question came from a satirical post, leading netizens to believe it was real.
Cruz-Angeles and her FB page have a history of spreading misinformation. (Read VERA FILES FACT CHECK: PH didn't 'handpick' entire panel in South China Sea arbitration case; VERA FILES FACT CHECK: Former PCOO social media consultant, netizens revive 'dextrose' photo of Isko Moreno that needs context; VERA FILES FACT CHECK: Ex-PCOO consultant, netizens post MISLEADING Robredo quote on 'Biden, CIA')
The post needing context appeared a week after former Miss Universe Catriona Gray formally endorsed Robredo for president, citing the vice president's judicial experience as one of her reasons for her support.
Have you seen any dubious claims, photos, memes, or online posts that you want us to verify? Fill out this reader request form.
Sources
Luminous by Trixie Cruz-Angeles & Ahmed Paglinawan, Oops, he did it again, April 26, 2022
Atty. Leni Robredo, I was a developmental lawyer…, April 25, 2022
Catriona Gray, Pinuno: Para Sa Bayan 🇵🇭, April 18, 2022
(Guided by the code of principles of the International Fact-Checking Network at Poynter, VERA Files tracks the false claims, flip-flops, misleading statements of public officials and figures, and debunks them with factual evidence. Find out more about this initiative and our methodology.)