A politician intent on manipulating the outcome of elections may have found a new weapon to replace the traditional guns, goons, and gold: disinformation.
The impact of rising misinformation and disinformation is highly relevant today as it has become a powerful tool to influence voter decision in the hotly-contested May 2022 presidential election.
Press freedom advocates lamented that the utilization of  systematic and deliberate disinformation has not only threatened democracy, but it also "uses hard-earned liberties to kill democracy itself."
In his keynote address at the Southeast Asia Digital Conference titled "Finding an Antidote to Cyberattacks, Fake News, and Disinformation Amidst Election Fever in Southeast Asia", legal luminary Raul C. Pangalangan, retired International Criminal Court (ICC) judge, underscored the irony of rising disinformation on social media platforms.
"It is systemic, systematic disinformation. And the ultimate irony, getting a free ride on the very freedom that we provide using precisely the open space that we protect," he said.
Lawyer Joel R. Butuyan, president of the Center for International Law-Philippines (CenterLaw), expounded on disinformation as a powerful tool in influencing the elections.
"We can see that fake news will dislodge guns, goons and gold as the weapon of choice of politicians who scheme to manipulate our elections," he said.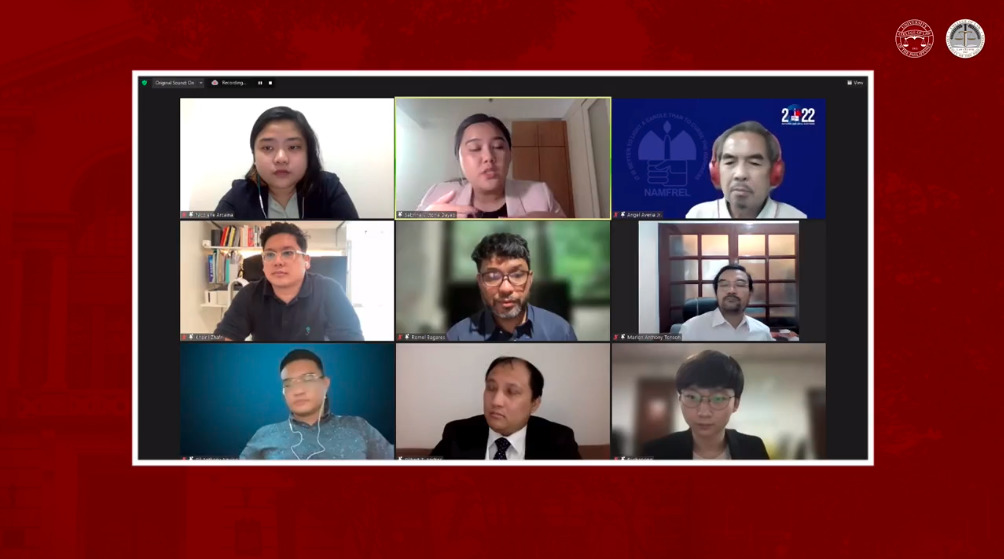 The conference, a joint undertaking of the Advocates for Freedom of Expression Coalition – Southeast Asia (AFEC-SEA), the Institute of Human Rights of the University of the Philippines Law Center (UP-IHR), and Center-Law, was to commemorate World Press Freedom Day on May 3.
AFEC-SEA Chairperson Atty. Gilbert Teruel Andres warned the results of the May 9 elections might be based on disinformation, citing its effect on the campaigns of rivals former senator Ferdinand "Bongbong" Marcos, Jr. and Vice President Leni Robredo.
"It has been well documented that disinformation is really helping prop up the frontrunner in this election and is really adversely affecting the number 2 candidate Vice President Leni Robredo," Andres explained.
Further, Butuyan added the danger of a successful Marcos disinformation campaign as it might influence other political dynasties to follow suit and use the spread of distorted facts on social media to win the elections.
"If fake news was able to resurrect the family name Marcos that has long been associated with one of the darkest periods of Philippine history…then political dynasties with far lesser sins will surely take note and follow suit," he pointed out.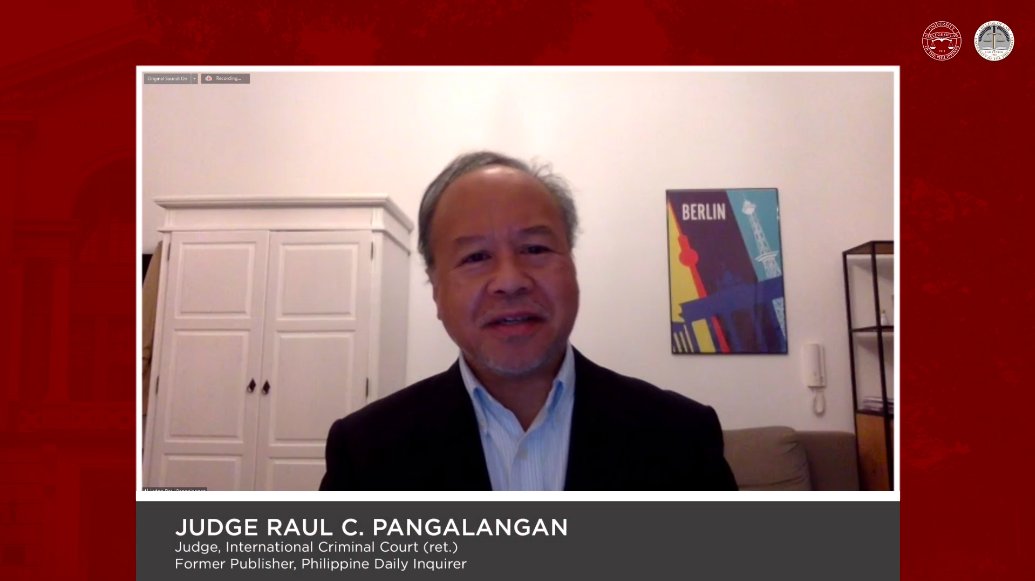 Pangalangan added that democracy today is attacked not through "brutal measures" but by disinformation.
"The Marcos dictatorship killed democracy by jailing journalists, shutting down newspapers, and installing government spies and watchdogs in newsrooms. Today, democracy is in peril without having to resort to such brutal measures. All it takes is to devalue the truth and displace reason from public discourse," the former publisher of the Philippine Daily Inquirer said.
Addressing disinformation
Other resource speakers shared how to fight mis- and disinformation as it continues to target a largely unaware public consuming the information on social media.
Ellen Tordesillas of VERA Files said that fact-checking is one solution although fact-checking alone is not enough.
"Fact checking is not the be all and end all. It is just one of the measures to fight disinformation," Tordesillas said.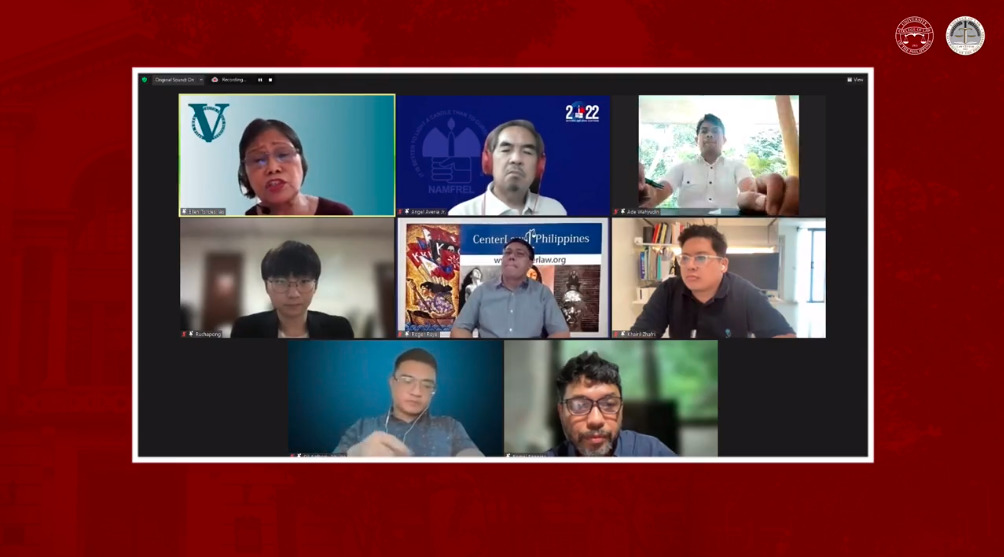 Human Rights Commissioner Karen Lucia S. Gomez-Dumpit stressed the importance of media literacy in combatting disinformation.
"I believe that media literacy is actually a way to go. It's an antidote because triangulation of information is really a skill, and we need to teach that to everybody," Gomez-Dumpit said.
Meanwhile, the SIM Registration Act, which some legislators thought was the best solution, and recently vetoed by President Rodrigo Duterte, has been viewed as unconstitutional.
"It violates constitutional rights of freedom of expression and freedom of speech. It also threatens our privacy because the system will hold identifying information of the registrants." Angel S. Averia Jr. of the National Citizens' Movement for Free Elections pointed out.
Ruchapong of iLaw in Thailand agreed, and cited as example that Thai government used SIM card registration to crack down on  critics.
Accountability in journalism
A similar forum was co-organized by northern-based media news outlets, human rights organizations, and the University of the Philippines Baguio's Department of Communication.
Voltaire Tupaz, chief content officer of FYT Media, stressed the importance of accountability among journalists and adhering to the ethical standards of journalism: truth and accuracy, independence, just and partiality, and humility.
"As journalists… dapat tayo ay responsible storytellers. Ang ibig sabihin no'n kapag nagkamali tayo, aminin natin, mag-erratum. Nandyan ang bylines at mukha natin… dahil pinapakita natin sa ating viewers and readers na pinaninindigan natin ang story, vinerfiy natin… at factual ito. Kapag nagkamali tayo, they can hold us accountable," Tupaz remarked.
(As journalists, we should be responsible storytellers. It means should we make a mistake, we own up to it, and issue an erratum. Our bylines and faces are there, because we want to show our readers and viewers that we stand by our story, we verified them, and they are factual. If we err, they can hold us accountable.)
Former Chief Justice Maria Lourdes Sereno was a guest at the Baguio forum and discussed laws that both journalists and ordinary citizens can cite in case of human rights violations, especially in light of the country's withdrawal from the ICC.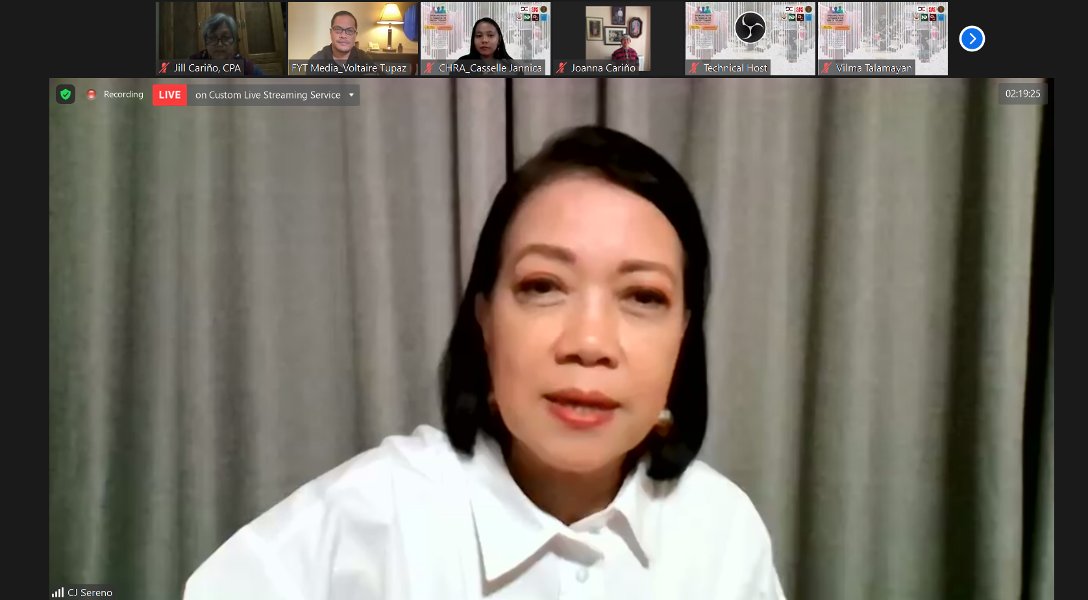 In particular she cited Republic Act 10368, which highlights the adherence to international human rights laws and conventions. Under this law, everyone has rights, whether embodied under domestic legislation or not.
She said the citizenry, as a sovereign people holding all temporal power granted officials, can and should pressure the government to implement human rights laws through referencing the Constitution.
On the issue of decriminalizing libel, Sereno said that it was not as simple as passing a law, because it involves the "whole system." Equally necessary as legislation is the importance of a professional and upright prosecutorial service against libel.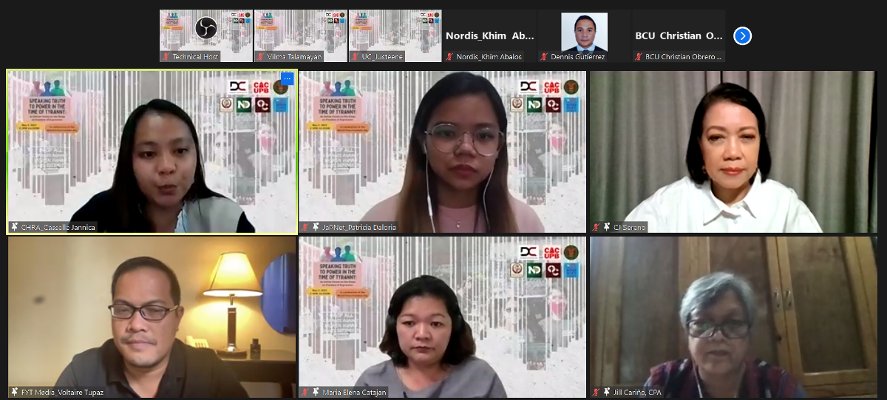 Jacqueline Cariño, vice-chairperson of external affairs of Cordillera Peoples Alliance, thanked the organizers and speakers for the event. "We are grateful for forums such as this since they serve as a community of support to counter these chilling effects and harmful impact of disinformation and human rights violations," Cariño said.
World Press Freedom Day is celebrated to remind governments of their commitment to upholding freedom of speech, and as a time for media practitioners to reflect on current issues faced by the industry.