In a discussion on the use of salt in coconut production, Sen. Cynthia Villar said the country's coconut industry is as big as that of rice. This is false.
STATEMENT
In a hearing of the Senate Committee on Agriculture, Food, and Agrarian Reform, Villar looked into how the Act on Salt Iodization Nationwide or Republic Act (RA) No. 8172 has affected the production of agricultural products.
Villar, who chairs the committee, said that because the law requires local salt farms to produce only iodized salt, the salt industry now generates only 42,000 metric tons (MT) annually from  240,000 MT in 1970. Later in the hearing, the lawmaker stated that the measure required that all salt be food-grade or iodized, but did not account for the fact that not all salt farmers were well-equipped to meet such a requirement.
Villar also noted that RA 8172 has been a "deterrent" to the development of other agricultural industries, including coconut which uses natural sea salt as fertilizer.
She said:
"Bakit nila [government agencies] pinara 'yung [non-iodized] salt production para [sana] magkaroon kayo ng fertilizer for coconut? Remember, ang laking industry ng coconut sa Philippines, kasing laki sila ng rice. So 'pag dineprive mo sila ng fertilizer, you are killing also the coconut industry."

(Why did they halt [non-iodized] salt production … so you have fertilizer for your coconut? Remember, the coconut industry is big in the Philippines, it is as big as rice. So, if you deprive them of fertilizer, you are killing also the coconut industry.)

Source: Senate of the Philippines Official Youtube Channel, Committee on Agriculture, Food and Agrarian Reform, Jan. 18, 2023, watch from 48:39 to 49:11
FACT
The coconut industry is not as big as rice in terms of volume and value of production. In 2021, the country produced 19.96 million MT of palay worth P332.77 billion at current prices. That same year, coconut production was at 14.72 million MT, valued at P123.67 billion at current prices, according to the Philippine Statistics Authority's 2022 Selected Statistics on Agriculture and Fisheries.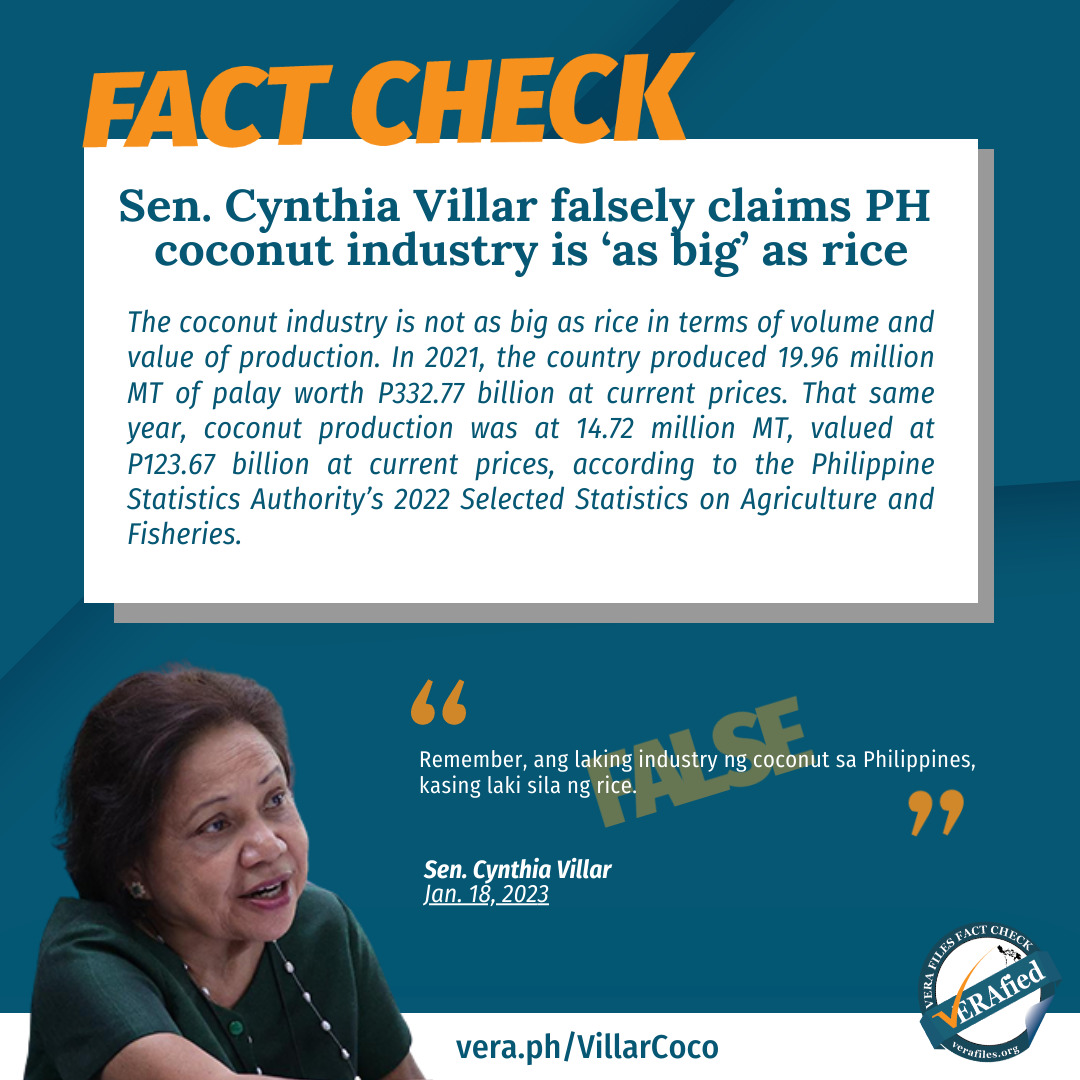 The PSA calculates the value of production of a crop at current prices by multiplying the volume of production by its average farmgate price during the reference year.
Have you seen any dubious claims, photos, memes, or online posts that you want us to verify? Fill out this reader request form.
Sources
Official Gazette of the Philippines, Republic Act No. 8172, Dec. 20, 1995
Senate of the Philippines Official Youtube Channel, Committee on Agriculture, Food and Agrarian Reform (January 18, 2023), Jan. 18, 2023
Philippine Statistics Authority, 2022 Selected Statistics on Agriculture and Fisheries, Aug. 30, 2022
(Guided by the code of principles of the International Fact-Checking Network at Poynter, VERA Files tracks the false claims, flip-flops, misleading statements of public officials and figures, and debunks them with factual evidence. Find out more about this initiative and our methodology.)